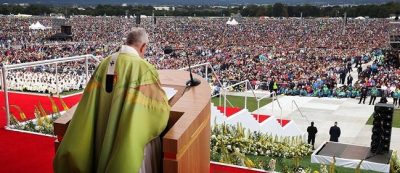 "As one of the fruits of this celebration of family life, may you go back to your homes and become a source of encouragement to others, to share with them Jesus' "words of eternal life". For your families are both a privileged place for, and an important means of, spreading those words as "Good News" for everyone (…)"
Pope Francis, WMOF2018 Final Mass in Phoenix Park.
Lead by Pope Francis' encouraging words, we prepare to say goodbye to all of you. Thank you for sharing the journey that led us to the IX World Meeting of Families 2018 in Ireland. It has been a time of joy, reflection and renewal. Pope Francis now invites us to go forth and bring hope and joy to our own homes.
With this joy, we want to say goodbye with this newsletter, where you will find information and links that may bring back memories of our events for many of you. We hope you enjoy it. Thank you!
Taken from the WMoF2018 Newsletter. Click here to read full article.