Presentation Thurles are crowned Munster Camogie Champions!
Presentation Thurles 3-5 Coachford College 0-12
Presentation Thurles made the journey to Ballyagran GAA grounds in Limerick on Saturday morning last, determined to banish the ghost of the previous two Munster finals where they had suffered agonising defeats. The Pres girls settled into the contest first and opened up a two point lead thanks to two frees from Aoibheann Clancy. Coachford responded with a placed ball of their own from Clíona Healy. The first big moment of the game arrived when the talented Casey Hennessy broke into a loose ball and fired an unstoppable shot to the Coachford net and Pres Thurles had some breathing space. However it was to be short lived as Coachford's talisman Clíona Healy fired over four points without reply. Half time saw the Thurles girls go into the dressing room with a slender one point lead. Coachford picked up where they had left off when the second half began as Clíona Healy and Ciara McCarthy fired over a point each and for the first time in the contest Coachford were in front. This Pres team are nothing if not gallant and sensing the need for a big response Saoirse O'Meara rifled the ball to the back of the Cork net to breathe life into the Pres team again. However Coachford continued to dominate and found themselves level again after two Clíona Healy frees. As the game moved into injury time Coachford looked to have won it when the referee awarded them a very dubious free in front of the Pres posts. Clíona Healy dispatched the free leaving Presentation Thurles needing something miraculous. As the contest moved into the sixth minute of injury time Pres Thurles were awarded a free deep in their own half. The referee instructed players and mentors this would be the last play and goalkeeper Aoife Butler raced out to deliver the ball deep into Coachford territory. The ball broke to Pres wing back Grace O'Donnell who side stepped a defender before taking the incredible decision to go for a goal. Grace rifled the ball into the roof of the Cork net from the tightest of angles to the astonishment of the players and spectators. Supporters, mentors and subs raced onto the field as the referee sounded the final whistle and Pres Thurles were finally Munster Champions in a most spectacular fashion. Captain Anna Gavin delivered an inspirational speech to cap what was a memorable day for Presentation Thurles.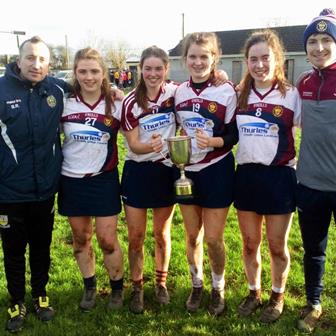 6th year Camogie winners Niamh Sweeney, Grace O'Donnell, Saoirse O'Meara and Anna Gavin(captain) are pictured with their coaches Mr Barry Ryan and Mr Cian Treacy.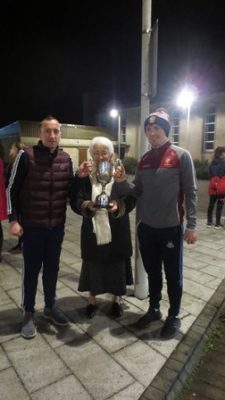 Sr Theophane is pictured with the cup alongside the two team coaches Mr Barry Ryan and Mr Cian Treacy.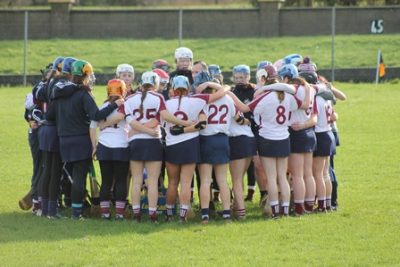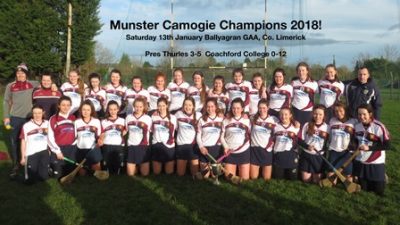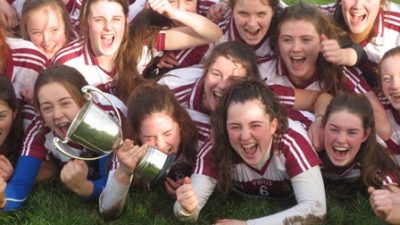 Hockey News

Our minor, junior and senior hockey teams travelled to Limerick on Wednesday last to face teams from Laurel Hill Coláiste. The Presentation teams showed great talent and spirit on the pitch in matches played in dreadful weather conditions. The minor team came away with a spectacular win all thanks to Emma O'Sullivan who scored a super goal in the last five minutes to seal the victory. Well done to all the girls involved and to their coach Marie Flanagan.
Pres Thurles Tipperary Badminton Champions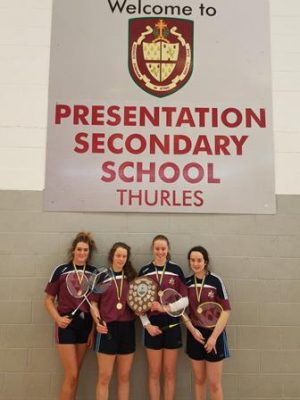 Congratulations to our U 19 Badminton Team who won the Tipperary Championships today!! Emily Phelan, Sarah Doheny, Mary Ellen Phelan and Ciara Treacy will now represent Tipperary in the Munster Championships on 25th January. Well done girls and well done to their teacher Mr Maher.
BT Young Scientists Exhibition
On Wednesday the 10th of January four groups of Transition Year students headed to the RDS in Dublin to take part in the 2018 BT Young Scientist and Technology Exhibition. Nine students in total took part in what proved to be an incredible and memorable experience for the girls. From the early stages of the competition, the Pres Scientists garnered a lot of attention, from both the media and the general public. With such topical and innovative project ideas – ranging from issues concerning the HPV vaccine to farm machinery lights, drink-spiking to diabetes – it was easy to see why the girls in the wine uniforms were fast becoming firm favourites in Ballsbridge. Over the course of the four-day event, the students had the chance to meet and chat with many great minds, from professors to healthcare professionals and leading entrepreneurs. In typical Pres fashion, one of the groups managed excelled and were invited onto The Late Late Show on Friday night to demonstrate and discuss their project. One student – Emma Hayes – was approached by Minister for Health, Simon Harris, who was keen to discuss the young scientist's findings. The exhibition turned out to be a great success for our students. Well done to all involved and thanks for our science department for their encouragement and support.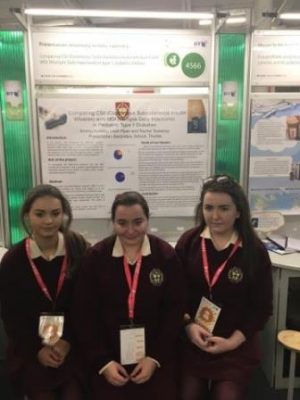 Pres Thurles transition year students Leah Ryan, Rachel Sweeney and Emma Buckley are pictured at the BT Young Scientist Exhibition with their project 'Comparing CSII ( Continuous Subcutaneous Insulin Infusion ) with MDI (Multiple Daily Injections ) in Type 1 Diabetics Children'.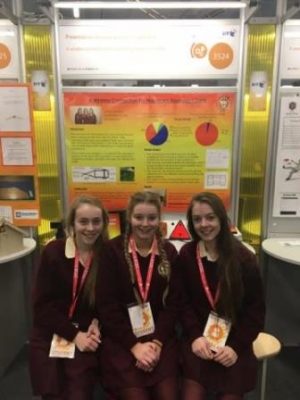 Pres Thurles TY students Sarah Johnson, Eva Noonan and Sarah Kate Coffey are pictured at the BT Young Scientist Exhibition with their project 'A wireless connection for machinery equipment lights'.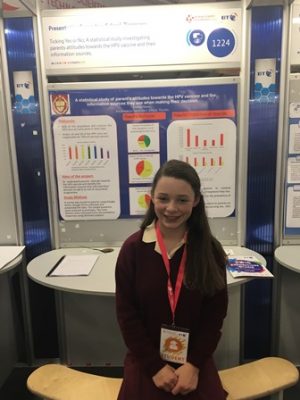 Emma Hayes
Project Idea: To examine parents' attitudes towards the HPV vaccine and to investigate the sources/influences that affect their decision.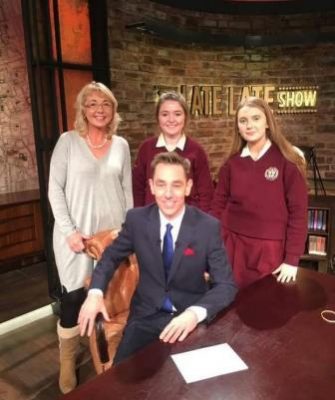 Pres Thurles TY students Laura Murphy and Sarah McCarthy are pictured on the Late Late Show last weekend. The girls were approached at the BT Young Scientist Exhibition and asked to speak about their project 'Not Just for Nails'.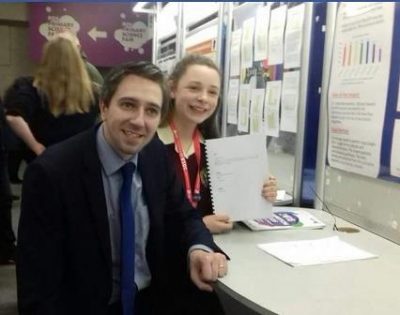 Pres Thurles TY student Emma Hayes is pictured with Simon Harris, TD Minister for Health who showed great interest in her BT Young Scientist project "Ticking Yes or No; A statistical study investigating parents attitudes towards the HPV vaccine and their information sources."
U19 all Ireland basketball playoffs
With a bus full of talent and hearts full of hope our under 19 team set off last Saturday for Dunshaughlin Community College Co. Meath. A long day of basketball faced us with the tough task of three games to be played in one day.
Our first opponents were home team Dunshaughlin Community College. A slugglish start from the Pres girls in the first and second quarter meant that they faced an uphill battle in the second half. The girls put pressure on the very skilful and physical Dunshaughlin Community College side but it was not enough on the day. Defensively there were plenty of positives as Laoise Nugent and Tasha Tully chased everything tenaciously. However on offense we failed to capitalise on opportunities created which ultimately resulted in a defeat. A disappointing start to the day, but the beauty of the All Ireland playoffs meant we had no time to feel sorry for ourselves.
A quick turnaround really tested the character of this side as they needed to refocus for the next game in quick time knowing only a win would do. Gort Community School stood as the next opposition and thankfully in true Pres style the girls took charge from the very start. They had a healthy lead of 23 to 16 heading into the second half which gave the team great confidence. In the second half they pushed on and never looked back with Anna Dunne and Laura Daly finding their shooting range and causing havoc for the Gort defense. Jennifer O' Mara worked hard on defense along with Amy McGovern who dominated the rebounds showing huge athletic ability. As this was the second game of three it was telling on the team and fatigue began to set in. Kate Sheridan, Aleesia Mancha and third year Laurie McMahon proved vital in clenching the win (54 to 39).
With confidence restored the girls could not wait to face into their final game of the day against OLSP Belfast. From start to finish this game belonged to the Pres. A fitting way for the team to finish out the day. They showed huge determination and work rate forcing Belfast into making mistakes which the girls punished on the score board. A great way to finish out a day on the road, seeing off Belfast in the end 51 to 29.
Unfortunately the early defeat to Dunshaughlin proved crucial with the girls losing out on qualification. We wish our three 6th years Clodagh Sherman, Katie Hanafin and Tara Laydon every success in their leaving cert and their careers ahead.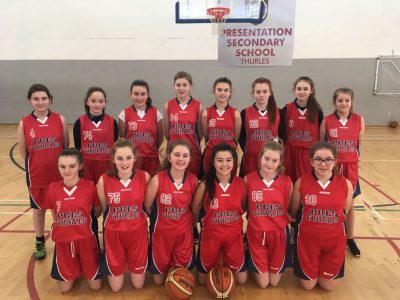 Our Senior A Basketball team who travelled to Dunshaughlin last weekend for the All Ireland Playoffs. Back Row l-r:Jennifer O'Meara, Anna Dunne,Amy McGovern, Clodagh Sherman, Marie Creedon. Front row l-r: Alessia Manca,Laurie McMahon, Tasha Tully, Laoise Nugent, Laura Daly and Kate Sheridan.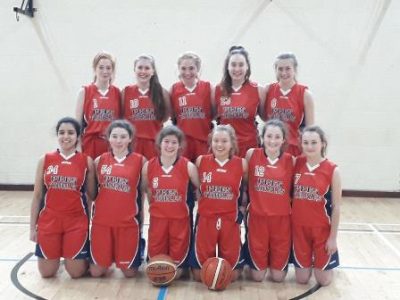 Our first year basketball team: Back row:Carenza Costello, Ellen Bracken, Aoibh Carroll, Eilis Ryan, Grainne Joyce, Cliodhna O'Toole, Faye Everitt, Katie Costello. Front row l-r: Sarah Sheridan, Grace Cussen, Niamh O'Sullivan, Irena Chan, Julie Butler, Molly Stapleton.
Pres Thurles Senior A Munster Soccer Champions!
Cahir Park was the venue for the 2018 Munster Senior 'A' soccer final as Presentation Thurles welcomed reigning All Ireland champions Coláiste na Trócaire Rathkeale to Tipperary. Rathkeale set an early pace with a flurry of attacks, but the Presentrain defence led by Katie Ryan and Kate Cavanagh stood firm. Irish international Aoibheann Clancy began to gain a foothold in midfield allowing her Pres Thurles side to grow into the game and it was her defence splitting ball which created the opening goal as she released Queva O'Meara who in turn squared for Lauren McCormack to fire home. Rathkeale were rocked by this setback and Pres Thurles pushed for a second goal and two quick fire efforts from Aoibheann Clancy and Casey Hennessy narrowly missed the target. On the stroke of half time Pres would be made to rue those missed opportunities as Rathkeale's Anna Mullane capitalised on a defensive error to fire home from a tight angle. Pres Thurles emerged for the second half determined to regain the initiative and laid siege to the Limerick goal. Having been denied by the post and a goal line clearance their persistence eventually paid off when the impressive Aoibheann Clancy scored directly from a corner after a delivery evaded the Rathkeale net minder. Pres Thurles would again find out exactly why this Rathkeale side were All Ireland champions, as the Limerick girls once again grabbed themselves a lifeline with ten minutes remaining. A fiercely struck effort from all of twenty five yards flew past the Presentation keeper Rachel Sweeney. Extra time was now looming but Pres Thurles had one more push in them and the tireless Casey Hennessy latched onto another Clancy pass and fired past the limerick keeper to spark wild celebrations as the Thurles players and supporters sensed this blow might prove to be fatal. Katie Ryan's defence was not for passing and Pres Thurles were crowned Munster champions once again.
Final score: Presentation Thurles 3 Rathkeale 2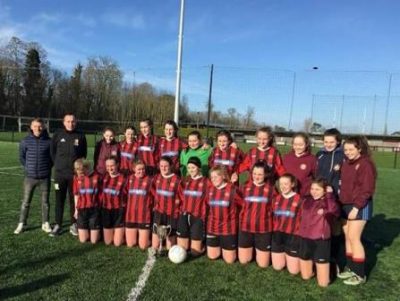 Team: Rachel Sweeney, Kate Sheridan, Sarah Foley, Kate Cavanagh, Ciara Dwan, Katie Ryan, Casey Hennessy, Queva O'Meara, Aoibheann Clancy, Emma O'Sullivan, Lauren McCormack, Enya Maher, Saoirse Teer, Chloe Cummins, Emer Harnett, Megan Quigley, Amy Callanan, Niamh Quigley.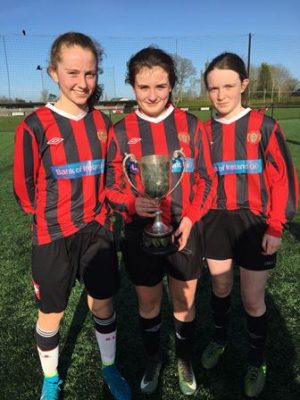 Munster Football Semi-Final
Presentation Thurles travelled to Limerick on Monday last for the 2018 Munster football semi-final against Ennis kingpins St Flannans College. Pres were rocked on their heels from the opening whistle as St Flannans gathered the throw in and raced up the field to fire the ball to the Thurles net. Pres Thurles to their credit responded immediately with a well taken point from Ciara Dwan. This was quickly followed by a Lauren McCormack free to leave the minimum between the sides. However St Flannans quickly regained the initiative and fired home two goals in quick succession to once again open up a gap between the sides. Pres Thurles sensing that their Munster and All Ireland titles were very much on the line set about clawing their way back into the contest. An inspirational point from wing back Niamh Ryan was quickly followed by an opportunistic goal from Saoirse O'Meara and the contest was well and truly alive again. Half time saw the St Flannans girls with a slight advantage. The second half began in explosive fashion similar to the first with centre back Marie Creedon gaining possession before offloading to the lethal Casey Hennessy who fired the ball to the Clare net. From the restart Roisin Daly gained possession and played a neat one two with midfield partner Muireann O'Connell before rifling a ball off the St Flannans crossbar but fortunately Saoirse O'Meara was once again in the right position to guide the rebound home. Aoibheann Clancy added a point for Pres Thurles and they now found themselves seven points clear with only five minutes remaining. However, St Flannans were not for giving up and in a chaotic few minutes they conjured up two quickfire goals leaving just a point between the sides with one minute remaining. Pres goalkeeper Muireann Lloyd had the unenviable task of having to find a Pres jersey with her kick out but she was calmness personified as she expertly found Dervla Heffernan who carried the ball out of defence before feeding it to Katie Ryan who in turn offloaded it to Aoibheann Clancy who kicked what would be the last score of the game to see the Pres girls through to another Munster final. The Pres rearguard, led by captain Aoife Maher, stood firm throughout the contest despite spells of consistent pressure from a gallant St Flannans side. The Munster final will see Pres Thurles face off against Ursuline Waterford on the 21st of February as Pres Thurles chase an unprecedented third Munster title in 2018 after the victories of Soccer and Camogie.
Final score: Presentation Thurles 6-7 St Flannans College 6-5