The first term of 2017/18 was a very busy one for staff and students at Presentation Ballingarry. This year we were delighted to welcome 66 students into our first year group. Three Spanish students joined our Transition Year class while Anni Whoosh from Germany has joined our 5th year group for the full academic year.
Farewell Liturgy to Sisters Teresa and Miriam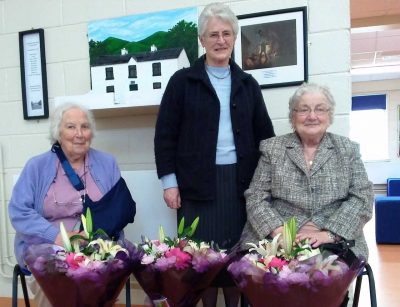 The term began with a farewell liturgy to Sisters Teresa and Miriam. The sisters were joined by Sr. Patricia, former Principal of the school, who continues to work tirelessly among the people of Ballingarry and Sister Colette who lives with Sr. Teresa in the Clonmel community and who completed her leaving certificate in Ballingarry in 1942.
Sr. Teresa and Sr. Miriam moved into The Commons in 2006 and this summer they said goodbye to their many friends there as they moved to pastures new. Sr. Teresa returned from the Philippines in 1998, joining the Staff of Presentation Secondary School in Sept 1999, retiring, in 2008. Sr. Teresa taught Religion, Irish, Maths, Music – (inclusive of singing) and she recalled how "Presentation Day was always a very big school event in the school when all the staff and students walked up to the Parish Church where the Choir generally surpassed themselves, with singing and creative dance." Sr. Teresa's Choirs were also involved in other big events, such as First Year and Leaving Cert masses.
Sr. Miriam having returned from America was very active among the people of the village teaching knitting to local primary school children. As an avid card player she soon found herself enjoying new friendships and these were cemented through her work with the local senior citizen's committee. Following her retirement from the school, Sister Teresa continued, on a voluntary basis to teach music and direct the choir in the secondary school. She also played an active role in the parish playing the church organ, directing a prayer group and visiting her neighbours and fellow parishioners. In his homily Fr. Quike thanked them for their dedication and prayed God's blessing on them in their new communities.
This liturgy also marked the opening of a new school year and parents of first year students were invited to attend as their children were welcomed into this new community. Before the mass began, Sr. Teresa lit the lantern flame and passed it onto Principal, Ms. Cahill who in turn passed it onto the head boy and girl who then passed it onto the first year prefects. As the candle was passed from one to another each group acknowledged how we are stronger because of the ones who have gone before us and how it was now their responsibility to keep that flame alight for the ones who would come after them.
To symbolise their planting of roots in the school, the first years were invited to plant a daffodil bulb which, like themselves will grow, flourish and blossom during their six years in the school.
The Seinn choir provided music for this very meaningful liturgy and at the end of mass Ms. Cahill made a presentation to the sisters and thanked them for their work in both the school and the community.
Business Award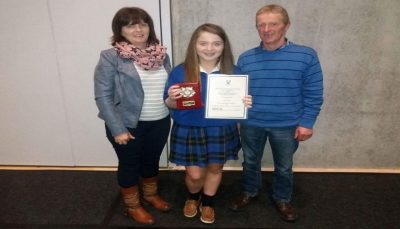 Congratulations to Anna Ryan, photographed with her proud parents. Anna was honoured at the WIT Award Ceremony for students who receive an A grade in their Junior Certificate Business.
Poetry Aloud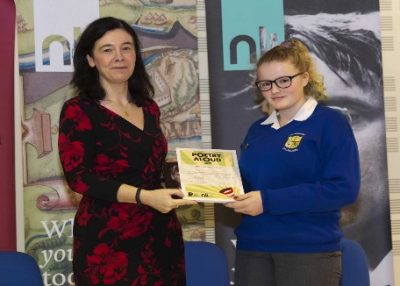 For fourteen years Presentation Ballingarry has been proudly associated with Poetry Aloud. To date our school has won the Junior title on two occasions and has been represented in the final each year. This year over 30 students competed in the regional final of this very prestigious competition. Congratulations to. Mary Kate Cronin and her classmate Claire O' Brien represented the school in the semi-finals which were held in the National library on the 16th and 17th of November. While both girls were fantastic Mary Kate proceeded to the national final, which took place in the National Library of Ireland in Dublin on 1st December. The event saw 31 students out of 1,800 from across the country compete in the junior, intermediate and senior categories for the Seamus Heaney Poetry Aloud Award.
Poetry Aloud is an annual poetry speaking competition for post-primary school students across the island of Ireland and was launched in 2006 as Yeats Aloud, becoming Poetry Aloud in 2007. Since then, it has grown enormously from just a few hundred entries to 1,800 entries in 2017.
The late Seamus Heaney was a significant supporter of Poetry Aloud. In 2009, he was presented by the British Library with the David Cohen Prize for Literature. In addition to the main award, the winner each year nominates the recipient of a subsidiary prize. In nominating Poetry Aloud for the award, Seamus Heaney cited the extraordinary way in which the competition seeks to celebrate the joy of speaking and listening to poetry as well as the fact that there is a strong North-South dimension to the competition.
Wellbeing Week
On December 2nd, Presentation Ballingarry launched its "Wellbeing Week." The principle aim of the week was to provide an environment where the physical, social, and mental wellbeing of the staff and students was supported. Throughout the week the whole school community was involved in a wide range of activities from yoga to board games, to teacher v's pupils' basketball to sporting activities. There was time for meditation and at lunch fresh fruit was freely available. Our sincerest thanks to The Apple Farm for their very generous donation of apples.
The importance of such a week cannot be underestimated in today's pressured environment and it was fitting that this week followed on directly from Christmas house exams. In keeping with the Presentation ethos, wellbeing week acknowledges the complexity of each individual and through having time out to focus on, being grateful or to get active or to simply enjoy the company of one another students and staff were invited to come together and get to know one another outside the confines of the classroom. Our gratitude board was such a success that it will continue to hold its position at the heart of school long after the week is over. This is just the first of many initiatives which will continue to be offered to the students and staff throughout this and future academic years.
LCA Award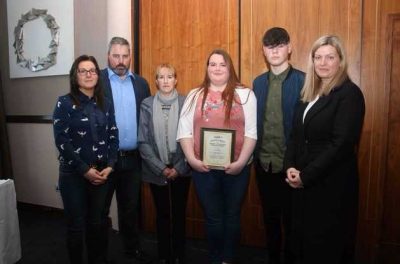 Congratulations to Laura Phelan, Coalbrook, Ballingarry who, in the company of her parents Anthony & Majella, brother Aaron, Leaving Certificate Applied Coordinator Bean ui Laocha and school Principal Ms. Cahill received the Fergal Quinn Award in recognition of her outstanding results in her Leaving Certificate Applied exam. Laura was one of just five recipients from across Ireland to receive this very coveted award and is the only recipient in the south west region. The ceremony was held in the Athlone Springs Hotel and Minister Mary Mitchell O' Connor presented the awards as part of the LCANA conference.
This award is financed by Fergal Quinn and bears his name as he was the first chairperson of the Leaving Certificate Applied steering committee.
LCA coordinator, Bean Ui Laocha praised Laura for her excellent dedication to her work and highlighted Laura's generosity in terms of how she was more than willing to assist her fellow classmates in whatever way possible. Laura is currently attending Waterford College of Further Education where she is studying Photography and Digital Media.
Tipperary Cross Country Schools' Athletics
On the 6th of December 2017 Presentation Ballingarry competed in the annual Tipperary schools' cross country athletics competition, in Thurles Crokes. Twenty- three students attended the competition on behalf of our school. We brought home eleven medals and the Perpetual Shield for the best combined Girls and Boys School. This is a brilliant feat to have achieved and all those who participated contributed to the overall success of the school. Achievements included: Gold medals for senior boys- Jack Kealy, Patrick Walton, Thomas Quin and James O'Meara. Bronze medals for senior girls- Claire Egan, Lauren Donovan and Sasha Hehir. Bronze medals for junior girls- Emma Murray, Éabha Hogan and Louise Cawley. Individual successes- Emma Murray Silver in her 1200m, Éabha Hogan 10th in her 1200m, Conor O'Brien 6th in his 1500m, Éanna Ryan 8th in his 2000m and Jack Kealy 7th in his 3000m. Well done to all those involved and who competed excellently: Kieran Murray, Alex Lowe, Emer Dunne, Molly O'Meara, Carmel Norton, Thomas Walton, Maria Hogan, Aisling Boland, Sean Ryan, Daniel Quin, Eoghan Pollard and Robert Grant.
Presentation Ballingarry Establishes School Conference of St. Vincent de Paul
The T.Y. students of Presentation Ballingarry secondary school have established the first ever St. Vincent de Paul conference in the school. Together with their Religion teacher, Mrs. Stanley, they linked in with the local St. Vincent de Paul conference of Ballingarry. The initial steps towards establishing a school conference began with the students inviting Yvanna, an SVP member into the school to inform them about SVP and to guide them on how to set up their conference. After hearing Yvanna speak about the remarkable work that SVP do, the students immediately felt very passionate and eager to help as many people in need as possible; starting with the people of in the school parish of Ballingarry. A committee was then nomnated and each person assigned a different role. Jack Lonergan was nominated as President with Sarah Cranitch as his Vice President. Chloe Breen was nominated as secretary and Niamh Mullally as assistant secretary. Will Ruttle was nominated as treasurer and Aoife Horan as assistant treasurer. Laura Scott and Ciara Fitzgerald were nominated as the public relations officers.
The students held a senior citizen Christmas coffee morning, a Christmas movie morning and have continued the long tradition of creating Christmas hampers. The conference also created a giving tree where students and staff were invited to leave extra gifts. The group looks forward to working to improve the lives of those in need in our community.
National Famine Commemoration 2017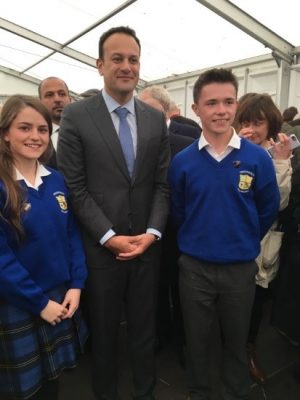 Presentation Ballingarry were delighted and honoured to be part of the National Famine Commemoration this year. The highly organised event saw the school play host to Ambassadors from 15 Embassies – all were impressed with the beautiful location for the event.They also met parents and our Head Boy – Aiden Mullally and Head Girl – Abaigeal Maher. All travelled by organised bus to the Famine Warhouse 1848, where the ceremony took place.Aiden and Abaigeal recited a poem entitled Siberia by James Clarence Mangan, which depicted the suffering of the poor and aptly reflected what it must have been like for the people of Ireland during the Famine Years.Carmel O Brien (former Teacher) also recited 'Amhran na bPratai Dubha' by Maire Ni Dhroma translated into English by Michael Coady.
Seinn 2017/2018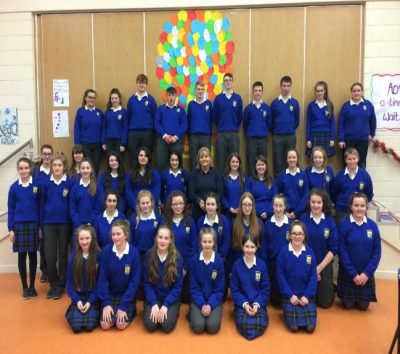 Since October forty students from different year groups met twice weekly to prepare for the Seinn concert in Thurles Cathedral. On December 6th over 600 students came together for the first time and by 7.30 pm 613 voices became one amazing choir under the direction of Ian Callanan. This evening of song and celebration was the perfect way to get ready for Christmas.
The Hope Foundation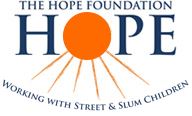 In February Ciara Butler one of our TY students will be travelling to Kolkata for one week with the HOPE Foundation. During this week she will be visiting the various projects run by the HOPE Foundation. In order to travel Ciara raised €3,400, with €2,400 being donated in full to the charity. She held multiple fundraising event.
The Hope Foundation is a registered charity working with street and slum children in Kolkata (formerly Calcutta), India. They work to free children and poor families from lives of pain, abuse, poverty and darkness. The Hope Foundation's CEO and Founder, Maureen Forrest, has remained a volunteer and has never taken a salary since she founded the charity in 1999.
Living on the streets, children are exposed to horrendous physical abuse. Those who survive are left to fend for themselves, with no promise of a safe future. They are forced to work from as young as five years of age to earn money for food and so cannot go to school. HOPE works to free them from child labour. HOPE funds and operates over 60 projects. The Hope Foundation is dedicated to promoting the protection of street and slum children in Kolkata and the most underprivileged in India. HOPE works to effect immediate and lasting change in their lives.
To date HOPE has helped over 2 million people and we are very proud of Ciara as she prepares for what will be a rewarding experience.
Celebrating Nano's Tercentenary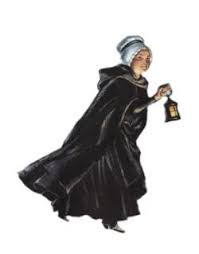 We are very proud of our Presentation tradition and already a committee of staff and students has been established to plan events for this very special year.
Sports News
We have had a very busy start to the new year with a quick return to action for many of our teams. Pride of place must go to the Ladies Footballers who have reached the Munster Semi-Final in both the Junior and Senior Championships. Our Junior Ladies beat St. Ailbe's by 5-6 to 4-4 to progress on Tuesday January 9th. Our Senior Ladies then followed this up with a remarkable comeback win against Kilmihill of Clare on Thursday January 11th. Five points down at half time, in terrible weather conditions, Ms Bourke's girls fought back and inspirational Emma Cody secured the win with a goal in the final seconds. Well done to Ms Bourke, Ms Harding, TY mentors Declan Hayes and Stephen Donovan and all of the girls on both panels.
Our Basketball teams have also been busy with our second year girls defeating Loreto Clonmel by 29 to 25 in the B league to begin the season. Our first years were narrowly defeated by 22-20 in a gripping finish. In the D league, both our first and second year teams gave creditable performances. We look forward to facing Cashel on next Friday January 26th. Our TY mentors Chloe Walsh and Niamh Mullally continue to do good work.
Hard luck to Mr Daly and the u-15 soccer team who were defeated by a stronger side in Limerick. Next Wednesday January 24th, our u-16.5 footballers will be in action against Desmond College Limerick in the Munster Colleges first round (weather permitting). Our athletics teams have also returned to training and our u15 and u17 hurlers will return next week in preparation for upcoming games. Well done to Conor Duggan, Eoin Ryan, Seán Ryan and Éanna Ryan who finished as runners up in the Tipperary Badminton Championships and will now go forward to play in the Munster Competition on Thursday January 25th next in the University of Limerick.