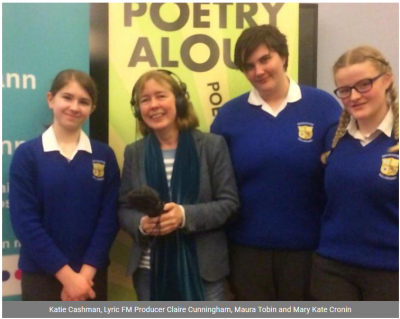 Mrs. Teresa Regan has prepared students for the Poetry Aloud Competition which is now in its fifteenth year since its beginning and this year, RTE Lyric Fm recorded a programme which was aired in December. Mrs Regan together with her students were delighted that show producer, Claire Cunningham followed the progress of students from Presentation Secondary School Ballingarry throughout the competition
The Poetry Aloud competition has three categories: junior, intermediate and senior. Mary Kate, Maura and Katie competed alongside 125 participants from 82 schools nationwide in the semi-final. We are thrilled that Maura has progressed to the final stage of the competition.
Students, Maura Tobin TY, Mary Kate Cronin 2nd year and Katie Cashman 2nd year saw off competition from 1,700 entrants to reach the semi-final stage of the annual Poetry Aloud competition, organised by the National Library of Ireland (NLI) and Poetry Ireland, in partnership with UCC. The semi-finals took place over three days, from Wednesday, 21st November to Friday, 23rd November, at the National Library of Ireland
Speaking at the semi-final, Brid O'Sullivan of the NLI's Learning and Outreach Department, said: "Poetry Aloud aims to celebrate the art of poetry speaking and nurture the talented second-level students who practice it. This year, the prescribed poems and anthologies draw on a wide range of emotions and moments in Irish life and they have been truly brought to life by the participants. We are delighted to have welcomed students from Presentation Secondary School, Ballingarry  to the NLI to participate in the semi-final and would like to extend our congratulations to all for making it this far."
The Poetry Aloud 2018 final took place on Friday, 7th December at the National Library of Ireland with TY student Maura Tobin securing a place in the final.
Photo taken from Tipperary Live News
https://www.tipperarylive.ie/news/schools/349830/presentation-ballingarry-reach-for-the-stars-at-poetry-aloud-final.html