Letter to the Graduating Class of 2020
To the Leaving Cert Class of 2020,
What a way for you all to finish school. To be told at 12pm on the 12th of March that you were going home and to take all your books with you as we did not know when you will be back. It turns out you didn't make it back and your Leaving Cert exams were cancelled. I know it has been stressful for you as you endeavoured to learn and revise from home without all the supports of being in school. I know your teachers worked very hard to help you with your studies, but I am also very much aware that it is not the same thing. Teaching and learning are fundamentally about relationships and online relationships do not have the same strength as the face to face kind. Then came the announcement that the exams will be held on the 29th of July, effectively decimating your summer and then the speculation began until finally the Leaving Cert was cancelled. What a roller coaster these past few months have been for you. I have felt for you every step of the way in this.
You decided not to have a virtual graduation but opted when you can to share a lovely evening together in person. I know you trust us in the Pres to ensure you have a special night and I promise you we will not let you down on that. I'm looking forward to meeting you all in person in the future and hearing all about where you are at. I've missed teaching you over the past few months.
The next phase of your life is exciting where you step out into the adult world and get your first real taste of independence. There is much to look forward to. You each have a different road to travel and my wish for you is that this journey is one where you have people with you who love you along the way, to celebrate the good times with you and to share the load of the tough days. I hope you trust yourself, for that inner voice knows what's best for you. You have great wisdom within so don't ignore your inner self. You will make mistakes along the way which is all part of growing but it is at these times that you really need to listen to your inner self for it will know how to guide you. I hope you have lots of joy in your life and that you continue to have wonder and awe in the beauty around you.
When you started in first year my wish for you was that you would be happy in school here at the Presentation. I really hope that was the case. You will always be a presentation girl; you are one of us and you are welcome to call on us in the future to seek our support or to offer yours to us. You never know we may have some very powerful influential famous people amongst you.
I really enjoyed being your Year Head. The tone of our weekly assemblies was one of praise and encouragement and that is down to the fabulous group you are. I thank many of you for the trust you placed in me over the years, for I recognise the privilege it is for a young person to share their story with you. It was an honour to journey with you and I wish each and every one of you all the best in the coming years.
Your Year Head
Ms. Bolger
Link Modules 2019/2020
 Both fifth year Link Modules groups ran a very successful enterprise activity in the past year. One group ran a Table Quiz for first- and second-year students in aid of the charity Aoibheann's Pink Tie and raised €220. The group were planning the activity for a number of weeks and put a lot of effort into making sure that it was a success. The other class held a very successful movie event for first years, where they showed the movie 'Daddy Day Care' and raised €285 in the process for C-Saw.
In January, one of the fifth-year groups also went on a visit out to the Clonmel Park Hotel. A very enjoyable and informative day out was had by all. The other Fifth year group will be going on their visit out in Sept/Oct, unfortunately Covid-19 changed a lot of our plans!!!
Both fifth year groups were so lucky to complete their three days' work experience just before the lockdown. The students benefit enormously from this experience and gives them such a wonderful insight into future possible careers. I would like to take this opportunity to thank employers in our local area who facilitate this great learning experience.
I would also like to compliment the fifth year Link Modules class on their level of online engagement from March the 12th onwards. It was exceptional and puts them in a great position course wise starting next September.
The sixth-year students must study a topic on their course called community enterprise.  They asked Patsy Butler (Day Care Centre) to come into the class to give a talk about the community enterprise that she manages. As always, Patsy gave a detailed and interesting account of the work that the Day Care Centre does. They also completed a Portfolio item which involved them doing a Recorded Interview. This is such a fantastic item to complete as it gets these students ready for any future interviews, they may have to complete for college courses or for potential jobs. At first, they find this item to be daunting but are always delighted that they actually did it and would say afterwards that they would not feel as nervous doing another interview again. This course develops so many key skills that are needed both in college and life in general.
Our sixth-year group have now completed their course work and they are to be complimented on their level of online engagement under very difficult circumstances for everybody. They were an absolute credit to the school and themselves. We would like to wish everybody a lovely summer, stay safe and we are really looking forward to seeing everybody again in September.
Best Wishes
Ms. Hayes and Ms. O Dwyer
Mr O' Loughlin goes "One Step Beyond" – Covid-19 Donation of PPE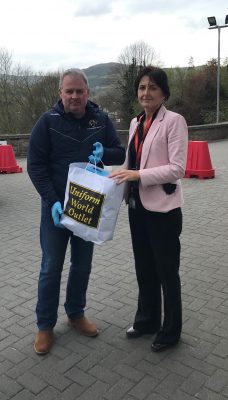 Presentation Secondary School along with Highschool CBS, Loreto Secondary School and Gaelcholaiste Cheitinn came together to donate personal protective equipment from their schools (goggles, masks & hand sanitisers) to South Tipperary General Hospital.
Michael O'Loughlin (Principal Presentation Secondary School) said "the school was honoured to be involved with this initiative with other local secondary schools. We are only too delighted to help the medical staff in Clonmel. As our schools are closed at the moment, we have the capability to offer supplies to the hospital and it is great to be of assistance to South Tipperary General Hospital"
"The High School is delighted to help our healthcare professionals in any way we can. It can't be said enough that we are in this together. All those frontline staff are in our thoughts and prayers and we will continue to actively seek out ways we can help the community that we serve." Karen Steenson Principal High School.
John McCarthy (Priomhoide Gaelcholaiste Cheitinn) also added "personal protective equipment is critical for the hospital in these unprecedented times and the Clonmel schools have shown great solidarity in organising the delivery of the supplies. I know the medical staff in Clonmel are very appreciative of the supplies and we are delighted to help them in these challenging times".
Anne McGrath (Principal Loreto Secondary School Clonmel) "Our science departments in all four schools were very helpful in organising the supplies for delivery. This is a great community effort by our four secondary schools in Clonmel. We are all proud of the work of the frontline crew and it was tremendous that we could play our part in helping them."
Tik Tok Challenges
To help keep the spirits lifted while we were in lockdown, the Presentation ran a series of Tik Tok challenges including #studyingathome and #exercisingathome. Students made short videos of themselves studying at home or exercising at home and were in with a chance to win a variety of prizes. We were delighted to see the teachers getting involved too! A special shout out to Mr. Flynn for organising the #exercisingathome challenge which helped students stay fit during the lockdown.
1st Year Basketball 2020
South East Schoolgirls 1st Year C and D Leagues
The 1st year basketball team had their first taste of competitive basketball when they took part in the 1st year blitz in Kilkenny in December organized by Pres Kilkenny. Both first year teams competed and there were impressive displays from all the girls at their first ever basketball games for Pres Clonmel.
The A team began their league campaign in January. Their first opponents were Killenaule, Pres girls winning comfortably.  Their next opponents were CTI Clonmel, and they were again victorious. They secured victory over St Ailbe's. In the next game they were away to Ursuline Thurles, they showed great determination and hard work but Urluline proved too strong on the day. Unfortunately, Pres girls were also defeated by St Anne's which meant they did not progress to the regional stages. Panel members included Eabha Murphy, Orlaith McCarra, Roise O'Reilly, Sinead O'Carroll, Lucy Brannigan, Helena O'Connor, Lucy Carroll, Clodagh Burke, Cara Patterson, Lucy Hanrahan, Eimear Heafey and Felicie Auffray.
The B Panel played in the D league this year and played brilliantly against Tyndall College, Scoil Ruain and Tullow Community School. The girls showed great potential and improved greatly as the year went on. The panel included Emma Pyke, Sra Rootzavan, Aoibhe Condon, Anastatia Fitzgerald, Megan Lonergan, Brooke Smyth, Kinga Adamsky, Iustina Afloraei, Saoirse Scully, Rachel O'Reilly, Gaja Wielgus, Hannah Ryan, Alice Sweeney, Lucy Cleere, Zuzanna Poniedzialek and Rabia Ghous.
Gaelic Football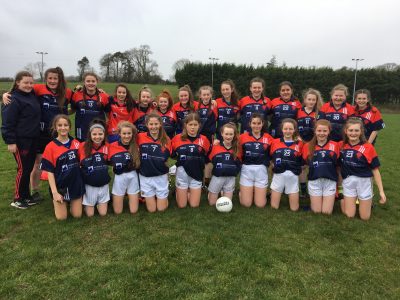 The 1st and 2nd year team continued to train on Tuesdays after school playing their 1st game against St Anne's on 29th January. With a brilliant team effort, the girls had a great win. There were some impressive displays especially from Sinead O'Carroll, Lucy Carroll, and Lucy Hanrahan, Grainne Power, and Hazel Brennan. 1st years were due to play in the 1st year Tipperary county blitz in Rockwell in March, which was cancelled. The senior team had reached the semifinal of the Senior B Tipperary competition and were due to play Munster champions Fethard, but unfortunately the game also had to be cancelled.
2nd Year Basketball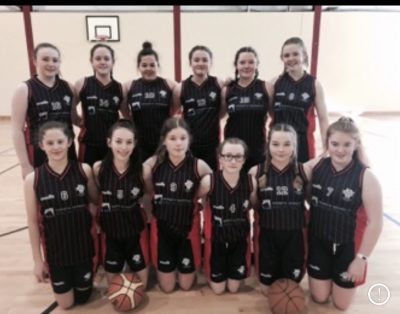 The second-year basketballers had a very good campaign and were due to play St Brigid's Callan to decide if they would go forward to the All-Ireland Play-Offs. Unfortunately, the day that game was due to take place, our Taoiseach announced the closure of all schools. The league campaign kicked off in early Jan and their first game was against Killenaule. The girls had a comprehensive win here by 42 -10. Great performances were turned in by Aedin McCormack, Hazel Brennan, Lily Browne and Amy Mc Morrow. Their second game saw them pitted against St Ailbes. Again, the girls turned in a solid team performance with everyone on the panel playing their part. Great scores by Caoimhe Keeley, Amy McMorrow, Isabelle Browne, Lily Browne, Hazel Brennan and Martyna Cyrulnik paved the way for victory. The final score was 54-6. Ursuline Thurles were next on the list.
This proved to be one of the stiffer tests with the Pres girls a little slow out of the blocks but once they found their rhythm, they played some lovely basketball. Again Aedin Mccormack, Lily Browne, Hazel Brennan, and Sinead O Carroll were to the fore. They ran out winners by 29-16. Their last game in the group was against St. Anne's whom they beat well on a score line of 60-15. This meant the Pres Girls topped their group and qualified for the regional quarter final against Comeragh College. This was played in Monroe and the girls won easily. The regional semi-final was against Borris Carlow. After an unsettling late start the girls found it hard to get into the game and trailed from the start. Although a late surge and wonderful play by Amy McMorrow dragged them back into the game it wasn't enough as the girls were beaten by a solitary point 17-18!
The girls fought to the end and played their hearts out. And so, that is where the girls finished, just as the country shut down due to Covid 19 and waiting to play St Brigid's Callan for the 3rd place All Ireland Play Off position. The panel was Sinead O Carroll, Hazel Brennan, Aedin McCormack, Amy McMorrow, Tanya O Sullivan, Caoimhe Keeley, Saoirse McKeown, Holly Hayes, Martyna Cyrulnik, Chloe Marx, Lily Browne, Isabelle Browne. Well done girls!!
Junk Koture Wildcard
We are delighted to have been selected for the Junk Koture Wildcard. Joining "Imperium" and "Socketta" is "Arcoiris" – here is where the inspiration for the costume came from:
"Our inspiration for Arcoiris is to spread awareness to the LGBT+ Community with inspiration from RuPaul's Drag and Lady Gaga to make this dress. We collected over 500 Pringle cans and found ways to manipulate this material. Using all the colours of the pringle cans we created a powerful and meaningful outfit. We chose the name Arcoiris (Spanish for rainbow). A drag queen represents the model's character and we chose our song by RuPaul so that it fully reflects our theme. The dress is loud and proud like everyone should be about who they love and who they are!
Materials: Using over 500 Pringle cans we hand cut and shaped each piece to make a variety of dynamic designs to make up the unique and artistic Arcoiris.
Music Department
This year has been a year like no other! We began the year with a bang bringing "We Will Rock You" to life on the stage of the White Memorial Theatre. The show was performed to an incredibly high standard and Ms. Williams and Ms. Alley could not have been prouder of their students. Shortly after the show we were on the road heading to City West in Dublin where Desiree Haran-McCarthy, Caoimhe Woods and Aoife McNamara performed at the Comórtas Beo and did both the Irish and Music departments of the Presentation proud. While we were disappointed at how the traditional school year ended, we were thrilled to receive news of the StageWise Theatre Awards nominations. "We Will Rock You" was nominated for 4 awards: "Best Male Singer" – Oisín Crowe, "Best Choreographer" – Henry James Fitzgerald, "Best Chorus Singing" and "Best Ensemble".
Religion Department: Challenge to Change
TYA ran a very successful "Stay Safe" workshop for 2nd years as part of their Challenge to Change project 2019/2020. Many thanks to Ms. O' Mahoney for facilitating.
Geography Department
Here is just a selection of some of the amazing 3D models of geographical features that the First Years made this year. A lot of skill and creativity was used while putting their models together. Features seen in the photos include the Earth's Layers, A Wind Farm, The River Course, the Water Cycle, Volcanoes, A Tsunami and the continents of the world. Well done girls from the Geography Department.
Creative Schools Initiative
Creative Schools is a flagship initiative of the Government's CreativeIrl. The project is led by the Arts Council in partnership with the Department of Education and Skills, the Department of Culture, Heritage and the Gaeltacht and the Department of Children and Youth Affairs.
Presentation Secondary School, Clonmel is committed to offering our students an holistic Catholic Education in a caring environment conducive to learning and personal development. This is our mission statement and it recognises our commitment to the importance of creativity in our teaching, learning and extra-curricular activities.
We have been part of the Creative Schools initiative since September 2018. Our Creative Associate is the very talented and helpful Joanna Parkes. She has advised and guided us through our Creative Schools journey over the past two years.
In year one, we were involved in a variety of exciting projects which included the creation of a small wild-flower garden on the school grounds, a film making project with transition years and in Irish song writing competition.
Our largest project in 2019 was the production of our Trad. Roadshow. This was a combined school, live teaching concert of traditional Irish music. It involved Presentation Secondary School, High School CBS, Loreto Secondary School and Gaelcholáiste Chéitinn. This live interactive concert was hosted in three schools – 3 concerts in one day. The music was provided by traditional musicians from each school. The concert was open to all music students and it involved peer teaching, team teaching and inter school's cooperation. It used our best resources (ie. our students) and helped to create musical links in the town. This was a most creative and valuable way to teach important sections of our junior and senior curriculum.  This day was filmed and is being used as an important teaching tool for the music teachers in each school.
This year (2019-2020), our main initiative was a rap writing project with Garry McCarthy of GMC Beats, Cork. This was a cross curricular project, linking Music, English, oral literacy, presentation and performing skills. It was open to all first-year students and helped to promote positive wellbeing.
Another project supported by Creative Schools funding in our school this year was the recording of an Irish song entry for the Cómortas Beo competition. Creative Schools has also helped the Music department to buy a set of ukuleles with a view to developing a small performing ensemble.
Presentation Secondary School has been competing in the Junk Kouture competition since its inception ten years ago. Junk Kouture is a fashion competition using recycled materials, which challenges young people to design, create and model high end couture from everyday junk! The Creative Schools initiative has helped with transportation costs for same over the past two years.
What's next? Our next project is to create a photo book of our Leaving Cert. canvases. For the past twenty years, it has become a tradition in our school to create a work of art for each graduating class. These canvases have individual themes and always include the names of the graduating students. While the school still houses these works of art, we are running out of space and we fear that the older ones in particular, may get damaged or lost. We want to create a book to act as a catalogue including the relevant list of graduates for each painting and academic year. We intend to display this book in our school library.
#Creativekids #Creativeschools
Pres Set to Become Solar School – News from the Environment Committee
Thursday, the 12th of March is a date everyone in our school remembers. It was the last day teachers and students roamed the building before schools closed due to Covid-19. But it was more than that: it was also the day the Environment Committee of our school became big winners!
It all started with Lauren Duggan – a first-year student and one of over twenty enthusiastic students who give up some of their free time to work on the Environment Committee of the school. Lauren joined the committee at the beginning of the school year. Little did she know then that one of her ideas would convince the initially a little reluctant committee to enter a competition for solar panels and emerge as winners.
The competition "For the Love of Solar" – run by Friends of the Earth – promised one lucky secondary school in the South solar panels worth €10,000. All we had to do was come up with an action project idea and make a video explaining our idea. Sounds easy? Well it wasn't that easy. For weeks, it was an agenda item at every meeting. For weeks, we simply couldn't come up with an idea that was worth pursuing. … until Lauren spoke up and talked about her frustration with the traffic congestion in front of the school every morning and evening. She'd hit a nerve and got the ball rolling. For the next few weeks, the committee met almost daily to pin down the idea while working out the script and technicalities of producing a video to pitch the idea, before actually filming it and putting it all together. "Pool4Skool" was the result – a spoof news report about the introduction of a car-pooling app that would reduce traffic in front of our school and beyond.
We thought our work was done, but we hadn't read the small print! The submission of the video unleashed a "Battle for YouTube Likes" among two dozen competing schools that waged for a week. At the beginning of the week, it very much looked like a losing battle for a small school like ours. But never underestimate the underdog! In true Presentation-fashion, everyone in the school signed up to the cause and pulled out all stops to get YouTube likes from friends, families and strangers in Clonmel and beyond. Finishing third in the voting, we had qualified for the final round: a thorough evaluation of our idea, application form and video by an independent jury.
The rest is quickly told: amid the chaos and uncertainty of the last school day pre-Covid19, we received a call from the Friends of the Earth confirming we had won in our region (a few screams, applause and a general outpour of excitement may have been heard in the building)!
What does the win mean for our school? It's like the gift that will keep on giving. Not only will we have the solar panels worth €10,000 installed free of charge, we will be able to use free power all day generated directly from our roof. This will really reduce our carbon emissions and should make our electricity bills a thing of the past. Even better: during the weekends and holidays we will be able to sell any power we do not use to the 'Community Renewable Energy Supply' (Cres). It's really a win win for our school and the climate.
Congratulations to the Environment Committee and a whole-hearted thank you to everyone who supported our campaign on YouTube!
Student Enterprise Awards – All Ireland Final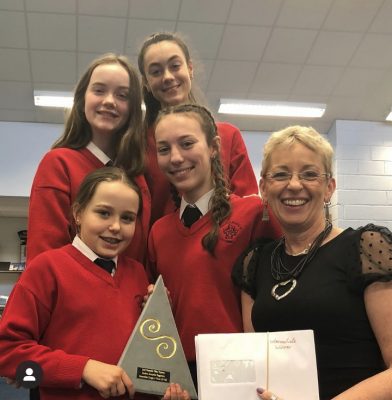 We are so proud of Anniemae Walsh, Ada Hennessy, Molly O' Brien and Hazel Brennan who competed in the All Ireland Final of the Student Enterprise Competition on Wednesday 27th May with their product "Hanger Helpers"