TY students win 1st and 2nd place at ARTiculation National Final
On Friday 29th March, Transition year students travelled to Kilkenny Castle to support their classmates, Julia Szarota and Eimear O'Sullivan as their competed in the National final of The ARTiculation public speaking competition.
Set up to encourage an appreciation and discussion of art among secondary school students, each contestant in the competition had to give a ten-minute presentation about a work of art, artefact or piece of architecture of their choice based on their own opinions and feelings.
The girls won 1st and 2nd place on the day and say that taking part in the project was fantastic for their confidence and for developing their ability to stand up and get their views across.
Pres wins Most Enterprising School Award at Kerry Enterprise Awards 2019
Four groups represented Presentation Secondary School at this year's Kerry Enterprise Awards held in Tralee IT in March. Two first year enterprise groups participated in the intermediate category while two TY groups competed in the senior category.
It was a fantastic day for all students and Presentation was awarded the most enterprising school Award for its work in fostering entrepreneurship within the school, and thus received the Cantillon Perpetual Cup.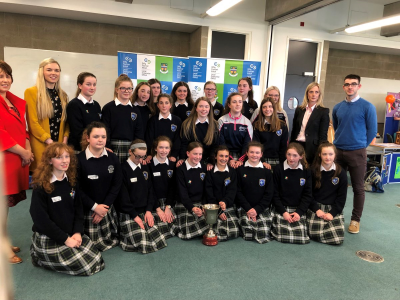 Ceiliuradh na nOg
Transition year students attended Ceiliuradh na nOg in March, an event hosted by the Diocese of Kerry. This wonderful event was a celebration of faith with a series of workshops, fun activities and celebrity guests.
The M.C. for the day was Deirdre Walsh of Radio Kerry and guest speakers included Bishop of Kerry Fr Ray Browne and former Manchester United Player Fr. Phillip Mulryne.
Snap It Shut Initiative
Over 60 of our 1st year students took part in a joint initiative called Snap it Shut with the Green CBS Tralee. The event was organised by the 1st year year heads in both schools. It involved each student putting a phone/game console/remote or other device into a sealed envelope and agreeing not to use it for two weeks.
Mayor Norma Foley and Marc Ó Sé were on hand to launch the initiative and the main aim was that the students will see the effect of mobile device use and will be more aware of time spend on it in the future. "Disconnect to connect"
It was a hugely successful event and raised awareness of spending quality time with friends and family.  Some commented that they played more outside, slept better and had more energy each day for school.