CEIST Leadership Conference
Aoife Dowling, James Howard and Emma Kelly represented Mary Immaculate at this conference held in St. Patrick's College DCU in Dublin on Wednesday 20 March 2019. They were joined by students from the 107 CEIST schools across the country and travelled with students from the other four CEIST schools in Clare: Scoil Mhuire Ennistymon, St. Joseph's Tulla, St. Joseph's Spanish Point and Coláiste Muire Ennis.
Archbishop Diarmuid Martin of Dublin along with Professor Daire Keogh from DCU and Minister Mary Mitchell O'Connor addressed the conference on the theme of leadership. Students shared ideas with each other about what is happening in their own school and had a mindfulness workshop.
First Year Mathematics Quiz
Well done to Dara Howley and Oliver Vaughan who represented Mary Immaculate Secondary School in the First Year Mathematics Quiz Final in St. Flannan's College Ennis recently. Thanks to Ms. Burke for her promotion of the competition.
Senior Girls D2 Munster Football Final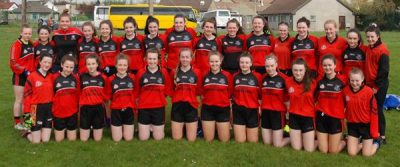 The senior girls Munster Post Primary D2 Cup football final took place on Friday 12 April in Mannix College grounds Charleville at 11:30 am. It featured the girls from Mary Immaculate V St. Gobnait's Secondary School Ballyvourney. St. Gobnait's emerged victorious. Mary Immaculate can be proud of their achievement in reaching the Munster final for the fourth year in a row. They played with pride and conviction against a very talented Cork side. All of Mary Immaculate players are underage against next year and can look forward to bringing home the cup in 2020.
A big thank you to the team from Mary Immaculate. The panel include: Aimee Burke, Sally King, Kate Considine, Amy Woods, Emma Healy, Norah O Dwyer, Áine Connole, Róisín Roche, Laura Griffey, Sarah McNamara, Lisa Shannon, Róisín McNamara, Latisha Carr McNamara, Eva Harrington, Áine Hegarty, Shauna O'Kane, Rachel Howley, Teresa Collins ,Sadhbh Blood, Rachel O'Keefe, Leah McNamara, April O'Callaghan, Julie Martin, Susie King, Aoibhinn McCormack, Lynn McCormack, Mary Kate O'Dwyer.
Thanks to all the supporters who travelled, students, teachers and the many parents. A very special word of thanks to Ms. Slattery and Mr. Mulqueeny for their coaching and training of this team and giving them the opportunity to represent their school in the Munster Girls D2 final.
A Story of Resilience – Jason Sherlock – GLOR ENNIS
Some of our Second year students attended GLOR in Ennis today to hear Jason Sherlock's story. His story is one of a battle for acceptance, a fight against racism, and a climb to the highest levels of three sports, with a stop-off along 'Celebrity Way'. A big thank you to Clare County Council, Comhairle na nÓg, Clare Youth Service and Youth Work Ireland. Thanks to Ms. Burke for organising this activity.
New Eco Enterprise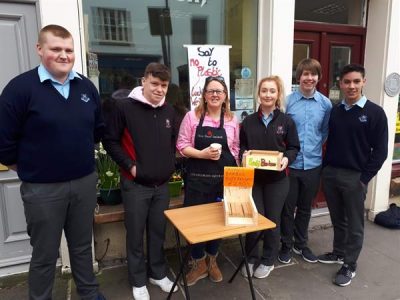 Students from Mary Immaculate pictured with Sinead Garvey of the Cheese Press for the launch of their New Eco Enterprise, called Lucky Bamboo.. The students are promoting their new start up company. Bringing a Bamboo toothbrush to market. They are proud of their biodegradable toothbrush product. Their slogan Say No to Plastic Lucky for You we've got Bamboo encapsulates the need to replace plastic products with environmentally conscious alternatives. Thanks to their LCVP teacher Mr. Slattery for his advice and support.
Politics Needs Women
Emma Vaughan and Bláthnaid Marsh together with their teacher Ms. Aoife Griffin and principal John O'Loughlin attended the screening of the finalist's entries in the school's video competition 'Politics Needs Women'. The screening, from 14 secondary schools across the country, took place in The Atrium of the Department of Justice on Thursday 28 March 2019.
Congratulations to Emma Haran (unable to attend), Bláthnaid Marsh and Emma Vaughan for their video entry and being shortlisted for screening.
Prior to the screening we went for a walk in St. Stephen's Green. St. Stephen's Green Park has played witness to many of the turbulent episodes of Irish history, with the most famous being the role it played in the in the 1916 Easter rising. Other notable features included:
A bust of James Joyce facing his former university at Newman House.
A memorial to the Fenian leader Jeremiah O'Donovan Rossa near the Grafton Street entrance.
A memorial to the Great Famine of 1845-1850 by Edward Delaney.
A statue of Robert Emmet standing opposite his birthplace at no. 124.
A statue presented by the President of the Federal Republic of Germany in 1997 'in gratitude of the help given to German children by Irish people after World War II'
Certified Irish Angus Beef School Competition Finalists travel to Holland
A group of Agricultural Science students from Mary Immaculate Secondary School, Lisdoonvarna visited leading retailers in Ireland and Holland to learn about the marketing and export of Certified Irish Angus beef.
Amy Woods, Katie Thomas and Séamus MacNamara, who are participating in the Certified Irish Angus Beef Schools Competition, first visited the headquarters of leading retailers Tesco Ireland to get some valuable tips of the trade before heading to Albert Heijn in Holland. They made a presentation on their project to head office staff of Tesco in Dunlaoighre Dublin and Albert Heijn in Amsterdam. Their presentation included the tradition of cattle farming in the Burren region, the tradition of winter aging and the sustainability of Irish Angus cattle in this unique part of Clare and Ireland.
The study trip, organised by Irish Angus Producer Group, ABP and Kepak began with the visit to Tesco Ireland in Dublin. The group then boarded a flight to The Netherlands where they visited Albert Heijn, the Dutch supermarket chain who is aa leading importer of Irish beef.
The Lisdoonvarna triumvirate were selected by a panel of industry judges to rear six Irish Angus Cross calves up until their slaughter in 2020. The calves are presently thriving on the winter age lands of the Rodger and Lorraine Woods Ballyvaughan.
The students were tutored by their Agricultural Science teacher John Sims.
Charles Smith, General Manager, Irish Angus Producer Group said " …. this study trip provides Amy (Amy Woods), Katie (Katie Thomas) and Séamus (Seamus MacNamara) with the opportunity to meet some of the top retailers in Europe and to gain insights into the selection process of high-quality beef for their consumers."
"At Tesco Ireland they learned about what it takes for a product to become one of the exclusive Tesco Finest brands."
Principal John O'Loughlin, thanked teacher John Sims for mentoring the students, congratulated the students on being finalists in the Certified Irish Angus Beef Schools Competition and wished them well in the rearing of the calves and in the remainder of the competition. If this trio are successful in winning the competition outright they will received €2,000 towards their further education. Well done guys. You did yourselves, your parents, your school and teachers proud.