Presentation Choir Light Up Nathan Carter Concert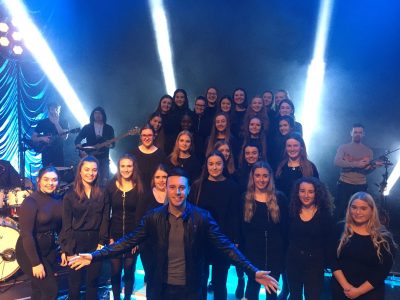 Presentation Secondary School Wexford had the privilege of opening the show for music star Nathan Carter's Christmas shows at the National Opera House on December 7th & 8th. The school choir, under the care of Music teacher Ms Lorna Mahon, performed hits from The Greatest Showman and Christmas classics such as 'O Holy Night' to sell out audiences on the two nights.
Speaking about the concert, Ms. Mahon revealed how proud she was of the 'superb' choir once again.
"Nathan Carter's production team contacted the school about a month before to see if we would be interested in performing in his Christmas show. Obviously, we were delighted to be asked. This was the choir's second performance in the National Opera House this year. The whole experience was amazing, and the choir were superb as always. Special mention to Elizabeth Nwosucha and Jamie Benson who were brilliant on percussion for This is Me as was our soloist Ciara Doherty. I think everyone had great fun over the weekend which is what it's all about."