Book Drive for Peter McVerry Trust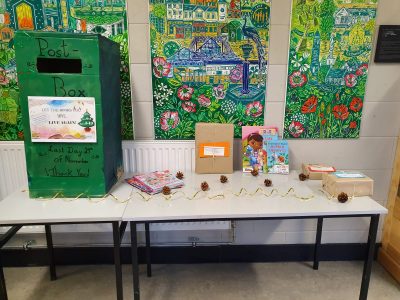 We have over 200 packages of books to deliver to the Peter McVerry Trust in Dublin on Wednesday 17th of December. Students collected 1,600 books at drop off points around the school, sorted them into piles depending on the age range, 0-4 years, 5-10 years and 10+ years. The McVerry Trust will redistribute to homeless kids in temporary accommodation in Dublin over the next week. All wrapping is sustainable and reusable.  One of our Leaving Certificate students Jill Cushen penned the lovely poem in the photos and every package has one attached. A great community effort by Development Education committee, Coiste Cinnealtais, Green Schools, Well-Read Committee and a range of hard working student elves who lead the process.
1st year and Transition Year work with PATH
This year to mark Presentation day 1st year students, with the support of their parents and guardians, collected items for PATH (Portlaoise Action to Homelessness) which were distributed locally in Laois and in Dublin. Transition Year students through their Challenge to Change programme have been working to inform the school, local and national communities about the plight of the homeless. They appeared on Claire Byrne Live where they talked about their fundraising efforts and how they are working with PATH to encourage donations of goods for their distribution. They are having a Christmas bake sale with all proceeds going to PATH.