Curriculum Forum 2020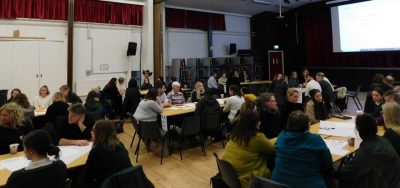 As we enter​ a new year, the school has continued the process of looking forward to the future of life for students at Presentation Secondary School, Wexford with our Curriculum Forum 2020 held recently.
A process of exploration that began over 2 years ago saw all stakeholders come together for an evening of discussion and engagement around any possible changes to our subject offering in the context of our Mission Statement and ethos.
Facilitator Rachel O'Connor, Principal at Ramsgrange Community School, described it as an 'excellent evening…exemplary practice in SSE and collaboration by the school with all stakeholders highly engaged in reflection and discussion.'
The school's Board of Studies will now consider the feedback, along with previous surveying of stakeholders as the process continues.
International Cap for Presentation Soccer Star
Sunday 26th January was a proud day for Presentation Secondary School, Wexford as 2nd year student Katie Law made her first appearance for the Republic of Ireland U15 soccer team at Eamon Deacy Park, Galway.
Katie, who plays her club football with Wexford outfit North End United, has been a key member of the school's soccer teams over the past couple of years, helping her team mates to a Leinster 'A' Cup title and U15 League trophy last year, as well as a place in the All-Ireland final.
We wish Katie and her team mates the very best as they continue to prepare for the Bob Docherty International tournament where they will face England, Scotland, Wales & Northern Ireland.