Turas Eachtraíochta na hIdirbhliana chuig Coláiste Uisce 20-22 Meán Fómhair 2018 (Transition Year Bonding Trip 2018)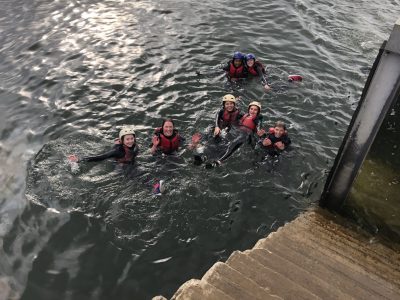 Shroich 57 scolairí ón Idirbhliain agus ceathrar múinteoirí ionad eachtraíochta Choláiste UISCE (Maigh Eo) ag am lóin Déardaoin 20ú Meán Fómhair. Bhí craic iontach ag na daltaí agus na múinteoirí ag déanamh imeachtaí spóirt uisce agus talúin thar dhá lá go leith trí mheán na Gaeilge, tríd is tríd.
Sa bhreis ar sin bhaineamar taitneamh as na cluichí istigh agus as a bheith ag damhsa ag an gcéilí.
Míle buíochas le foireann Uisce agus comhordaitheoir na hIdirbhliana, Bean Uí Chorbhuí.
Bainigí taitneamh as na grianghraifeanna.
Transition Year students and four of their teachers-Mrs Corboy (Transition Year Co-ordinator), Mrs Cairns, Ms Carroll and Ms Devaney- visited UISCE, County Mayo for this year's Bonding Trip. The girls and their teachers had a fantastic couple of days engaging in various water sports and land activities and also enjoyed trying out their dancing skills at the céilí. The trip also provided the girls with a wonderful opportunity to improve on their oral Irish.
Thank you to the staff at Uisce and our Transition Year Co-ordinator, Mrs Corboy.
Success for Sacred Heart Students 'Makes Cents' in Prepaid Financial Services Junior FinTech Innovation Awards 2018
Sacred Heart 2nd Year Students, Leah Keogh, Eva Barnet and Luisa Woods, under the guidance of their Business teacher, Ms Horan, presented their business idea to entrepreneurs Noel and Valerie Moran in a Dragon's Den style forum at the Prepaid Financial Services Company in Navan.
Youth-Centric Payments Innovation 'Makes Cents' is a new cashless payment method for minors and young adults to assist with the move from childhood/adolescence into grown-up e-money users. This may be the first of its kind in Ireland.
The presentation was part of their entry into the Prepaid Financial Services Junior Finn Tech Innovation Competition. The girls were delighted to have been awarded a €10,000 cheque for the school and also they received an iPhone 8 each.
As part of the prize the girls also received a €40,000 investment in their idea and mentoring from various Prepaid Financial Services executives in order to bring their product to market. The girls are currently working on their product and hope to bring it to market during the summer.
'Makes Cents' also won the Best Commercial Potential Award in the Intermediate Category of the Student Enterprise Programme National Finals in Croke Park on Wednesday, 2nd May and also won the best Business and Entrepreneurship award 2018 in the Drogheda Young Innovators Competition 2018 held in Coca Cola Drogheda, Friday 11th May.
Student Leadership Council 2018-2019
The Student Leadership Council is made up of our Head Girl, Deputy Head Girl, Ethos Prefect, Head Mentor and Mentors, four House Captains (Amergin, Lir, Rosnaree and Tara), Senior Prefects who represent each class group and Extra Curricular Activities Prefects. Their role is to develop a House spirit, foster community, support the student body and develop leadership skills.
The following students have been appointed to our Student Leadership Council 2018-2019;
Head Girl – Niamh Hodkinson
Deputy Head Girl – Aoife Lenehan
Ethos Prefect – Akvile Dudenaite
Head Mentor- Orla Brock
Mentors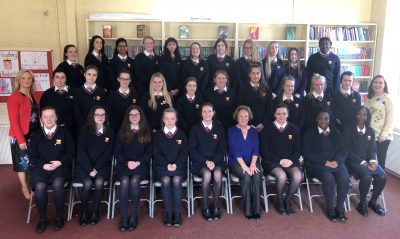 Abby Rose Byrne, Aideen Broccardo, Alison Boyle, Ameritha Ajikumar, Amy Murphy, Ann-Marie Hogan, Ciara Hanlon, Damilola O.Smith, Danielle Ward, Duanna Taylor Rooney, Ellenor Moors, Emily Boshell, Emily Byrne, Emma Clear, Grainne Reilly, Hannah Gartland, Jane Dyas, Jessica Coutinho, Joanne Mooney, Kate Mc Guire, Lauryn Hussey Smith, Michaela Hummerstone, Orla Murray, Rachel Ogunkaya, Rebecca Lanigan, Shannon Rooney, Shauna Clinton, Sophie O'Connor, Tosin Denloye, Weronika Laszczynska, Ziva Sheehan Cussen
Rosnaree
House Captain: Gemma Regan
Senior Prefects: Daniya Amer Raza, Eve Conroy, Evie Cooney, Lauren Finglas, Rebecca Reid
Tara
House Captain: Hannah Griffin
Senior Prefects: Emma Jane Bell, Eniola Ogunkoya, Katie Harrison, Niamh Grady, Tara Shortt
Amergin
House Captain: Niamh Murtagh
Senior Prefects: Ciara Smullen, Gwen O'Brien, Laura Gray, Niamh Kelly, Paulina Ziedelyte
Lir
House Captain: Cara Kindlon
Senior Prefects: Charis Mc Mullen, Erin Mc Donagh, Laura Mc Donald, Niamh Meade, Sarah-Louise Mc Carthy
Extra-Curricular Prefects: Áine Finnerty and Rebecca Reid
Athletics Prefect: Aoife Lenehan
Basketball Prefects: Orla Brook & Sophie O'Connor
Gaisce Prefect: Katie Brangan & Aine Finnerty
Junior Gaelic Prefect: Kate Kelly
U14 Gaelic Prefect: Niamh Grady
Senior Gaelic Prefect: Tara Shortt
Soccer Prefect: Niamh Murphy-Halstead
Swimming Prefect: Rebecca Reid
Sacred Heart win u16 Leinster Final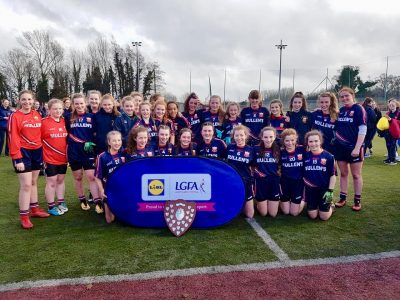 On Wednesday March 15th, two buses of students from the Sacred Heart School made their way to St. Brigid's GAA Club in Ashtown, Dublin 15. The first bus contained our U16 Gaelic football team who were hoping to create school history by winning the Leinster "D" title for the very first time. On board the second bus were a group of very enthusiastic supporters from Transition Year, armed with posters, pom poms and face paints. Mount Anville the opposition had brought plenty of support also and as throw in approached, the noise from the terraces went up a decibel or two. Mount Anville got off to a flyer with two quick points. The nerves amongst the Sacred Heart girls were evident but as the first half minutes ticked by they slowly started to adapt to the synthetic surface and find their feet. As the half time whistle blew Mount Anville were leading 3-5 to 2-4.
The Sacred Heart team mascot took to the pitch during the interval to rally the supporters. On the far side of the pitch Mr.Campbell and Ms. Kirwan were giving what must have been a rousing team talk.
The girls emerged for the second half a different team. All aspects of their game had improved and they enjoyed the vast majority of the possession in the second half. However, inaccuracy in front of goal was costing them along with a number of fine stops by the Mount Anville keeper. With time running out the Sacred Heart still trailed by five points but the belief was still there. A string of fine points left them trailing by one. The supporters were now nervously checking their watches. Was there enough time left to complete this incredible comeback? The answer was yes. Another point soon followed to draw the game. Less than a minute later the winning point sailed over the bar in what turned out to be the last kick of the game. The final whistle blew and the place erupted. Supporters, parents, coaches and teachers all ran to congratulate the team.
Captain Lana Devine received the shield on behalf of the team and Megan McCormack was the worthy recipient of the Player of the Match award. The team received a hero's welcome from the entire school community when they returned to Sunnyside.
Final score:
Sacred Heart 2-11
Mount Anville 3-7
Sacred Heart panel:
1. Marianna Macari-Kierans, 2. Katie Leonard, 3. Caoimhe McPeake, 4. Kate Kelly, 5. Caitlin Cudden, 6. Erin McDonagh, 7. Annie Brangan, 8. Ellen Brodigan, 9. Holly Brennan, 10. Eve Conroy, 11. Katie Lenehan, 12. Sarah McDonald, 13. Megan McCormack, 14. Lana Devine, 15. Molly Matthews, 16. Jennifer Murtagh, 17. Laura Brangan, 18. Chloe Reilly, 19. Ally Sullivan, 20. Katie Greene, 21. Sorcha Cronin, 22. Megan Greene, 23. Hannah Leech, 24. Emma Tully, 25. Aisling Armstrong, 26. Caitlin Rooney, 27. Elizabeth McGowan, 28. Julie Greene
Scorers: K.  Lenehan(1-4), L.Devine(1-1), M. McCormack(0-2),E. Brodigan, A. Sullivan, K. Leonard, H. Brennan (0-1 each)
Sacred Heart School Skips for Mental Health
The Student Mental Health Team at Sacred Heart School Drogheda held a Skipathon on Thursday 10th May as part of their Cycle Against Suicide Campaign.  The aim of this event was to raise awareness around mental health issues.  The themes of the event were 'Empower Your Voice' and 'It's OK Not to Feel OK and it's Absolutely OK to Ask for Help'.
Students represented their House by skipping for mental health as members of the Student Mental Health Team took care to count every skip. The competition was fierce!  The tally by the end of the event left Amergin House firmly in the lead with over 7,000 skips under their belt. As the winning house, Amergin earned 25 valuable tokens towards the House Competition!
Well done to all of the girls who took part in skipping, organising and supporting this excellent event last Thursday.  The sun shone for the most part and students and staff alike seemed to really enjoy skipping for mental health!
Student Mental Health Team and Ms. Haran, School Guidance Counsellor
Sacred Heart Hockey Team
On Saturday 14th April, Sacred Heart Hockey Team achieved 3rd place in the Louth / East Meath Schools Cup held at Drogheda Grammar School. They only lost 1 match (to a strong Drogheda Grammar School team). Sacred Heart won 2 matches and drew the other 2 – this included a strong Dundalk Grammar School and Loretto Balbriggan teams. This was a great performance by a non-hockey playing school and Sacred Heart only narrowly missed out on being in the final.
Particular mention should go to Shauna Murphy and Rachel Callan (goalkeeper) who led the girls on the day and set a great example of leadership and sportsmanship. Both girls both played their final match ever for the Boyne Transition Year Team and narrowly lost a cup final against Sutton – who they also finished 2nd to in the league. These girls have been part of the most successful side Boyne Hockey Club has ever had.
Thank you to Mr Barnett for the article & photographs.
Sacred Heart Golf Classic ,  Friday 6th April 2018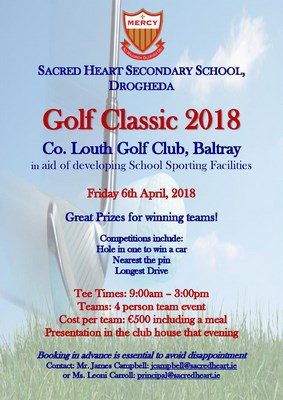 27 teams competed in the Sacred Heart Golf Classic in County Louth Golf Club (Baltray) on Friday 6th April. On arrival each team was greeted by Sacred Heart Principal, Ms. Leoni Carroll, Ms. Deirdre Lynch (Deputy Principal), teachers -James Campbell (event organiser), Miriam O'Hara, Catherine Horan and Melanie Kirwan. Retired Sacred Heart teacher and keen golfer Joe Mc Loughlin was also there to greet the golfers. Team members received their scorecards and a goodie bag sponsored by McGuirks Golf, Dunnes Stores Southgate and Lynch Fruit & Veg Dunleer. Despite the bad weather conditions, spirits were high and many Sacred Heart students were there to support the teams. Former Ryder Cup player, Des Smyth was also in attendance.
The first team to tee off was 4 Sacred Heart Students, Carenza Rock (Head Girl), Bronagh James, Áine McMahon and Ellen Cooney. The team was kindly sponsored by the McCullen family.
It was a cold, wet and windy start to the day but all golfers were treated to warm soup and snacks at the 12th hole. The sun came out in the afternoon and the wind subsided. Players competed in three additional competitions; Hole in one competition to win a Seat Ateca Jeep (valued at €30,980) was set up at the 17th hole as well as Nearest to Pin and Longest Drive competitions. Each team member was treated to a delicious two course meal in the clubhouse on completion of the course.
Event organiser, James Campbell, made careful calculations on all the scorecards and a presentation was held in the clubhouse at 8pm. Sacred Heart Principal, Ms Leoni Carroll, announced the winners, thanked the generous sponsors, team members, school staff and students involved in the event. She also thanked the staff of County Louth Golf Club for their support and excellent service. Fantastic prizes for the raffle were donated by local businesses; Town Centre Pharmacy Beauty Hamper, Tesco voucher, All Pets voucher, Boyne Valley foods Hamper, Signed Meath Jersey, 5 golf lessons from Karl Herbert in Kinsealy Golf Academy, Loop Clothing voucher, and a 3 month gym membership.
The Golf Classic was a tremendous success and all proceeds will be used for Sports Development Facilities in Sacred Heart Secondary School.
Results:
1st Place
Des Smyth's Team 83 points (Last nine)
D Smyth (Scratch)
P Smyth (8)
B Reddan (4)
G Cumiskey (15)
2nd Place
Glanbia: 83 points
B Farrell (14)
D McEntaggart (18)
P Moore (18)
J Broughton (16)
3rd Place
Whyte's Team: 82 points
A Cooney (25)
E Cooney (25)
B Cooney (5)
C Cooney (10)
4th Place
Dublin Road Bureaus Newry: 81 points
S. Leatham (14)
R. Trainor (9)
B. Trainor (8)
G. Trainor (14)
Longest Drive for Gents– Niall Walsh
Longest Drive for Ladies – Barbara Cooney
Nearest the Pin – Noelle Hurley
Papal Visit 2018
Thank you to our large group of students who volunteered during the Papal Mass in Phoenix Park, Dublin. They were accompanied by our Principal-Ms Carroll, their Religion teachers; Ms Carroll, Ms Morris, Mr Lynch and Mr Noel Feeney (parent).
Our School Garden/ Transition Year Horticulture
The Transition year classes and our summer gardening club under the supervision of Ms. Stafford and with great help from Jason- our school caretaker, have made great strides in developing the school garden this year.
The garden has a large poly tunnel, a bug hotel, a compost heap, raised vegetable and herb beds and- thanks to Ms. Devaney- a recently acquired water butt.
A more formal garden area has been designed -this is a work in progress and we hope to open it up to the whole school community very soon.
Thank you to all the parents who have donated plants, shrubs, seedlings, bulbs, cuttings etc. Also a huge thank you to the students, Ms Stafford, Ms Devaney and Jason, who have worked so hard, including over the summer holidays, to develop such a beautiful garden for our school.
A video, which has been created by Ms Stafford, shows how much progress has been made and is available to view on our school's Facebook page.
Orientation Week
It has been a very busy start to our school year. We would like to take this opportunity to welcome all students and staff who have joined our school community.
The staff undertook a variety of team games & challenges on Clogherhead Beach on Monday 27th August to facilitate Staff Professional Development, team building, problem solving, physical and mental agility and to promote positive mental health and Wellbeing.
Thank you to Andrew & Tavis, Celtic Adventures.
We look forward to keeping you posted on all of the events that will take place throughout the year.
North Leinster Schools Track and Field Championships
The North Leinster Schools Track and Field Championships took place in Santry recently. A team of twenty athletes represented the school over two days of competition. For some, it was their first time taking part in an athletics event. Others, were seasoned pros.
The medallists were as follows;
Minor Discus- Mia O'Byrne 2nd, Temi Adeoti 3rd
Minor 800m- Anna Faulkner 1st
Junior Discus- Niamh Quinn 1st (new personal best)
U16 Mile- Holly Brennan 1st
U16 4x300m Relay- Ellie Hanley Rice, Evelyn Mullen, Kate O'Reilly, Holly Brennan 3rd
Inter Long Jump- Orlaith Quinn 3rd
Inter 3000m- Holly Brennan 3rd
Senior Shot- Aoife Lenehan 2nd
Senior Discus- Aoife Lenehan 2nd
Senior Hammer- Zoe Mohan 1st (new personal best)
Well done to everyone and good luck to all of those who have qualified for the Leinster Championships.
Ms Mullins
Junior Certificate/ Cycle Results 2018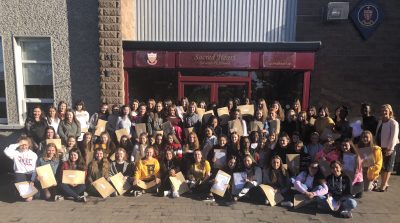 Congratulations to all of our students who received their Junior Certificate/ Cycle Results on Wednesday 12th September.
Gaisce Awards Ceremony
Just before Easter, fifty students from fifth and sixth year were presented with their Bronze Gaisce Awards. It was the culmination of six months work which saw the girls volunteer in the community, develop new skills, improve their fitness and partake in an expedition to Glendalough. Congratulations to everyone who received their Bronze and good luck to those students who decided to pursue  their Silver Awards.
Ms Mullins
Careers Portal National Career Skills Award Winners at Sacred Heart Secondary School Drogheda
Sacred Heart Secondary School, Drogheda are delighted that again this year, three of its 5th Year Guidance students received awards at the recent CareersPortal, National Career Skills Competition.
The competition involved Transition Year and Fifth Year students undertaking a career investigation into a career area of interest to them. Of those recognised for their excellent work was Niamh Daly who won Second Place. Niamh conducted research into the work of a Primary School Teacher. Laura Gray who won Third Place, researched Prosthetics and Orthotics and Sophie O'Connor focused on the work of a Moulage Make-up Artist; her project was highly commended.
These students attended an award ceremony at the Clock Tower of the Department of Education and Skills on Wednesday 9th May where Minister Mary Mitchell O'Connor TD, Minister of State at the Departments of Education and Skills with special responsibility for Higher Education, awarded them with their prizes.
The school and the Guidance & Counselling Service are very proud of their achievements – well done girls!
Liz Byrne, School Guidance Counsellor, Sacred Heart School, Drogheda
3 separate photographs of the girls
Staff Team Building Day at Clogherhead Beach Louth 
Photos taken from the staff team building day at Clogherhead beach, Co. Louth.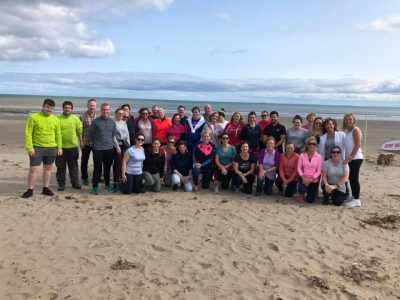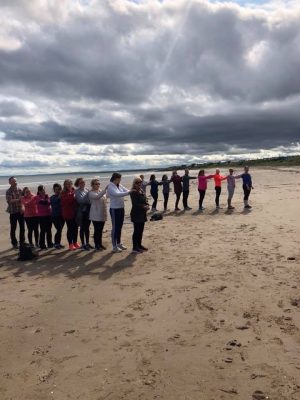 American Student Exchange 17th-24th March, 2018
During the week of the 17th to the 24th of March, twelve students from the Sacred Heart School hosted twelve students from Georgetown Visitation, Washington D.C. The first leg of the exchange had taken place during October when the twelve Irish girls were hosted by the American girls in Washington D.C.
The exchange is an option during the Sacred Heart Secondary School's Transition Year programme. It has been running for 14 years and has benefitted over 450 students and their families. The exchange connects two all-girls catholic schools and allows students from these schools to experience a different culture by visiting another country and by taking part in family and school life in that country.
During their visit to Ireland, the American girls were introduced to many important Irish monuments and places. These included Newgrange, Kilmainham Gaol, Trinity College and Christchurch Cathedral, as well as famous Drogheda attractions such as Millmount and St Peter's Church.
The programme included fun activities such as a visit to Causey farm and a Gaelic match. The exchange ended with a very enjoyable céilí in the Boyne Valley hotel.