Lidl LGFA Post Primary Schools Competition Winner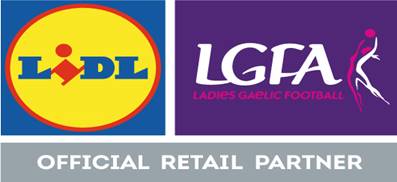 We are delighted to have been informed by the LGFA, on behalf of Lidl, that our school has won a set of Jerseys and equipment listed below for our LGFA school team nominated through an online competition and selected by a judging panel.
A Full Set of 25 Team Jerseys
Full Sized Kit Bag
Training Cones Set x 1 (Containing 50 Cones)
Training Bibs x 2 sets of 15 (Different Colours)
Set of 8 Water Bottles and Carrier
Training Footballs x 6
House Exam/ Mock Exam Academic Awards 2019
Congratulations to the recipients of the House and Mock Examination Awards.
Transition Year Horticulture
Spring is in the air and the transition year students with their teacher Ms Stafford are back hard at work in the school garden as part of their horticulture module.
The girls are painting the entrance walls and gate into the garden and will put large decorative planters and climbing roses around the entrance way. They are also making a water feature from an old recycled water barrel and will make two decorative planters using an old wheelbarrow and huge electric cable spools that were left by the electricians during recent electric works in the school.
The school garden is really beginning to take shape and will be a lovely spot for students to relax in and have outdoor lessons when the good weather arrives.
Basketball Ireland Annual Awards.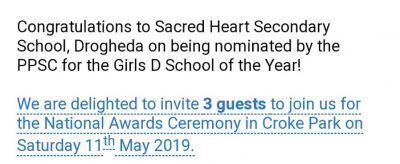 The full list of the 2018/2019 Basketball Ireland Annual Awards was announced on 25th April.
We are thrilled to receive the brilliant news that Sacred Heart Secondary School has been nominated for the Girls D School of The Year. Congratulations to our fabulous basketball players and their wonderful coach, Elaine Scally- we are so proud of you all.
The awards ceremony will take place on 11th May in Croke Park.
1st year Retreat: 12th April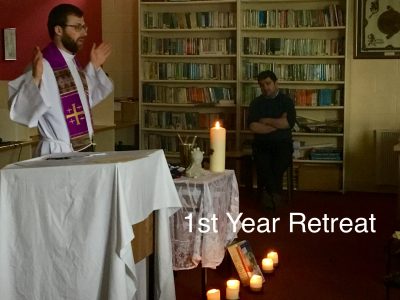 On April 12th all 1st Year classes and the RE Department came together to celebrate a retreat. This was an opportunity to celebrate our class community and to reflect on ourselves, our friendships and our opportunities. The girls came together for activities and reflection in the morning. In the afternoon we planted a tree in the school garden to symbolise our new roots in the school community and our opportunities to grow and flourish. The day finished with a liturgical celebration in the library and Fr Fergal joined us for this. Thank you to all the religion teachers who helped out in preparation for today. A good and fun day was had by all.
Dodgeball 6th Years Versus Teachers: Thursday 11th
What a fantastic game! Both teams certainly gave their all & managed to lob and dodge throughout the game. Thank you to all the teachers and students who participated in this thrilling event.
Boyne Hockey Club hosts The Secondary School Cup, Thursday 11th April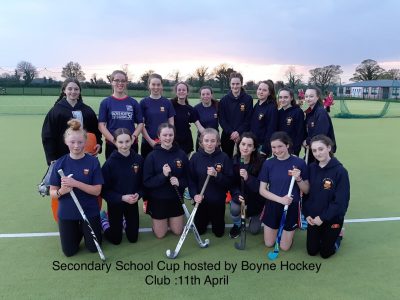 The Boyne Hockey Club hosted The Secondary School Cup at the hockey grounds in Drogheda Grammar School on Thursday 11th April. This was a fun blitz night for the girls to play for their school. Schools had a mix of Boyne Hockey club players from all years.
It was a great opportunity for the girls in Sacred Heart to represent their school and get to play on a team with girls from other year groups.
It was a great night and the girls played brilliantly. Well done!
Driving Day for Transition Year Students: Monday 8th April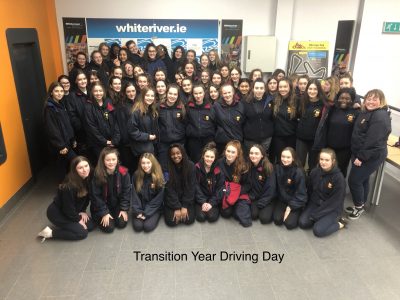 On Monday 8th April 60 Transition Year Students attended Whiteriver Park Circuit, Collon, and completed the 1st Drive Programme. The students learned a variety of skills in a controlled environment which will be invaluable to them when they want to learn to drive and eventually sit their driving test.
Congratulations to the following students for their excellent performance in the Brake Reaction Test;
Aoife Moss, Armelle Gallagher and Eimíle Everett.
Junior History Quiz National Final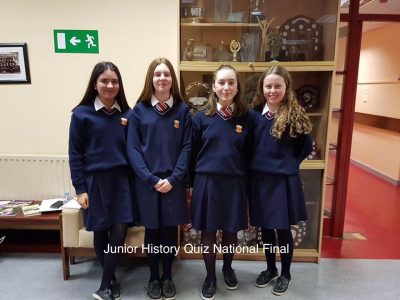 Team Sacred Heart, Cliodhna Brady, Caoilfhionn Sheerin, Kate O' Reilly and Ella Minogue, finished joint 7th in the national finals of the Junior History Quiz run by the HTAI (History Teachers Association of Ireland). This is a fantastic achievement and we are very proud of the girls.
Meath School Athletics championships: 3rd April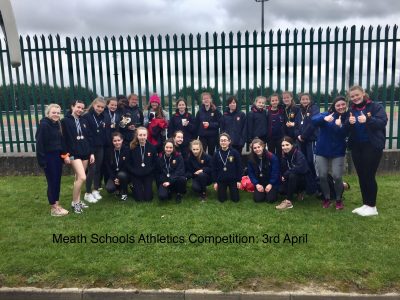 25 students took part in this event at Claremont stadium on Wed 3rd April 2019.
All athletes competed well and did their school proud. The results are the following;
Shot putt senior 2nd Katie Leonard, 3rd Caoimhe Mc Peake
Sprints minor 3rd Aoife Rohan, senior 3rd Roisin nic Dhonnachadha
800m junior 1st Anna Faulkner, 2nd Siofra Devine
High jump minor 2nd Aoife Rohan
1500m inter 1st Holly Brennan
Relay minor 3rd, (Aoife Rohan, Alicia Kearins, Caoimhe O'Donoghue, Ava McArdle)
Relay senior 3rd (Roisin nic Donnachadha, Megan Cromwell, Ava Kavanagh, Sarah Gordon).
Well done to all the girls involved.
Sacred Heart Basketball Teams win the North East Championship Final: 28th March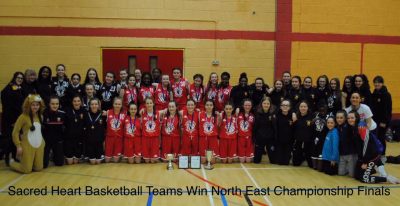 On Thursday the 28th of March history was made for Sacred Heart when both 1st year and 2nd year basketball teams won the North East Championship Finals.
First on to the court was the 2nd Year team up against close rivals Ballymakenny College, a shaky start full of nerves and excitement saw the girls level at half time. But after words of encouragement from Coach Scally the team came out and played a brillant 3rd quarter to see Sacred Heart lead by 6 points. They stormed through the 4th quarter with some fine shooting so when the final whistle blew it was no doubt that Sacred Heart was taking home the title.
Captain : Racheal Akano
Team : E.Pentony, N.Quinn, A.Creagh, K.Ryan, A.Faulkner , E.Brady, S.McGuirk, S.Acheson, H.Heeney , A.Meaghar, M.Stephenson, E.Shields, S.Aiygebeni, W.Mlynarczyk
Final score 22-15.
As the celebrations began the attention quickly turned to the 1st Year team who were up next againist Colaiste Dun na Ri. Getting off to a rough start saw them down at the end of the 1st quarter but the girls pulled together to run ahead at half time. For the last 2 quarters the girls were neck and neck but as the 2nd Year team cheered them on from the side it was Sacred Heart who fought until the very end and came out on top winning by 3 points.
Captain: Heather Brock
Team: E.Ryan, E.Jackson, A.Mckenna, L.Craven, S.Grennan, L.Davis, S.Scorr, P.Fitzpatrick, N.Green, F.Burke, A.Hartford, C.Cairns, M.Mzemba and T.ajayi.
Final score: 22-19
Today was a showcase of the girls' hard work with most of them who only started playing basketball in late January, to go through the season undefeated and then win the championship a great achievement for all involved. There is no doubt this is the first of many for this amazing group of girls
A massive thank you and congratulations to Coach Elaine Scally whose commitment and hardwork with the girls really showed today.
Sacred Heart 5k-update:24th March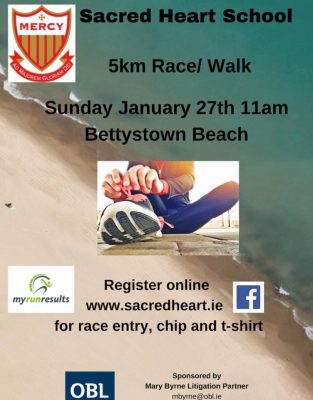 The total profit made from the Sacred Heart 5k in January was €5741.03. This was achieved through race registration, sponsorship from students and public sponsorship. A big thank you to all who participated in our race and sourced sponsorship, it is greatly appreciated.
We have put in the next section of our running track with the proceeds and it is almost complete.
CEIST Student Leadership Conference: 20th March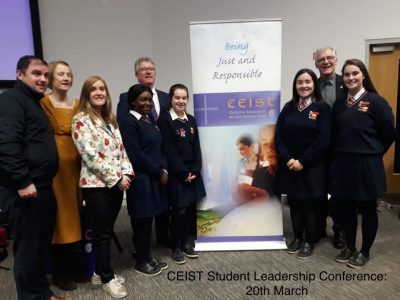 Four students attended the CEIST Student Leadership Conference in St Patrick's campus, DCU, Drumcondra on March 20th; Niamh Hodgkinson and Aoife Lenehan from sixth year, Aoife Moss and Rosa Lukoki from TY.
All four students gave an excellent presentation on student leadership in our school. They also attended workshops on student leadership in action and on the topic of well-being.
It was a great opportunity for students from 70 Ceist schools to come together and celebrate being part of the Ceist community. Well done to the girls on their outstanding contribution on the day.
Pictured in photo Dr Daire Keogh,DCU, Dr Marie Griffin of Ceist, Father Gerard Flynn, Niamh Hodgkinson, Aoife Lenehan, Aoife Moss, Rosa Lukoki, Ms Reynolds and Mr Lynch.
Seachtain Na Gaeilge: 11ú-15ú Márta 2019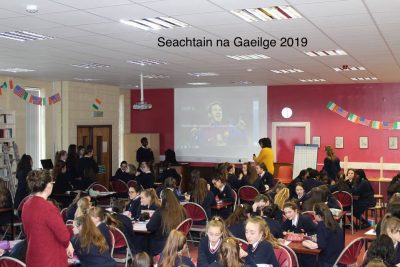 Bhaineamar craic agus sult as Seachtain na Gaeilge a cheiliúradh i Scoil an Chroí Naofa ón aonú lá déag Márta go dti an cúigiú lá déag de Mhárta. Bhí imeachtaí éagsúla eagraithe ag daltaí na hIdirbhliana agus na múinteoirí Gaeilge chun na hócáide a cheiliúradh. Ón Luan go Céadaoin ag tionól seinneadh ceol traidisiúnta, eagraithe ag Bean Uí Choileáin.
Sa bhreis ar chúrsaí ceoil eagraíodh imeachtaí éagsúla do na daltaí le linn na seachtaine;
Bhí Céilí agus Tráth na gCeist Boird eagraithe do na daltaí sa Chéad Bhliain. Bhí Toraíocht Taisce ar siúl do dhaltaí sa 2ú Bliain. Bhain na daltaí sa 3ú agus sa 5ú Bliain taitneamh as na seisiúin biongó a cuireadh ar fáil dóibh. Bhí na daltaí Ardteiste breá sásta leis an seisiún 'Tae agus Plé' agus bhí deis iontach acu a nGaeilge labhartha a chleachtadh. Mar a deir an seanfhocal, 'Beatha teanga í a labhairt.'
We celebrated Seachtain na Gaeilge in the week 11th-15th March. Various events were organised during the week by the Irish Department to celebrate Irish culture and the Irish language. From Monday to Wednesday our 2nd Year music students played and sang traditional Irish tunes directed by Ms Collins. A Céilí and Irish table quiz was organised for our 1st year students. 2nd year students enjoyed a treasure hunt. 3rd and 5th year students had great fun playing biongó and our 6th years had the opportunity to speak Irish during a relaxing session in the library as they were given cans of coke, 7Up or orange to keep those vocal cords lubricated. Thank you to all the students who helped organise these events.
Inter-school Puc Fada Contest: 14th March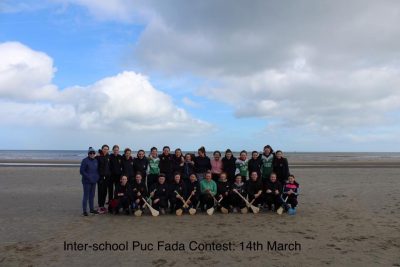 On Thursday the 14th March Sacred Heart Secondary School organised an inter-school Puc Fada contest on Bettystown beach.
Two other local schools, Our Lady's College and Ballymakenny College, also took part.
There were 2 competitions, a Junior and a Senior. Both were held over 1600m and the winners completed the course in the least number of shots.
First place in the Junior Competition went to Orla Woods, with an impressive 26 pucs. Close behind her in Joint 2nd place were students from each of the other schools who finished with 28 pucs.
Sacred Heart also took the trophy for 1st place in the Senior Competition with Noelle Coyle being the best finisher. Rachel Callan won a medal for 2nd and a student from Ballymakenny took the3rd place medal.
Despite it being very windy, the weather stayed dry and everyone enjoyed the event. We hope to host the competition every year during Seachtain na Gaeilge, and to invite more local schools to take part.
International Students Club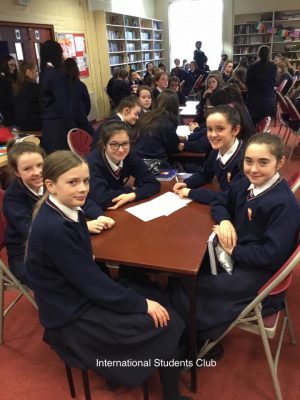 The International Students Club recently organized a very successful table quiz for first years in order to increase awareness of the many nationalities in our school. The first years found out many interesting facts and statistics about different countries in the world while taking part in the quiz. Many thanks to the International Students' Club for an enjoyable and informative afternoon.
Student Enterprise Awards: 5th March
Well done to all the students who took part in the Louth Student Enterprise Awards on March 5th. Congratulations to 'Movie Nights Delight' who came 1st in the Intermediate Category and have qualified for the National Final and also to 'Inspiration in a Frame' who won the Highly Commended Award in the Junior Category. Best of luck to 'Makes Cents' on the launch of their pre-teen/teen prepaid card!
TY Drogheda & Area Interschools Cupcake Baking and Decorating Challenge: 26th & 27th February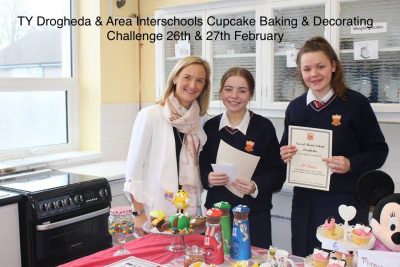 Transition Year students had the opportunity to enter the school's heat of the TY Drogheda & Area Interschools Cupcake Baking and Decorating Challenge. This competition has students from schools from the surrounding area compete in a host school to bake and decorate cupcakes. This year Sacred Heart Secondary School hosted the annual event- which was the brain child of Ms. Anne Byrne from Our Lady's Greenhills four years ago. Each participating school carries out their own school competition to pick 4 pairs to represent their school. These students travel to the host school for this very exciting opportunity to bake and decorate their cupcakes.
The four pairs of students to go through from Sacred Heart Secondary School heat with their cupcakes were;
Aoife O'Brien and Eilile Everett- M&M Cupcakes
Arriya Thiamkhokkruad and Lisa Burke – Honey Bee Cupcakes
Sophie Battersby and Alice Ivory Rogan – Paris Cupcakes
Holly Brennan and Ellie Hanley Rice – Disney Cupcakes
On Tuesday 26th February our eight students participated in the competition and created a magnificent display of cupcakes.
Sarah Cunningham from Custom Cakes in Drogheda was our judge for both days. Sarah had the hard task of judging on Tuesday 15 different types and designs of cupcakes. After hard deliberation Sarah decided on 8 pairs to go through to the final on Wednesday 27th February.
Sacred Heart had 2 pairs go through into the final;
Aoife O'Brien and Eilile Everett- M&M Cupcakes
Arriya Thiamkhokkruad and Lisa Burke – Honey Bee Cupcakes
After a very enjoyable morning all students went home happy with a certificate for their participation in the competition.
On Wednesday 27th February the final took place and our students once again made their cupcakes to the highest of standard and creativity.
Ms. Mary Caffery very kindly accepted our invitation to become a judge for our final day. Ms. Caffery arrived to the familiar kitchens of Sacred Heart Secondary School to assist Sarah from Custom Cakes to undertake the very difficult job of deciding on 1st, 2nd and 3rd prize.
With much anticipation the winners were announced;
1st prize: Cliodhna Nolan and Hannah McCarthy from Our Lady's Greenhills for their Gnome Cupcakes.
2nd prize : Aoife O'Brien and Eilile Everett From Sacred Heart Secondary School for their M&M cupcakes.
3rd prize : Ava Scanlon and Hannah Woods From Our Lady's Greenhills for their Honey Bee cupcakes
We would like to take this opportunity to thank the following people for making this year's competition such a great success;
Jason and Veronica for their support and help, to all of the students and to their teachers for participating in this annual competition that brings the schools from the Drogheda area, to Ms. Carroll for accommodating the hosting of this year's event and to the Home Ec department; Ms M O Hara, Ms C Sheelan and Ms. P Lulow for hosting this year's event.
Thank you to our judges Sarah Cunningham and Ms. Mary Caffery for taking time out of their busy schedules to ensure this competition was judged to the highest of standard and the continuation of the professionalism of this competitionand to Custom Cakes for their sponsorship of a large hamper and to Belview Eggs for their sponsorship of fresh eggs for the competition.
A special word of thanks to the Transition year students who helped in the kitchen over the two days.They made the day much easier for the students and the teachers;
Aoife Lynch, Lauren Reilly, Katie Lynch, Libby Connor and to the students that helped to meet and greet; Orlaith Quinn, AlannahField, Princess Mogaji and Ester Olojo
We look forward to next year when the Drogheda school community can be brought together once again through their love for baking and decorating.
Excellence in Business Studies Awards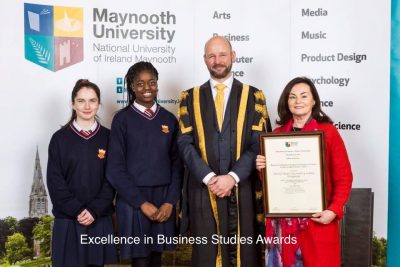 Ms Mitchell, Ellie Rice and Margaret Akano recently attended Maynooth University's presentation ceremony recognising excellence in Junior Certificate Business Studies.
Well done to the students who received A grade in Business Studies for Junior Cert 2018 and whose commitment and dedication to the Business Studies Subject was recognised at the event.
The students are;
Sandra Boles
Ellie Hanley-Rice
Ruby Andrews
Becky Woods
Margaret Akano
Maja Grzesiak
Emily Dennis
Caoimhe Lumsden
Aishwarya Pillai
Ski Trip Zakopane, Poland: February 2019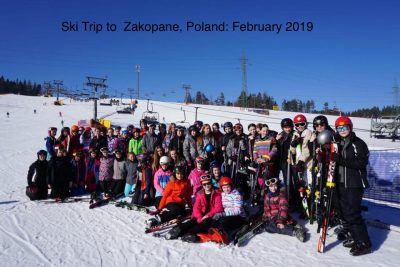 65 students, accompanied by 7 teachers, travelled to Poland during the February Midterm Break on our annual 2nd Year Ski Trip. It was an adrenaline- fueled and action-packed 4 days of skiing. All of the girls managed to find their ski legs! Plans are already being made for Ski Trip 2020.
Outstanding Trainee Award Sail Training Ireland: 2nd February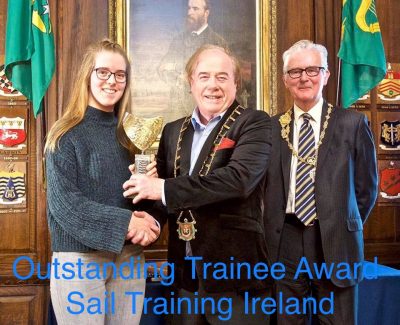 Congratulations to 5th Year student, Shauna Murphy, who was recently presented with 'Outstanding Trainee Award' from Sail Training Ireland.
This prestigious award was presented by Lord Mayor of Drogheda, Frank Godfrey, at a ceremony in The Oak room, The Mansion House, Dublin on Saturday 2nd February, 2019.
Shauna applied for a sail training bursary while in Transition Year and she is already signed up for further sail training courses.
Well done Shauna.
'The Oscars'
Our Transition Year students hosted 'The Oscars' on Wednesday, 30th January in the Westcourt Hotel, West Street, Drogheda at 7:30pm. The girls presented us with a fabulous night of entertainment showcasing their acting, singing and dancing talents. There was plenty of glitz and glam on the night. All proceeds were raised for ABACAS and our School Running Track.
Sacred Heart 5K Walk/Run: Sunday 27th January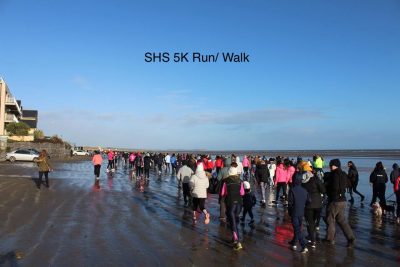 Sacred Heart Secondary School Drogheda held a 5km Race/ walk on Sunday 27th January, 2019 at 11am on Bettystown Beach. This event was open to our school community (students and their families), the local and wider community.
The purpose of the race/walk was to raise funds to complete the construction of our 400m school running track. Over 400 walkers and runners participated. Thank you to everyone who supported us by participating, volunteering, sponsoring and donating to this very successful event.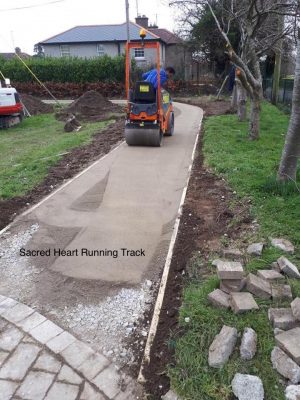 Prizes: €100 fastest female, €100 fastest male, €100 fastest Sacred Heart Student. €50 gift vouchers for 2nd place in all categories.
Male
1st: Stephen Kelly (Drogheda and District AC)
2nd: Paul Smith (Drogheda and District AC)
3rd: Brian Martin (Drogheda and District AC)
Female
1st: Holly Brennan (Cillies AC & SHS Student)
2nd: Kate O' Reilly (SHS Student)
3rd: Anna Faulkner (SHS Student)
Sacred Heart Students
1st: Ellie Hanley Rice
2nd: Sarah Maxwell
3rd: Sorcha Cronin
Transition Year Students attend DkIT to build VEX Robot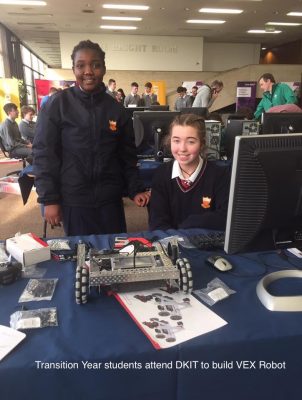 Transition year students Faith Mzemba and Alannah Fields were in DkIT last week building and setting up a VEX Robot. Over the next few months the two girls, along with other transition year students, will work on improving the robot and programming it to perform different commands in order to compete in a regional VEX robotics competition. Thank you to DkIT for this wonderful opportunity. Good luck girls. #WomeninSTEM
School choir attends 'Les Miserables' in Bord Gáis Energy Theatre:9th January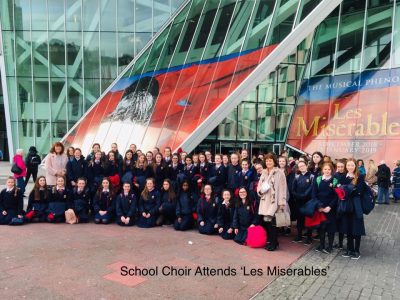 On Wednesday Jan 9th, The school choir went on a trip to the Bord Gáis Energy Theatre to see the latest production of 'Les Miserables'.
It was a fantastic experience as the show was exceptional in its portrayal of the suffering of French people during the French Revolution.
The Students enjoyed the experience of a live orchestra. Famous songs like 'On My Own, 'I Dreamed a Dream', 'Master of the House' and 'Bring Him Home' were performed to rapturous applause. It was a wonderful day out for the school choir.
All Ireland Linguistics Olympiad: 28th January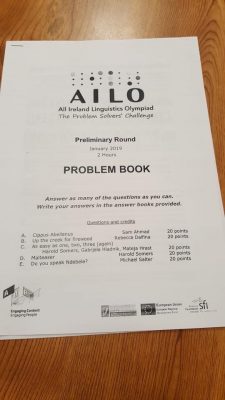 On 28th January, 18 girls from 3rd to 6th year completed Round 1 of the All Ireland Linguistics Olympiad. This is a contest in which secondary school students develop strategies for solving problems in languages from around the globe.
We are delighted to announce that two of our students qualified for the National Final. Paulina Ziedelyte (6th year) and Aoife Finn-Gallagher (5th year) will participate in the final in DCU on March 20th and will compete for 4 places to make it to the international final in South Korea in July. We wish them the best of luck!
Catholic Schools Week 2019
Catholic Schools Week began this week. The theme for this year's Catholic Schools Week is the importance of the Catholic School in the promotion of Diversity, Faith and Service.
A prayer service was held during our morning assembly, led by our chaplain Father Phil Gaffney. St. Emer and solo groups from Transition Year, Fifth and Sixth Year performed songs matching the themes of the week.
During this week, students will participate in different activities that will promote diversity and the inclusion of religion including quizzes, talks from guests speakers and some reflection time.
Our motto for the week was chosen by Kate Kelly and Ivana Murphy;
"Live and Let Live"(Pope Francis 2018)
Christmas Awards: 19th December 2018
Congratulations to all of our students who received Academic and Participation Awards.
Sacred Heart Christmas Trade Fair, 7th December
Thank you to all the parents and families who attended this year's fantastic Christmas Trade Fair today. Our 1st, 2nd and Transition Year Enterprise Students showcased and sold their wonderful selection of products. There were bargains galore and gifts suitable for all ages.
Thank you to all the students for their hard work and to their teachers; Ms Horan & Ms Flanagan.
The Jessé Tree: 24th November 2018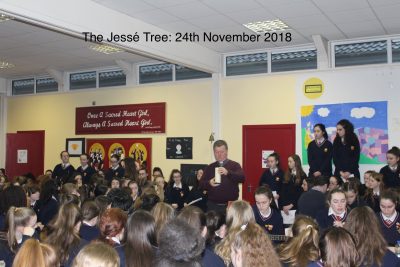 On Friday morning (24th November) we celebrated the beginning of the Jessé Tree in Sacred Heart Secondary School. This is a long-standing tradition in our school which marks the celebrations of Advent on the liturgical calendar.
The term Jessé comes from the Book of Isiah which predicts the coming of the Messiah and the royal bloodline of Jesus.
On Friday, our chaplain, Fr. Phil joined Ms Carroll, Ms Sheelan, our Ethos Prefect Akvile Dudenaite, our Head Girl Niamh Hodgkinson at our opening ceremony of The Jessé Tree which was presented by St. Emer (2nd Year). Each morning a class group from 1st to 5th year will present a story from the bible during assembly.
All of the classes and their Religion teachers put a lot of effort into preparing for their presentations.
'All Shook Up':5th Year Musical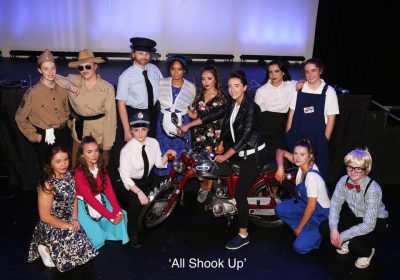 A huge thank you to our Musical Director and Vocal Coach-Ms Linda Collins, our Producer- Tracey Martin and our Choreographer, Gillian Donaghy-Harte. This year's musical 'All Shook Up' was an absolute success and we really appreciate all your hard work, dedication and professional expertise.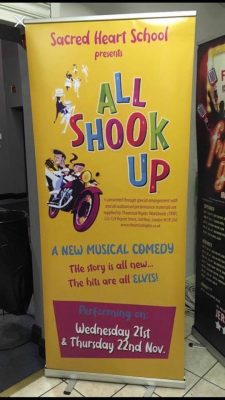 Thank you to the management and staff of the Tommy Leddy Theatre- we, and the town of Drogheda, are fortunate to have such a great facility on our doorstep.
We are also grateful to the Parents Council who have worked tirelessly to promote the show and secure prizes for our raffle.
We would like to take this opportunity to thank our generous sponsors for their continued support.
We are so proud of our students- every girl in 5th Year was involved in some aspect of the musical, from set design, sound, lighting, make up, promotion and backstage as well as those on stage – you are a credit to our school, your parents and yourselves -thank you all.
Finally, we thank members of our school and local community for supporting our school and our musical.
Taste of Louth Cupcake Competition: 16th November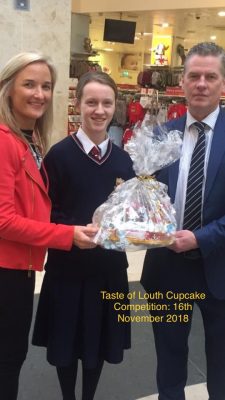 On Friday 16th November 5 students participated in the Taste Of Louth Cupcake Competition in the Marshes Shopping Centre, Dundalk.
The students were entered into 4 different categories;
Ava Fenton – Christmas Category.
Roisin Keenan and Jennifer Murtagh – Inventive/ Fantasy Design Category.
Anna Faulkner – Best Piped Buttercream.
Mary McCamley – Best Flavour.
A lot of hard work and creativity was displayed by the students during the competition.
Congratulations to all of the students who entered and successfully won the School Cupcake Competition to get through to The Taste of Louth.
Congratulations to Anna Faulkner who won the Best Piped Buttercream category in The Taste of Louth.
We are looking forward to next year already.
Zeminar: Wednesday 14th November
Transition Year students attended the RDS in Dublin on Wednesday 14th November for the Zeminar event. This event, which is geared towards 15-20 year olds, has as its focus the promotion of good mental health and wellbeing.
A schedule of inspiring talks and seminars were on offer and students heard from such speakers as Jack Kavanagh, Rory O'Connor of Rory's Stories and Paul Mannion. Students left feeling energised and informed having spent a most enjoyable day at the event.
Camogie League Shield Winners, Tuesday 13th November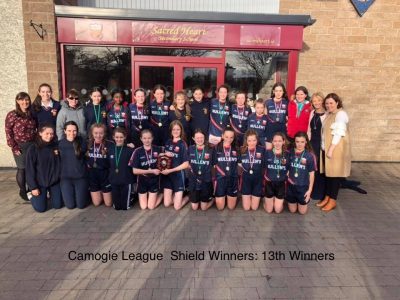 Congratulations to our Junior Camogie Team who are now the Camogie League Shield Winners. We are so proud of our team who have defeated every team they met in all their games leading up to the final. They have only been training together for a short few weeks and some of the girls have only started playing Camogie so this is a fantastic achievement. Thank you to Ms Traynor, Ms Broderick and to Ms Austin for coaching and encouraging the team.
Irish/American Exchange Programme: 12th October
The Sacred Heart Transition Year Irish/American Exchange Programme, with Georgetown Visitation Preparatory School, Washington, is now in its 15th year.
13 of our Transition Year students, accompanied by Ms Carroll (Principal) and Ms Mitchell, departed from Dublin Airport last Friday 12th October to Washington. The girls have settled in well with their host families. The group has been very busy visiting the following famous landmarks on the National Mall Tour; Vietnam Memorial, Lincoln Memorial, Korean Memorial, World War II Memorial, Martin Luther King Jr. Memorial and Roosevelt Memorial.
Victory for Sacred Heart in 'The Warrior Shield' for the 3rd Year in a row!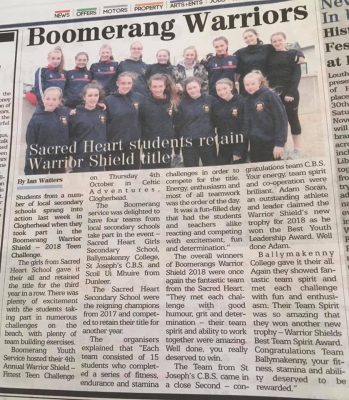 The girls from Sacred Heart Secondary School have won the Warrior Shield for the third year in a row. The team was made up of students from 2nd to 6th year. Well done SHS Warriors!
Team;
Oral Brock, Shauna Murphy, Caoimhe Mc Peake, Geraldine Doyle, Yagoda Makijeuska, Julie Greene, Holly Brennan, Rachel Fitzpatrick , Emily Gray, Molly Matthews, Ellen Brodigan, Annie Brangan, Aisling Myles, Noelle Coyle and Anna Faulkner