SHS Facebook

For the latest school news updates please visit the Sacred Heart Secondary School Drogheda Facebook page.
Click here to connect to SHS Drogheda Facebook.
Congratulations to the Leaving Certificate Class of 2019-2020

Although our school building has been closed since the 12th March our 6th year students certainly played a major role in helping us maintain our strong school community spirit. The Student Leadership Council have been working hard setting tasks and competitions, creating wonderful videos and sharing them with our school community.
It was a busy day of celebrations which began with our 'live' whole school assembly celebrating our 6th years. Then later in the morning the teachers and 6th year students gathered together (virtually) and enjoyed a brilliant video presentation, created by Geraldine Doyle, starring 6th year students & their teachers. Geraldine has shared this video with all of the 6th year students and teachers and it is a fantastic memento of the five or six years the girls have spent in Sacred Heart.
The afternoon began with our 'live' end of year Awards Ceremony organised by Ms O'Hara & hosted by Ms Carroll and Ms Lynch.
To end our day's celebrations our Graduation Mass, celebrated by Fr Phil, was streamed live from St Mary's Church, Drogheda.
Thank you to everyone who contributed to giving our 6th years a great send off!
Wishing our 6th years good health and happiness in the next stage of their journey.
Sacred Heart School Awards 2020
Congratulations to all of the recipients of our school awards on 19th May. Thank you to Ms O' Hara for organising the awards, to Ms Carroll and Ms Lynch for hosting the 'live' awards ceremony and to the students who performed during the ceremony.
Academic and Excellence Awards 2020
1st Year:
Alise Krasnakova, St Gemma
Aisling Scott, St. Geraldine
Saoirse McDermott, St. Grace
Aoife McCann, St. Gwen
2nd Year:
Emily Davis, St. Fidelma
Hannah Lowe, St. Fina
Aoife Hogan, St. Flora
Éile Loughman, St. Frances
3rd Year:
Dalin Sagy, St. Elizabeth
Aoife McGroddy, St. Emer
Harriette Flynn, St. Emily
Mary McCamley, St. Emma
5th Year:
Princess Mogaji, St. Maria
Orlaith Quinn, St. Kim
Emily Dennis, St. Laura
Bridget Purdy, St. Niamh
6th Year:
Sandra Boles, St. Faye
Annie Newton, St. Gabriella
Aishwarya Pillai, St. Helen
Laura Maguire, St. Isabelle
Laura McKenna, St. Jane LCA
Excellence Awards 2020
1st Year:
Ciara Mongan, St Gemma
Clara Lundon, St. Geraldine
Bronagh Grant, St. Grace
Saoirse Dixon, St. Gwen
2nd Year:
Aimee Crowley, St. Fidelma
Emilia Fabisiak, St. Fina
Katie Rose Delaney, St. Flora
Rebecca McArdle, St. Frances
3rd Year:
Áine Creagh, St. Elizabeth
Orla Woods, St. Emer
Aideen Behan, St. Emily
Laura McCarn, St. Emma
5th Year
Caitlin Cudden, St. Maria
Ellie Hanley-Rice, St. Kim
Holly Brennan, St. Laura
Meadhbh Mulroy, St. Niamh
Caitlin Lally, St. Olivia
Emily Flynn, St. Olivia
6th Year:
Lorna Judge, St. Faye
Aoife Finn-Gallagher, St. Gabriella
Grainne Cooling, St. Helen
Grace Fitzpatrick, St. Isabelle
Gemma Graham, St. Jane LCA
Transition Year Awards
Olivia Smith, St. Marcella
Caoilfhionn Sheerin, St. Martha
Grace Carthy, St. Melissa
Kate O'Reilly, St. Miriam
Department Awards 2020
Accounting:
Ruby Andrews
Rebecca Murphy
Art Award:
Jessie Aylmer (Snr)
Isabelle O'Brien (Jnr)
Biology Award:
Sandra Boles
Aishwarya Pillai
Business Award:
Aishwarya Pillai (Snr)
Dalin Sagy (Jnr)
English Award:
Zoe McEvoy (Snr)
Molly McCullen (Snr)
Mary-Kate Ford (Jnr)
Isabelle O'Brien (Jnr)
Chemistry Award:
French Award:
Jessica Donagh (Snr)
Áine Cassidy (Snr)
Cara McGuinness (Jnr)
Áine Creagh Jnr)
Geography Award:
Laura Gibney (Snr)
Molly McCullen (Snr)
Isabell O'Toole (Jnr)
Rachel Stafford (Jnr)
History Award:
Aisling McGee (Snr)
Aimee Murray (Jnr)
Home Economics:
Louise Descombes-Rogers (Snr)
Annie Newton (Snr)
Harriette Flynn (Jnr)
Dalin Sagy (Jnr)
Gradam an tSiúr Angela:
Caoimhe McPeake (Sinsearach)
Caoimhe O'Dwyer (Sóisearach)
Gradam na Gaeilge:
Rachel Callan (Sinsearach)
Emma Shields (Sóisearach)
LCPE Award:
Caoimhe McPeake
Zoe McEvoy
LCVP Award:
Maths Award:
Angel Zhu (Snr)
Caoimhe McPeake (Snr)
Áine Creagh (Jnr)
Music Award:
Jessica Davis (Snr)
Aoife McGroddy (Jnr)
Physics:
Aoife Finn-Gallagher
Laura Maguire
Religion Award:
Celestine Feeney (Snr)
Tara Sheridan (Jnr)
Junior Science Award:
Catherine Dalton
Áine Creagh
Spanish:
Caoimhe McPeake (Snr)
Julie Greene (Jnr)
Aisling Murphy (Jnr)
Sports Awards 2020
Sportsperson:
Geraldine Doyle (Snr)
Aoife McGroddy (Jnr)
Basketball Player:
Geraldine Doyle (Snr)
Ellen Jackson (Jnr)
Gaelic Player:
Caoimhe McPeake (Snr)
Megan McCormack (Jnr)
Sports Team of the Year:
1st Year Basketball Team (19 players)
Exam Awards
Best Leaving Cert 2019:
Best Junior Cert 2019:
Catherine McAuley & Ceist Award
Catherine McAuley Award:
Ceist Award
Recipe Book – Fundraiser for Lourdes Hospital Drogheda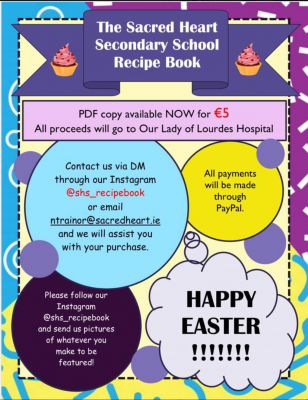 Our school recently published the Sacred Heart Secondary School recipe book to raise funds for the Home Economics Department. The book was produced by two of our TY students, Cliodhna Brady and Olivia Smith with special help from Ms. Trainor. The book includes recipes from students, teachers, the previous principal and celebrities. It was sold in the school  prior to our closure but Ms. Trainor and the girls proposed that we could use the recipe book as a way of giving a little back to the local community during these unprecedented and uncertain times. They are now selling an electronic version of the book for €5 and all proceeds will be donated to the Lourdes hospital in Drogheda. The poster to advertise the sale of the book went live on Thursday afternoon and they had sales within a few minutes of posting. It is hoped we can raise much needed funds for the hospital who are working tirelessly to look after the needs of our community.
Please visit our Facebook page for more information.
1st Year Gaelic Blitz in DkIT. (March)

Well done to the Sacred Heart U14 Gaelic Football team who recently competed in a 1st year blitz in DKit. Sacred Heart entered two teams and both put in great performances throughout the day with Team 1 even bringing home some silverware. Well done to all involved.
Team 1: Aoibheann Carr, Alicia Coffey, Roisin Downey, Sophie Everitt, Clodagh Keavey Smith, Ciara Mongan, Kate Moran, Lea Pederson, Aisling Scott, Millie Wilders
Team 2: Síne Calvey, Abbie Cudden, Ciara Kelly, Eleanor Lynch Black, Saoirse McDermott, Aoife McLoone, Ella McLoughlin, Ella Nevin, Kerri Russell, Bobbi Wade
Mr Campbell and Ms Kirwan
French School Tour: 18th-21st February

Sacred Heart 5th and 6th year French students sampled the wonders and delights of Paris during their four day language trip to this wonderful city on 18th-21st February 2020.
Famous monuments visited included la Tour Eiffel, le Chateau de Versailles and le Musée de Louvre where the girls marvelled at the beauty of the history and culture of France's capital city. A bus tour of the city, a boat tour on la Seine and morning language classes complemented their appreciation of Paris and its marvels.
A great time was had by all!
Ms Fox
Leaving Certificate Applied Host 'Ladies Lunch'
On Tuesday 3rd of March Leaving Cert Applied 6th Year student hosted a 3 course Ladies Lunch for a selection of students and teachers. The students organised the event from start to finish. They planned and prepared the entire meal from the menu, ingredient lists, cooking and baking every item, setting the table and creating a restaurant style atmosphere, the list could go on. The students cooked, served and presented the 3 course meal to our eight guests at our simulated restaurant. The music set the calm ambience of the afternoon. The culinary delights were enjoyed by all, leaving very full and satisfied guests. The students worked very hard and were extremely happy with the excellent comments from the guests' experience on the comments cards that were also prepared by the students.
The 6th year ladies lunch was a huge success and congratulations to Keishana Francis, Gemma Graham, Laura Mc Kenna, Angel Tabugoo and Louise Whearty.
Well done girls on your hard work and an excellent event.
Ms. Trainor
Louth Student Enterprise Awards 3rd March
Well done to all the 1st year, 2nd year and Transition Year students who took part in the Louth Student Enterprise Awards in the Fairways Hotel, Dundalk on Tuesday 3rd March.
Congratulations to Zofia Bajor and Emilia Fabisiak who were runners up in the Intermediate Category with their enterprise 'Gifts from Nature'. Congratulations also to Nelly McCullen who won the 'Best Commercial Potential' Award with her business idea Recycled Bottle Bracelet, which are currently available to buy in selected Apple Green Stores.
Past pupil Orla Stafford gave an inspiring speech at the Awards. Orla is the owner of Izmoo Gelateria in Drogheda and Rosslare Strand. She won Louth's Best Young Entrepreneur 2019 and was the winner of the North East Region for Best Start Up Category.
Ms Flanagan
Parallel Histories Transnational Debate- 18th May

On Monday 18th May between 10 AM and 13.30 PM, 9 students who are participants on the Erasmus Programme took part in a transnational debate with Lancaster Royal Grammar School and Frederic Fey High School Lyon. The students involved were as follows: Caoilfhionn Sheerin, Cliodhna Brady, Afric Lydon, Amy Corbett, Amy McCann, Eabha Kelly, Luisa Woods, Lucy May Roberts and Laura Murtagh.
The debate was facilitated by the Parallel Histories group and done virtually via Zoom, due to the current restrictions.
The girls were divided into 2 teams and they had to present arguments for 2 debates on the Palestine-Israeli conflict. 1 team, named SH-A had to debate that  1. 'The British should be blamed for the Balfour Declaration.' and 2. 'The Palestinians are mainly to blame for the failure of the peace process'. While the second team, named SH-B had to debate 1. 'The British government should be praised for the Balfour Declaration.' and 2. The Palestinians are not mainly to blame for the failure of the peace process.'
All team members on both teams argued their cases with poise, precision, clarity and excellence.
The teachers from Lancaster and Lyon were very impressed with their skills and ability in debating such tough and controversial topics.
I, as their teacher, am so very proud of them and their achievements. They represented the school impeccably well.
Mrs Ryder
Sacred Heart Drogheda- Girls C League School of the Year (17th April)
Fantastic news from our basketball coach Elaine Scally
"Some great news to brighten your day…The annual awards have been released officially on the Basketball Ireland website.
I am delighted to confirm that the NE is again well represented.
Well done to Schools of the Year:
Boys B Cnoc Mhuire Granard
Boys D Castleblayney College.
Girls C Sacred Heart Drogheda
Girls D Ballybay CC
Coach of the Year:
Girls Niamh ni Chearra, Virginia College
We just got school of the year again this year for basketball and in the higher division of C league. I'm so proud
Well done all
Coach Scally
Sacred Heart Secondary School Home Economics website, 28th March
We will be updating the website blogposts with tutorials, videos, recipes and notes to assist students!
Click in to the link below to access our Blog. Alternatively the blog can be accessed through our school website www.sacredheart.ie
Go to Homepage, click on Departments, Practical Subjects and then Home Economics.
Home Economics Department
https://sacredhearthomeeconomics.weebly.com/
SHS Challenges Week

The PE Dept are holding a Challenge Week for 3 days this week. The school community are being asked to take part in daily challenges & submit a video of their efforts via Assignments the SHS Challenge Team site that has been set up by the PE Department.
The key info. is summarised below;
This is a competition between the 4 houses
For the next 3 days you will receive 2 challenges in the morning
You have until 8pm each day to complete and submit your video
You will get points for simply submitting a video of you participating
10 points for 1 video, 30 points for 2 videos
Submit your Videos in your daily House Assignment on Teams
The prize is a Pizza Afternoon for you House upon return to school
If you missed yesterday's challenge which was sent to all students and teachers yesterday-it is not too late to participate- go to the SHS Challenge Week Team site to see details of today's challenge!
Erasmus: Parallel Histories
Erasmus: Parallel Histories Multiplier Event, Thursday 5th March
Sacred Heart Secondary School hosted a unique school event on Thursday 5th March. The school is currently involved in an Erasmus-funded programme entitled 'Parallel Histories'. This year 22 of its Transition Year students have been learning about, debating and teaching the school's younger students about the contested histories of Israel and Palestine and the conflict between those two countries.
On Thursday morning the school welcomed four schools (De La Salle, Dundalk, St Mary's Dicocesan School, Drogheda, Colaiste Ris, Dundalk and St Fintan's High School Sutton) to participate in student-led workshops about the Israeli-Palestinian conflict. The students of SHS led these workshops which proved a huge success, provoking debate amongst its participants on different aspects of the Israel-Palestinian conflict. Kathy Mullen, from St Fintan's High School stated that her students "were delighted to get the opportunity to look at the Israeli-Palestinian conflict from both sides".
That afternoon the school hosted a seminar entitled 'Conflict, Conflict Resolution and Parallel Histories'. Welcoming all speakers and guests to the school was teacher Brian Whelan who outlined the theme of the seminar and stressed that the aim of the talk was to give individuals the opportunity to talk about the different narratives of history, but also its power in developing young minds. Principal Leoni Carroll welcomed all guests and outlined her pride at how the programme has turned out, expressing her gratitude to the students involved for all their hard work this year. Following that, the Erasmus Co-Ordinator, Ms Caroline Ryder, explained exactly what the aim of the 'Parallel Histories' programme was about. Leah Keogh and Caoilfhionn Sheerin, two of the Erasmus students, next took to the podium, offering an evaluation of the programme so far and went through, in chronological order, the main speakers that have spoken to our students throughout the year, as well as their visits to the American Embassy and Leinster House.
The guest speakers were from vast and varied backgrounds. His Excellency, Ambassador Stéphane Crouzat, from the Embassy of France, spoke about the joint Franco-German history textbook on the 20th Century that was produced for high school students by French and German historians. He also spoke about the recent French initiative as part of France's chairmanship of the Council of Europe to have an Observatory on History teaching in Euope. His Excellency, Ambassador Ophir Kariv, from the Embassy of Israel, spoke at length about differing narratives and perspectives, using the Israeli-Palestinian conflict as a case study. He was followed by Her Excellency, Dr Jilan Abdalmajid from the Mission of Palestine, who spoke passionately about the history of the State of Palestine and its loss of land over many decades. Ms Alison Kelly, former Irish Ambassador to Israel, offered her perspective of the theme and specifically mentioned the importance of empowering young women, outlining the achievements this year of our students.
The aim of the seminar was not just to focus on the Israeli-Palestinian conflict. As a result, the other guest speakers brought the seminar in a different direction. Dr Eamon Darcy from NUIM, enthralled the guests with his talk on the 1641 Rebellion, while Mr Sean Collins spoke about the history of Drogheda and cross-community links between the Republic of Ireland and Northern Ireland. Mr Tom Reilly entertained the audience with his perspective on Oliver Cromwell and how history has viewed him over the centuries. Mr Dave O'Brien from The Glencree Peace and Reconciliation Centre, highlighted the importance of dialogue and learning in any conflict, while Niall O'Keefe from Trocaire offered the humanitarian perspective on conflicts in general. Mayor Paul Bell summed up proceedings perfectly, once again highlighting the importance of dialogue, but also the importance of teaching history in schools.
The school would sincerely like to thank all those who attended the event which proved to be a huge success. Please keep an eye out on our Facebook page over the coming days and weeks for more reports and photographs about the event.
Mr Whelan, Mrs Ryder & Mr Campbell
TY Erasmus-Parallel Histories' visit to the Mission of Palestine, 10th March
On Tuesday 10th March the TY Erasmus-Parallel Histories' students travelled to Dublin to visit the Mission of Palestine. This visit complements the work being done in the programme. The students got to have a Q&A session with the ambassador, Dr Jilan Abdalmajid.
The students asked thought provoking questions concerning the current situation in the region. Students asked the ambassador to outline her views and those views held by the Palestinians on the Oslo Peace Accords, the role of America in the region, the more active role the International Community can play, especially the EU, how Ireland is supportive of the Palestinian people and her job/role as ambassador to Ireland.
The visit was very beneficial to the students and they enjoyed immensely their time with the ambassador. On behalf of the students, we would like to extend a sincere thank you to the ambassador and the Mission of Palestine for inviting us to visit and giving of their time and expertise. A special Thank you to Ms. Carroll who accompanied the students to the Mission of Palestine.
Mrs Ryder, Mr Whelan and Mr Campbell.
Transition Year Graduation Presentation- Friday 22nd May

A group of transition year teachers and students, along with our Transition Year Co-ordinator Mrs Corboy, collaborated on our end of year online TY Presentation for teachers, students and their families which took place on Friday 22nd May.
A wonderful set of videos, created by students, captured the highlights of the year. This was followed by a virtual presentation of certificates by Ms Carroll & Ms Lynch. The TY teachers had also made videos for the students and this was edited by Ms Trainor. We loved the TIKTOK video and Ms Collins created an amazing video compilation of four of our students singing 'The Climb'.
A huge thank you to all who helped make this TY Graduation a very special experience for our TY students.  After the presentation each TY student and teacher received all of the videos as a memento of a fantastic year.
A very special thanks to our TY Co-Ordinator for her dedication to the TY Programme in Sacred Heart.