Young Social Innovators 2020: Highly Commended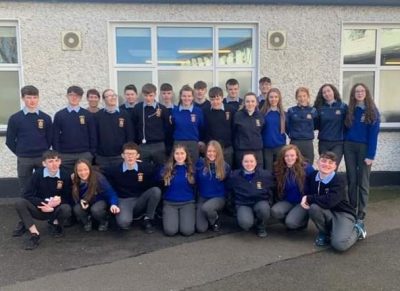 YSI Project "Wonderful Waste" has been highly commended in the Young Social Innovators of the Year All Ireland Finals 2020! This is a fantastic achievement as only ten projects were highly commended from schools all across the country. The following is a reminder of what their project entailed:
The project examined the issue of waste and how disposable items have become in modern living. The main focus was to get people to think about the unnecessary waste they produce and to come up with ways to use second hand items and waste in useful and creative ways. This is where the idea of designing a cookbook for using leftovers came from. Having completed a survey and research the class designed and tested recipes to use up commonly left over food. Along with their cookbook, which is ready for printing, they have plans to plant their own herbs to use in our recipes, they have organised a book and clothes swap, are in the process of organising a mobile phone collection for charity and had started making eco-bricks (before school closure). Well done to all involved and we look forward to trying out your tasty recipes!!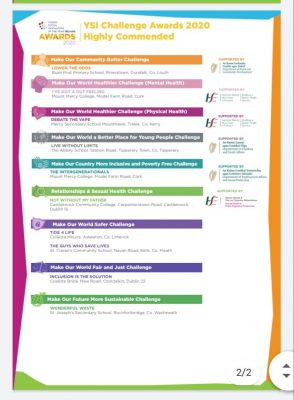 Sixth Year Assembly
We had an online assembly with our Sixth Years this morning and it was fantastic to see so many of our students logged in. We thank you for joining us. Ms Alford addressed the students on many of the pertinent issues for them at the moment, most particularly the Leaving Cert and any news that we have on that to date. She congratulated the students on their hard work during this time and encouraged them to keep working and striving and to not lose sight of their dreams and goals. She reminded the students that these are all still very much attainable even if the journey has changed. She also included the serenity prayer which has wisdom for all of us during this time. Ms Carroll spoke on behalf of the guidance team and reminded the students of the importance of family and time spent together. Sixth Year Head Mr Dempsey also spoke great words of encouragement and motivation. He gave a reminder that teachers are very keen to work with students to guide revision and spoke of the importance of this class contact time. There was an opportunity for the students to ask any questions that they had and they were reminded that we are all here for them, at any stage, to offer support, guidance and help.