St Mary's Parish Church Carol Service
On Thursday 14th December our school choir and orchestra represented Sacred Heart Secondary School in a night of festive cheer.
Under the guidance of our music teacher Ms Linda Collins the choir performed 'Hark the Herald Angels Sing', 'Winter Wonderland', 'Jingle Bells' and 'We Wish you a Merry Christmas'.
Soloist Emma Thornberry held the audience spellbound with her beautiful rendition of 'When a Child is Born'.
Congratulations to the students for sharing their talent, commitment and time with their school community.
Sacred Heart Enterprise Trade Fair
Sacred Heart Enterprise Trade Fair took place on Thursday 14th December, from 12.25 to 2.30. There was a wonderful selection of products for sale from the 25 stalls from Transition Year and 1st Year. Thank you to the Business teachers; Ms Horan, Ms Flanagan & Ms Mitchell and to all the parents and families who attended the Trade Fair -there were bargains galore to be had.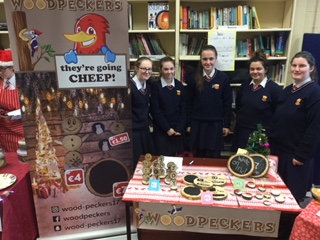 Christmas Shoe Box Appeal
Four students from third year (St. Christina) as an action project for their Junior Certificate CSPE exam, organised a collection of shoeboxes with the first year students in Sacred Heart Secondary School. They collected almost 100 shoeboxes of Christmas presents for children in developing countries.
A big thank you to all students in First Year and girls throughout the school who generously donated.
Well done to Caitlin Lally, Jade Hudson, Chantelle Chifamba and Michaela Morgan Doherty for all their hard work.
St Vincent De Paul Christmas Hamper Appeal
Congratulations to St. Eithne Leaving Certificate Applied on organising this year's St Vincent De Paul Christmas Hamper Appeal as part of their Community Module. They ran a competition for the best hampers. They judged the hampers today and were left with a very tough challenge due to the high content of the hampers and wonderful creativity of design.
The winners were announced at assembly on Thursday the 14th, December.
Well done to all of the classes and to the girls for organising the appeal.