Sancta Maria College Artworks Feature in Irish Arts Review
Sancta Maria College Louisburgh has featured in a recent issue of Irish Arts Review. The newly installed artworks, 'Word Tree' by artist Cathal McCarthy and 'Our Place' facilitated by poet Jean Tuomey, have attracted the attention in the arts world for their originality and collaborative approach. Students were integral to the project with their input of creative writing and photography. The project consists of two parts. The first is an outdoor sculpture, the 'Word Tree', which is the formation in stainless steel of a poem written by the students to convey what the school means to them. The second part comprises aerial photographs of the surrounding area which are backlit and mounted in the entrance hall, accompanied with the words: "When I dream – skies open – with memories- of cherished friendships – I am home".
The Word Tree sculpture contains the following poem: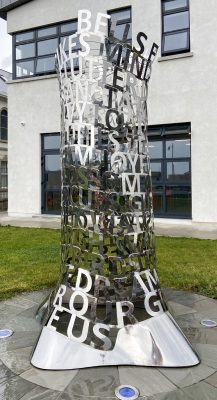 Bells echo, clock strikes.
Minds race, papers flutter
Down halls of Sancta Maria.
Bags a heavy load,
Sea of friends, pupils,
Teachers, smiles beam joyful.
Friendships blossom
Sun shines, buttercups glow.
Croagh Patrick watches
Over Louisburgh.
Waves crash, blue sky,
Birds fly, breezes blow.
We dream together forever:
Our grades do not define us.
Halloween Celebrations
Some photos from TY Art yesterday. Pumpkins will be used to decorate the TY Thriller dance video which is coming soon….