Spoken Word Takes Off in Scoil Dara, Kilcock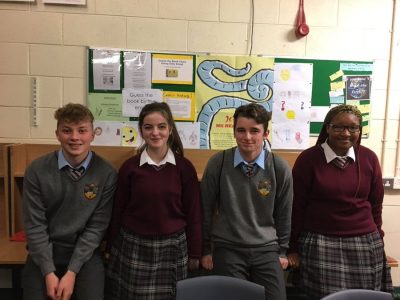 Here in Scoil Dara we have a long-standing history of excellence in English. Past pupil Louise Nealon won the coveted Seán O'Faoláin short story prize in 2018, and Oisín Fagan, dubbed the 'best new writer in Ireland', also made his way through these corridors.
Since 2017, we have tapped this creative potential with the origination of Debate Club, encouraging our senior students to take the stage with public speaking and give voice to their opinions on everything from world hunger to women's rights. In 2017, our senior team of Maria Tont and Aisling Byrne, made it to the semi-finals of Maynooth University's Aoife Begley competition, in their first year entering the competition.
The Debate Club has gone from strength to strength. Its popularity in the school is rising. This year's Concern Debate team, made up of students from 5th and 6th year, did the school proud in our first round debate against Salesian's, Celbridge. We go on to debate against CBS, Naas and Ardscoil Rathangan in the coming weeks. Captain Muireann Ní Fhaogáin O'Kelly won the Scoil Dara Senior Debater of the Year award in 2019.
Following on from this success, we are entering the National Library's 'Poetry Aloud' competition. 8 of our students, of all ages, will recite two poems by heart in next Thursday's heats. Our students have chosen a wide variety of poems, and their delivery is as unique as it is mesmerising. As Seamus Heaney said of the competition, "I truly believe Poetry Aloud deserves all the support it can get, because it promotes literature, and, in particular, poetry, widely, intimately and to inestimable effect. But fundamentally, I choose it because it brings poetry into the memory and affections of the young in a way that will make it a lifelong possession and value".
We wish all our students the very best in their endeavours to promote the spoken word, at the levels of debate and poetry. Hopefully the culture of spoken word will continue to thrive in Scoil Dara in the coming years.
 Music Option in Scoil Dara
The end of the Music taster option in Scoil Dara saw some amazing preformances by the first years well done to all involved in the preformances
An Artful Halloween In Scoil Dara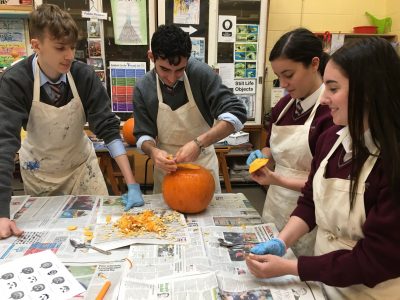 The talented TY Art class used wonderful teamwork skills carving out pumpkins to celebrate the season.
Fundraising for a great cause in Scoil Dara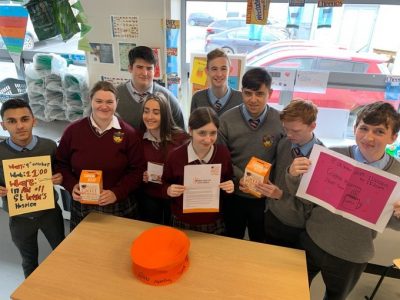 Busy is not the word for this class, this month in addition to all their other activites and classes they decided to run a fundraiser for the  St. Brigids's Hospice. The friends of St. Brigid's hospice and home care services is a voluntary organisation that offer palliative care and home help for people with incurable llife threatening illnesses ,
Sports Stars of the Future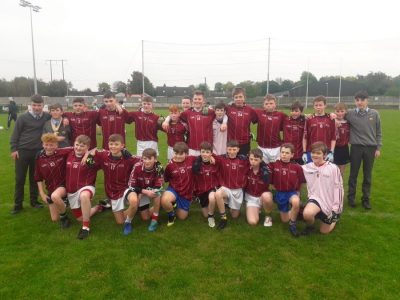 Brilliant 1st year footballers playing in a Kildare football blitz. Winning two matches and losing one. Great sport, great fun , great bunch of lads
Pieta House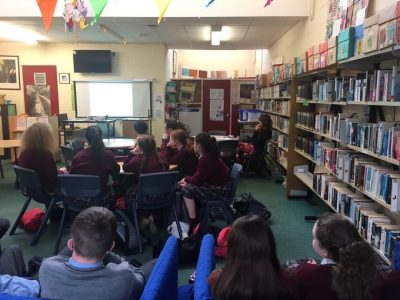 Delighted to have Pieta House with us again this year to work with the 2 nd years who take part in the amazing Resilience Program.
Learning to Learn
5th year's attending Study Skills Seminar
Preparing our students for exams by teaching them how to optimise their time , notes, and textbooks and how to work collabratively to achive their potential.
Digital Excellence in Scoil Dara
Students receiving their password and login details which will give them free access to the complete Microsoft office suite. There is no stopping them now !
 L'Art du Chocolat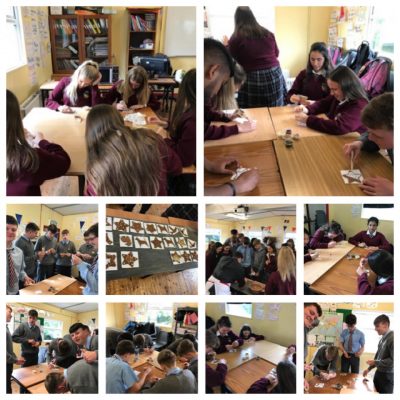 Cyril, from the Maynooth cafe, L'Art du Chocolat, came back this year for our TY. Another successful workshop where our students learnt about chocolate making, sampled cocoa beans and various types of chocolates and got to design their own chocolate!
An Triail san Axis
Na Séú Blianta ag baint taitnimh as An Triail san Axis. Chuaigh siad go dtí Beairic Uí Choileáin.  Thaitin gach duine leis an gcultúr agus leis an oideachas.
Zepplins !!
Ms Smyths 1ST years  showing cross curricular links between art Science and German and Art by creating Zeppelins. Wunderbar!
Poetry Aloud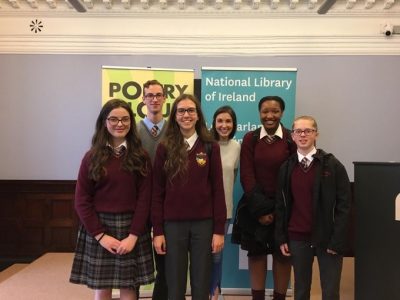 Congrats to Veronika Krolova who has been selected from many other students of extremely high standard, to represent Scoil Dara in the semi finals of Poetry Aloud.
Tree Planting
Ms Byrne , Ms Watson, Josipa, Oisin & Diana who helped plant 2000 trees at DCs for Bees event. Scoil Dara…..Making a lasting environmental impact in Laragh , Wicklow.
DQ Competition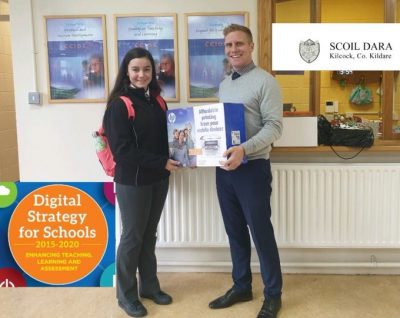 Congratulations to Ava Lawless who won a brand new HP Printer in our DQ competition, promoting digital Literacy in Scoil Dara.
Spooktacular Evening in the Art room!
Face painting for Pieta House as part of the annual 1st Year Social Night, A feel good fundraiser