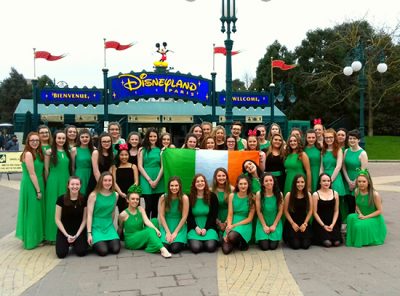 Huge Congratulations to GLUAIS and their music teacher Mr Mícheál Kerr on their performances last week in Disneyland Paris. GLUAIS, a trad band from Scoil Mhuire Secondary School in Trim, Co Meath, were selected to represent Ireland and perform two shows in Disneyland Paris on St Patrick's Day as part of the Disney Irish Celtic Festival 2017. This was a huge honour for the girls and Mr Kerr to be selected to fly the Irish flag in France on St Patrick's weekend.
Over the course of their four days in Paris, GLUAIS also performed a concert at the renowned Marymount International School, the Eiffel Tower and Maison des Petites Soeurs Nursing Home.
Keep an eye out for their upcoming Bingo Night in April which will be held in Scoil Mhuire on Wednesday April 5th at 8pm and their Showcase Concert in May. You can follow GLUAIS on Facebook and YouTube.
Congratulations once again to the girls on their continued success!