Spiritual Life of the Sacred Heart Secondary School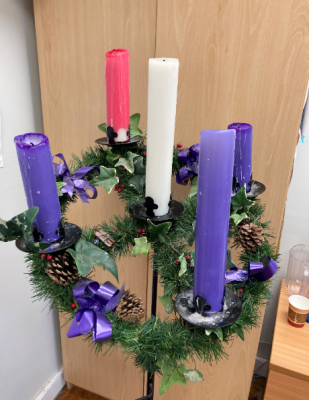 Assembly is held remotely, as Student Leadership Council (SLC) members connect to data projectors in each room where Ms Carroll, Principal and Ms Lynch, Deputy Principal lead and greet the  entire student body every day.  This continues to support the spiritual development of all our students and provides an opportunity for the full school community to be connected together in such difficult times. The members of the SLC use a rota system for saying the prayer every morning. The time to reflect on the day ahead is invaluable in promoting our Catholic ethos. On Monday 23rd November we began our Jesse Tree celebrations with a short prayer service and a blessing of the Jesse Tree and Advent Wreath by Fr Phil.  These celebrations will continue throughout advent as each class in the school will present a story from the bible.  It will conclude with a remote Carol Service planned for the 22nd Dec 2020.
A Remembrance Service was celebrated on 12th November 2020. The service was streamed to all classes from St. Marys Church. The service was celebrated by Fr. Phil and prayers shared by members of staff, two students and concluded by L.Carroll.
Transition Year  Parallel Histories Project

Owing to the huge success of the 'Parallel Histories' programme last year, which looked at the contested histories of Israel and Palestine, the school is continuing the programme this year with a new cohort of 30 Transition Year students.  This year, due to Covid restrictions our students will be conducting interviews with key individuals and workshops with other students via online platforms. Some of our students will also keep you informed throughout the year about their activities via updated Blogs on the school website/Facebook page. We also have 14 of last year's Erasmus students acting as Mentors to our new students.
Our students are an inspiring group of young women, who put their heart and work into this programme. We are immensely proud of all that they have achieved in the 'Parallel Histories' programme so far, how they have treated each guest speaker with respect, debated with academics and have passed down their love for this programme to our younger students. We look forward to another hugely successful year with our current group.
Below details some of the initial interviews which the girls have engaged in so far this year.
Allyson Heatley Interview
On Wednesday 11th November, our 'Parallel Histories' Erasmus class was very lucky to have a virtual meeting with a former teacher of the Sacred Heart School, Ms Heatley. Having grown up in Northern Ireland during the peak time of the Troubles Ms Heatley had a lot of interesting experiences to share with us.
Ms Heatley grew up in Warrenpoint in county Down and went to secondary school in Newry. She spent many years working in Sacred Heart School in Drogheda. This all means that she was no stranger to crossing the border, army check points and frequent bomb scares. She recounted for us many bomb scares that required her schools, shops and roadways to be shut down or evacuated. Along with all these bomb scares, Ms Heatley had an equal number of stories to share about pubs, restaurants, hotels, work places and stolen cars that had been hit with bomb attacks. I think it came as a shock to many in class about how many of these incidents she could list off in her area and how many people had been killed, injured and lost loved ones in the violence of the Troubles. As well as this, she told us about the discrimination Catholics faced from some Protestants. For example, Protestants being favoured in hiring for jobs or the housing council favouring Protestant over Catholic families. But also, how she got on very well with people she was in school with who would not care as much about their differences.
Our virtual call with Ms Heatley has definitely been a great opportunity for our class to build a better understanding of what we are studying. It is very important for us to have this kind of knowledge that we can now build on with our more in-depth studies of the Troubles and with more guest speakers we will have in the future. I know that our whole class is very grateful to Ms Heatley to take time to talk to us and we would all like to thank her very much.
Written by Niamh Quinn TY Erasmus Student
Phil Coulter Interview
On Wednesday the 18th of November, it was a day that will be remembered forever for the Transition Year Erasmus 'Parallel History' Class, as the inspiring singer song-writer, Mr. Phil Coulter attended a Teams online Q&A interview call with our class. In preparation for the interview, the students conducted research in which to include the most appropriate and thought-provoking questions regarding Mr. Phil Coulter's life growing up in Derry, his songs written in relation to Ireland and Northern Ireland, his experiences and his opinions on specific topics. The much-anticipated Q&A with Mr. Phil Coulter was a huge success. The class had researched Phil Coulter and put in a lot of hard work into compiling questions for him. The atmosphere in the classroom on Wednesday afternoon was full of energy. Mr. Coulter spoke about his relationship with John Hume and his decision to turn down an Order of the British Empire from Margaret Thatcher. Different students asked Mr. Coulter about his close friend, John Hume. Mr. Coulter talked about John Hume being like "an extra member of the family". Mr. Coulter also spoke about his decision to turn down an Order of the British Empire because of Margaret Thatcher's handling of the hunger strikes in Maze prison in 1981.
As the interview came to an end, the questions were primarily based off of his song 'The Town I Loved So Well' and also a question regarding 'Ireland's Call'. When he was writing the lyrics for his song 'The Town I Loved So Well', it took him over a year to finish and include carefully chosen words as he knew it was a very touching and emotional era for people. He had saw and experienced the violence at the time and did want to encourage any more violent ideas or contribute to the list of rebel songs. He wanted each and every person to truly listen and understand the lyrics. In relation to the writing of his song, 'Ireland's Call' Mr. Phil Coulter felt under pressure to perfect it as it was to be sung by the IRFU Irish Team. Mr. Coulter wanted to be inclusive of everyone on the team as there had been players from Northern Ireland and born in the unionist community, who would not be associated with the Irish National Anthem. He never wanted to replace the Irish National Anthem but wanted to put a message of union across indirectly. He wanted to include very carefully chosen words and phrases to be sure to match everyone's fulfilment. Mr. Coulter felt he could not include the word "united" to be sure not to offend anyone, and so the phrase "The four proud provinces of Ireland" was included and deemed a perfect fit.
All of the students in the class knew how beneficial this talk was going to be and how lucky we were to have this once in a lifetime opportunity.
Written by TY Students: Kate Ryan & Aimee Murray
Dick Spring Interview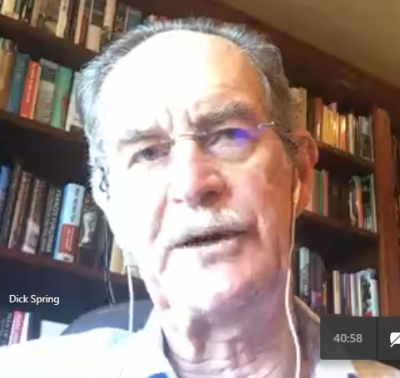 On the 25th of November, the Erasmus class received the invaluable opportunity of being able to interview Mr Dick Spring, former Tanáiste of Ireland. We spoke to Mr Spring mainly regarding the issues that occurred in Northern Ireland during The Troubles and about how he found the experience being such a key political figure at that time. We found that Mr Spring gave us a detailed insight into the life of a politician at this time as well as a background to his views, opinions and experiences.  He understood and looked at the Troubles from a teenager's point of view. He understood that we have not lived through the Troubles.
He was very much appreciative of all efforts made by both sides of the Troubles to allow for peace. He did recognise and appreciate the role the British and loyalists played in getting to finally achieve peace in Northern Ireland.  Mr Spring understood and looked at the Troubles from a teenager's point of view. He understood that we have not lived through the Troubles. As he progressed to talk about the peace process as a whole it was also interesting to hear about he felt that efforts were made from the early 80s in an attempt to achieve peace but certain individuals and groups is what stood in the way of that occurring for many years. He also explained to us that Irish government were not trying to get a united Ireland but truly only wanted to stop the violence in Northern Ireland and deal with issues in a more civilised manner. We learned that the solution of a united Ireland that was once seen as an ideal solution would not be ideal given the uprisings that would have still commenced in the north because of the loyalist population. It was eye- opening to learn that an 'ideal' solution did not exist and that no-one could have won this war, but instead they were just fighting to ensure that incoming generations received a more civilised society than that of their relatives.
It was a truly interesting and inspirational morning and we were so lucky to have had this opportunity.
Written By Mary Kate Ford & Aine Creagh (TY Erasmus Students)
Transition Year Enterprise
Transition Year students have set up various enterprises since the start of the academic year.  Due to covid-19 restrictions the annual TY Enterprise Craft Fair can not occur.  However the students have adapted and will present their products to the full school community through our online school assembly each morning. They have developed TikToc videos detailing each product which can be streamed to the classroom during assembly each morning.  True entrepreneurship – adapting and evolving. Very best of luck to all businesses.
Professor Ward (DCU) talk to 5th & 6th Yr. Maths Students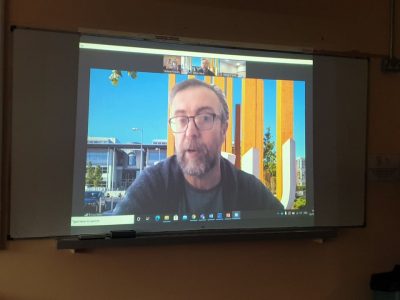 Over the week of the 23rd-27th November 2020, Professor Tomas Ward from the School of Computing in DCU spoke to our 5th and 6th year higher level maths students about one of their most popular undergraduate courses, the BSc in Data Science.  As AIB Chair of Data Analytics, Prof Ward's research has focused on how human health, performance and decision-making can be better understood through new ways of sensing and interpreting our physiology and behaviour. He has licensed a range of technologies to industry since 2009 including sensor streaming technologies for e-health, over the air programming and mobile health applications.
Prof Ward outlined the benefits of studying Data Science at third-level and highlighted the huge career opportunities available to Data Science graduates. We are very grateful to Prof Ward for taking the time to organise the virtual meetings with our 5th and 6th year students.
An Irish team has won the top prize at the 2020 virtual Technovation World Summit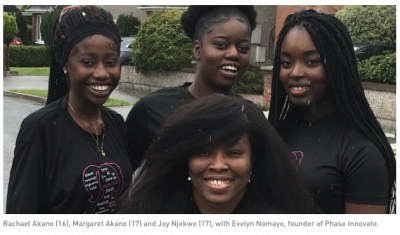 Sacred Heart Secondary School are extremely proud of sisters Rachael Akano (5th Yr Student), Margaret Akano (6th Yr 2020)– under the mentorship of Evelyn Nomayo, founder of Phase Innovate – pitched their entry, Memory Haven, at the Technovation World Summit in August 2020 and on Friday 7th August were announced as the winners of the senior girls' division.
Phase Innovate, a not-for-profit organisation dedicated to bridging the gender and race gap in STEM (science, technology, engineering, and mathematics) fields in Ireland, was founded by Nomayo in May, 2018
Earlier this year, the girls were part of one team of three Nigerian-Irish teenage girls secured a place in the senior division finals after creating the Memory Haven app. They were the only team from the European Union to qualify for the senior division finals.  Memory Haven is designed to help people in Ireland whose families have been impacted by dementia. Influenced by research that shows music can comfort people with dementia, the team incorporated a playlist into the app, as well as healthcare features such as alerts, face and voice recognition, and health checks.
For the 2020 competition, 5,400 students from 62 countries created more than 1,500 mobile apps addressing problems ranging from Covid-19 to climate change. Eventually, they were whittled down to just 10 regional winners – five in the senior division and five in the junior division.
In the senior division, the Irish girls were up against Eunomia, by a team from New Zealand, which is a mobile game that teaches about politics; RecycleRight, from the US, an iOS application that helps prevent waste contamination by facilitating and simplifying the recycling process; Goal Shadowing, which pairs children with similar career goals – one from an underserved community with a child who is privileged; and Mappid, from Brazil, a social app which aims to help keep women and the LGBTQ+ community safe from dangerous or uncomfortable situations.
Following their success in the Technovation World Summit event the girls have featured in on the first episode of Future Humans which aired on RTE on the 10th November 2020.  The future is bright with innovative students like Rachael and Margaret Akano.
6th Year Leaving Certificate Applied Halloween Fancy Dress Fundraiser
6th Year LCA students held a fundraising event as part of a task prior to the midterm break. They ran a non-Uniform Day with a Halloween theme. Each year group had a different Halloween theme for classes to dress up as.  Teachers also participated and created wonderful Halloween costumes.  The event was thoroughly enjoyed by teachers and students and brought much needed laughter and fun to the school. Money raised was donated to So Sad, €1014 and The Gary Kelly Cancer Support Centre, €350.62.
The Book Corner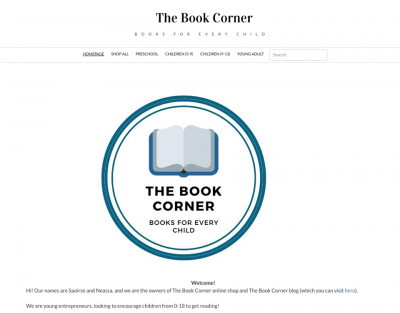 The Sacred Heart Secondary School is extremely proud of Saoirse McDermot, 2nd Year student, on her interview with Ryan Tubridy on RTE Radio 1 on Friday 16th October 2020. Saoirse, and her sister Neassa spoke passionately about their joint business venture which they set up during lockdown back in March 2020. Their business, The Book Corner was set up as a website, https://the-book-corner.mybranchbob.com/, selling second-hand books for children and teenagers. They also run a blog on https://thebookcornerblog2020.blogspot.com/, sharing their love and passion of reading.  Feel free to  follow their Instagram page @thebookcorner2020. Wishing you both every success for the future.
Gasice Awards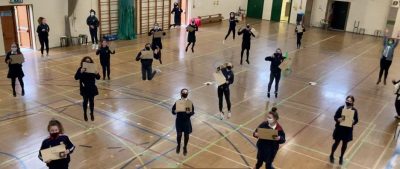 The Sacred Heart School in Drogheda celebrated Lá Gaisce on the 21st October 2020 with 77 students receiving their Bronze and Silver awards from their PAL's Ms. Dempsey and Ms. Aileen Devaney. Forty 5th Year students, nineteen 6th Year students received the Bronze award along with two 6th Year students who received Silver awards. The students received their awards in two separate ceremonies which was streamed and viewed by the whole school community via Teams. Three past pupils also received Bronze and five received Silver awards. Two of our 6th Year students must be commended as they received both Bronze and Silver awards, Emily Stafford and Orla Campbell. We are very proud of the standard set every year by our students, many of whom go on to complete the Gold award. The students have shown tremendous commitment and courage in their ability to complete their challenge areas. Congratulations to all our students on all your achievements. Thank you to Ms. Dempsey and Ms. Devaney for the support and guidance you provided the girls in achieving their Gaisce awards.
| | |
| --- | --- |
| | |
| | |