Christmas at Sacred Heart Clonakility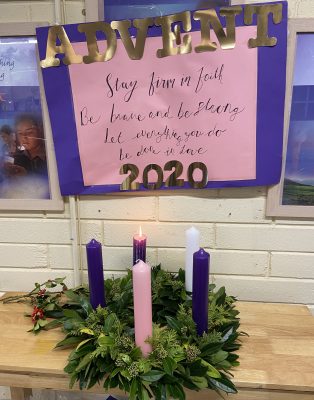 At Sacred Heart Secondary School in Clonakilty, Christmas has already begun. Classrooms are adorned with tinsel and lights. Small fir trees with baubles are perched precariously on windowsills. The RE Department's Advent display is in pride of place in the main social area: an evergreen wreath adorned with four candles representing hope, faith, joy, and peace. It reminds us of God's everlasting love and his continuous presence. It reminds us that although Christmas is associated with joy, it can be a difficult time of year for many. It tells us to be mindful of others and pray for peace.
The countdown is on at Sacred Heart. December is a busy month at school with various events on the calendar. Transition Year students are especially busy with their production of 'Romeo and Juliet', the annual Trade Fair, and Friendship Week. The Student Council are organising a Christmas Jumper Day in aid of St Vincent de Paul. The first years are taking part in a Kindness Challenge, inspired by the values of Advent. Ms Bell and the school journalists are compiling a video of staff and students dancing and singing to Mariah Carey's smash hit, 'All I Want for Christmas is You'. This fun-filled recording will be broadcast on the school Instagram: a novel way to wish parents and students a safe and happy Christmas.
Covid-19 has made all of these undertakings particularly challenging. Health and safety is a priority and strict protocol has to be maintained. However, our wonderful, imaginative and resilient students have taken these difficulties in their stride and emerged triumphant in the face of adversity. This 'new normal' has inhibited a lot, but we've adapted and learned so much. We've pulled together and made the best of it. Our school is as vibrant as ever. We will endure.
We at Sacred Heart look forward to 2021 and a new beginning. We pray for joy, peace and love in the coming year.
Nollaig Shona Daoibh!