St Brigids and Collection for Alzheimer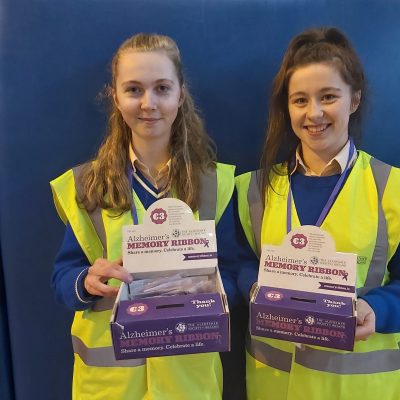 Our 4th year students Niamh Horgan and Aileen Keane (4blue and 4green) organised a collection for the Alzheimers Memory Ribbon day on the 21/11/19 and raised a substantial amount of money.
School Visit to Nano Nagle Place, Cork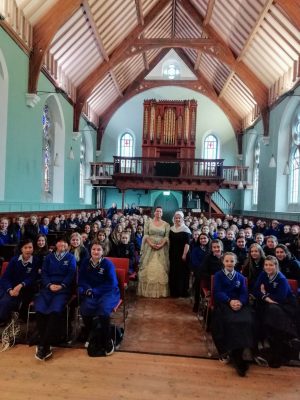 On Wednesday November 20th, first year students of St. Brigid's Killarney travelled to Nano Nagle Place, Cork to explore where the Presentation Order was founded in the 18th Century. They also visited the Crawford Art Gallery, as the group had to be split in half to accommodate the numbers at both places.
The day began with a short drama on the life of Nano, the founder of the Presentation Order Sisters.
This was delivered by the Ocean of Notions Drama Group in Cork.
Nano was dressed as you would see her in portraits, in her simple black dress with a white shawl and her white bonnet. She spoke to the audience in the first person of her experiences growing up in Ballygriffin. It was easy to feel the free spirit of a young girl growing up in the country.
It was shown through a dramatic musical atmosphere the effect of the penal laws and how this meant that she had to leave home to be educated in France. One easily felt her enjoyment of her privileged lifestyle there but also how her upbringing encouraged her to be charitable whenever she could. Her sister Anne was a great influence on her not to forget this. The girls clearly felt that this didn't come as easily to Nano as it did to Anne. They also felt her sadness at the loss of her father which brought her home to Ireland and sometime later the loss of her sister Anne.
As the Drama progressed, it showed how passionate Nano had become about educating the poor and helping the sick once she returned to Ireland. The story continued up to the beginning of her first school and the danger she faced daily.
Afterwards the girls got a guided tour of the Nano Nagle Place buildings and grounds where she built the convent for the Ursuline Sisters she brought from France. Two of the original doors are still there where you can see how they were made in such a way as to protect those behind them.
They saw belongings of Nano's and were very privileged to actually see some of her bones which is hoped that someday will become relics of Nano once she is hopefully canonised a Saint.
Nano Nagle Place has only been newly refurbished in the last few years and has an interactive museum, gift shop and a garden room restaurant which makes it a very special and worthwhile place to visit.
One can really see how the Nagle Family motto of…. "Deeds not Words" made such an everlasting difference even if they start out as very small deeds.
The day ended with a trip to Mahon Point Shopping Centre where students availed of a well-earned late lunch. A great day was had by all.
Science Tip to London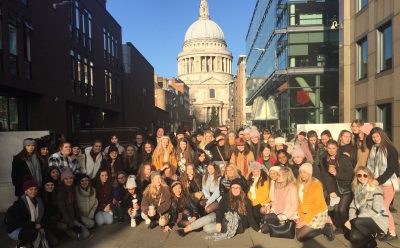 60 students travelled to London on a Science Trip last week. This educational trip allowed students to visit an array of art, history and science museums and also visit famous landmarks in London. On the first day the students the amazing Natural History Museum in Kensington, the Science Museum, the National Gallery.
On day 2 the students enjoyed 9 3/4 platform in Kings Cross. Students had a long walk to the Meridian Line and visited the Observatory Planetarium where was absolutely amazing. Students completed the tunnel walk under the Thames and In the evening the students enjoyed the longest running West End show 'The Mousetrap' in the St. Martins theatre.
On the third day the students ventured on a cable car across the Thames to North Greenwich followed by a river Clipper boat ride up the Thames to Bankside mooring. Then the students got a guided tour around the Globe Theatre and attended an hour workshop on Hamlet carried out by resident actors. Students walked the Millennium Footbridge and on to Monument where students climbed 311 steps up to the top of the tower. After lunch the students visited the Imperial War Museum and dined in Planet Hollywood. Finally students went to the Novello Theatre where they enjoyed Mama Mia.
Day 4 of London Science trip: students experience the London Eye Students walk across Westminster Bridge on to Parliament Square and passed Big Ben and Houses of Parliament onto White hall and then Downing Street. Students ventured towards ' House Guards Parade' along the Mall to Buckingham Palace to see the changing of the Guard. Students then travelled to Oxford street to purchase the last few Christmas presents. What a trip!
Christmas Market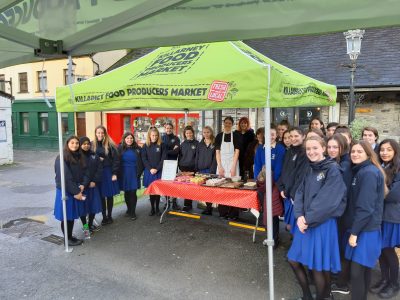 The girls carried out some field research for their upcoming Christmas market on 18 December in the school. They learnt about how the producers developed their products for point of sale, sales promotions and personal selling and asked questions about the best ways to display and sell their own products. They sampled some of the items that were available and which were all produced locally.
University Limerick Taster Day

On the 2nd of December 30 Transition Year students travelled to the University of Limerick for the annual UL taster day. The day was designed specifically with transition year students in mind, with the aim of providing some insight into the courses offered in UL. Students had the opportunity to sit in on a wide range of 30 minute lectures and ask any questions they had in relation to the course.
Upon arrival, we were given a timetable illustrating the time and location of the lectures available, including Law and Criminology, Psychology, Sociology, Performing Arts, Economics, Music and Dance, Journalism, Modern languages, Linguistics, English and Irish. We were free to attend as many lectures as we wished. We were informed of the basic details of the courses such as entry requirements, length of course, and some of the key modules within the course. We also had access to student facilities between lectures, and enjoyed having a look around campus.
The day was very informative and provided a realistic glimpse into the courses UL offered at third level. While it was very beneficial to attend lectures I already had an interest in Psychology. However, my mind was also opened to courses I would never had considered, such as Performing Arts and Journalism. I also have a better understanding of college life in general. While we are only in Transition Year, it is never too early to start considering options for our future, and the UL taster day was an excellent starting point.
Written by Saoirse Coffey (Transition Year)
Soroptimist Ireland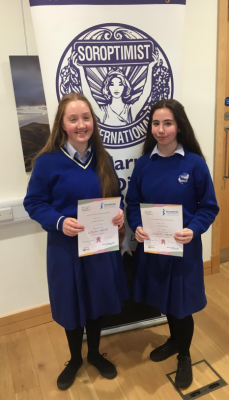 On the 21st of November, two TY students Kate Rudden and Áine Cagney participated in the Soroptimist Ireland local heat in Killarney House.  The aim of this competition is to give young girls the opportunity to talk about issues of relevance to them, while also gaining confidence in public speaking.  The topics chosen by our two students were Education and the Empowerment of women. Both students delivered accomplished speeches and carried out the research on their own, while receiving guidance from Ms. Healy-Rae and Ms. O' Donnell.
12 students took part and only two got selected to continue to the regional final. Kate Rudden's speech on education secured her a spot in the regional final on the 25th January, where she will deliver her speech again, while also being challenged to prepare a speech on the spot in two minutes. This is a huge success and will hopefully encourage more students to take part in the competition in years to come.
All Ireland Judo Finalists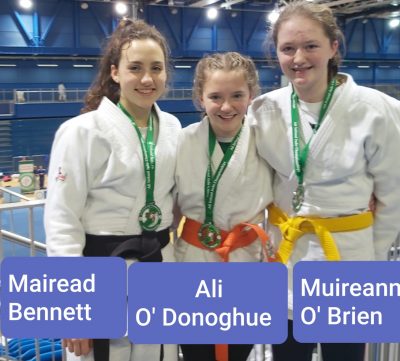 St Brigid's students win silver medals in their categories at the All Ireland finals, Judo competition,  held at the National Arena in Dublin on December 7th .
Cookies for Chemo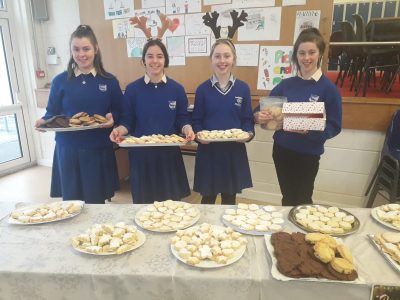 Transition Years baked and sold cookies as a fundraiser for the "Comfort for Chemo Kerry Charity". This charity was set up to help raise funds for a new chemotherapy unit in University Hospital Kerry. In 2001, 830 people were treated at the unit this increased drastically to 5,000 last year. The students raised a terrific €450 for this lovely cause.
Pictured above are TY's Carrie Hickey, Saoirse Coffey, Jenny Cronin and Aileen Keane display cookies baked.
Bank of Ireland Money Smart Challenge
Congratulations to our girls who placed 3rd and 5th out of Munster in the Bank Of Ireland Money Smart Challenge which was held in the INEC recently. The girls placed ahead of other teams showing their knowledge of finance and financial well-being and having an ability to work under timed, pressured time scales!
Well done girls!
Lynne Fahy, Emma Myers, Aoibhe Coffey, Megan Fitzgerald at the Bank of Ireland Money Smart Challenge
TY Ice Skating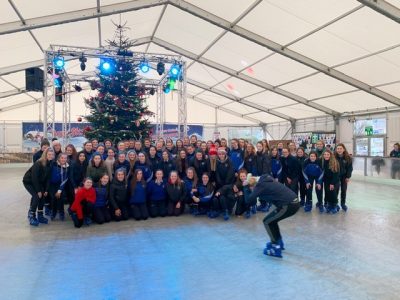 The TY students got into the Christmas spirit with a wonderful day of ice-skating.
Fundraising for Kenya Education Project

On the 11th of December St. Brigid's School took part in a "Teachers v Students" challenge and the "Couch to 5km Christmas Dash" in aid of the Kenya Education Project. We raised €1004 and donated it to the founder of the Kenya Education Project Mr. Eddie Sheehy. Thanks to all who took part and supported this great cause.
LCA Students Raise Money for the Kerry Spina Brigids Association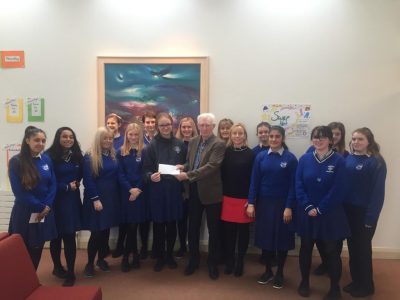 The LCA students  organised a Fun day event for 1st years as part of their Leisure and Recreation project. Students presented  a cheque for €100 to the chairman of The Kerry Spina Bifida Association, Mr. Don OD'onoghue.
LCA Students visit St. Vincent de Paul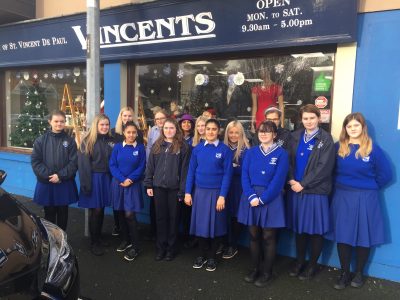 LCA students visited St. Vincent de Paul to support those in need. The students merchandised the shop floor and also organised the stockroom for the busy days ahead.
https://uniquepublishing.page.link/1R5D
Collection for Novas Jerry Homeless Service
St. Brigid's students took part in a Street Collection for Novas Kerry Homeless Service and collected an impressive sum of €1,827.47.  Pictured above are Sarah Trant and Mieke Rice Steinbeck during collection. Well done girls.