#GRMA DAY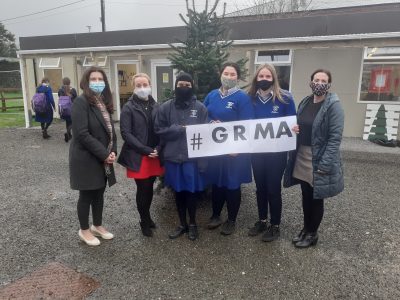 On Friday, 11th of December 2020, the school community of St.Brigid's paused and said #GRMA (Go raibh maith agaibh) to everyone in our school community who has worked so hard to keep schools safe since they have reopened last August.
This included Students, Teachers, Principals, Parents, SNA's, Caretakers, Bus Drivers and everyone in between!
We wanted to celebrate the enormous work that all members of the school community have done since we reopened this year to continue to keep our school open and in keeping everyone safe at the same time.
#GRMA Day was part of a nationwide initiative by the ISSU (Irish Secondary Student Union) and all schools were invited to join in the celebrations.
As part of the day, a video of collective acknowledgement was aired from Ireland's political leaders, media and sports personalities. The President of Ireland Michael D. Higgins led the tributes, followed by An Taoiseach, Mícheal Martin, Minister Simon Coveney, Ryan Tubridy, Paul O'Connell and even Dustin the Turkey made an appearance!!
Well done to everyone involved.
SVP Collection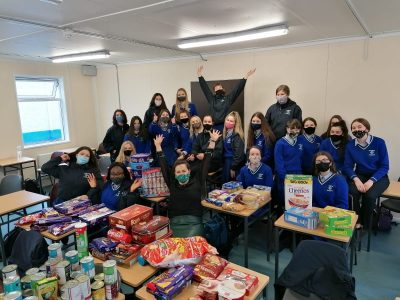 Third year students believe that everyone can help people in need in their  community this Christmas by supporting the SVP Christmas Food Appeal and donating non-perishable festive food items to help families and individuals enjoy an extra-special Christmas season.
Breda Dwyer of the Killarney SVP collected the food donations from the 3 Red class today, 24 bags and 15 boxes of food were donated from the St. Brigid's Presentation community to the SVP Christmas Food appeal. This initiative was organized by the St. Brigid's 3rd year students and their teacher Ms. Quilter
Hoody Day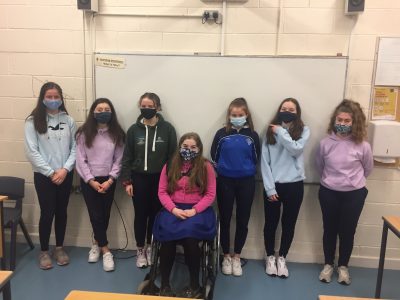 St. Brigid's 6th year student participated in the Hoodie Day initiative, to raise funds for the Killarney Lions Club Christmas Food Appeal.
Christmas greetings to all residents and frontline workers in Killarney nursing homes
During our CSPE classes in December, we decided to write letters and design cards for the residents of nursing homes in the Killarney area in the run-up to Christmas.
We were aware that with the current Covid 19 restrictions, that residents may not get as many visitors over the Christmas period and so we decided as a class group to try and spread a little Christmas cheer! We told the residents about life in school is like for us during the pandemic but how we are making the most of it and hoping things will improve for everybody in the New Year as well as what we are looking forward to during Christmas.
We decided to take advantage of the wonderful initiative by An Post this year to deliver letters and parcels to nursing homes free of charge. We have followed all sanitary precautions and our teacher Ms. O'Dowd even quarantined our letters and artwork for a week before posting them in order to keep everyone safe.
Wishing all the residents of our nursing homes and the wonderful frontline staff a happy, peaceful and safe Christmas
From all the students of 3 White CSPE.
Order of Malta First Aid course
A group LCA students were awarded a certificate in First Aid after completing a 4 week course with the Order of Malta. During this course they covered several topics, including CPR, choking, consciousness, fractures, bleeding, burns and scalds. The girls were shown how to do chest compressions, the Heimlich Manoeuver, how to wrap a bandage and a splint, as well as many other important skills.  The students thoroughly enjoyed it and want to thank the Order of Malta for facilitating such a great course. LCA students will use this experience for their Practical Achievement Task.
TY Go Rowing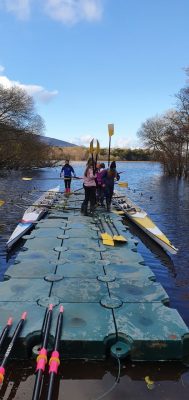 Another group of enthusiastic novice rowers took to the water under the watchful eyes of their fellow TY friends from Muckross RC and Marko Tot from Get Going Get Rowing. They enjoyed their introduction to the sport despite some slightly challenging water conditions, and are looking forward to building on what they learned at the weekend for their next outing.  A big thanks once again to Muckross Rowing Club and Marko from Get Going Get Rowing for facilitating the session on the beautiful Lough Leane.
Comhairle na n-Óg AGM
On Tuesday the 1st of December, 8 students from 1st year to 3rd year took part in the Kerry Comhairle na n-Óg AGM. Unfortunately the AGM had to take place virtually this year due to Covid restrictions, however that did not stop participants from engaging in the discussions and activities in the zoom meeting.
The Department of Children and Youth Affairs oversees Comhairle na nÓg, the delivery of which is the responsibility of each Local Authority. There are 31 Comhairlí na nÓg nationally and the aim is to ensure that the voice of young people is heard when developing policy and local services.
2 of our students, Orianne McGillycuddy and Aoife McClarence are in their 2nd year of being Comhairle members are were responsible for facilitating breakout groups and discussions during the AGM. Orianne also spoke to over 60 members participating in the zoom meeting, giving an update on the project that Comhairle na nÓg undertook last year – 'Clean Beach Campaign'. Well done to Orianne and Aoife and to all who participated in today's AGM.
Spreading messages of positivity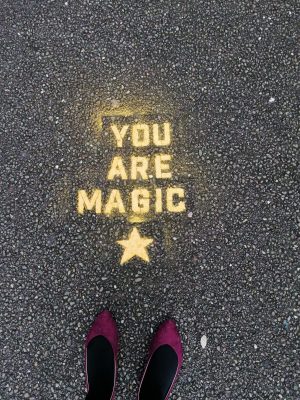 5Red Religious Education class – spreading messages of positivity to throughout the school grounds. An end result after a term of studying mindfulness techniques and practises.
TY Film Workshop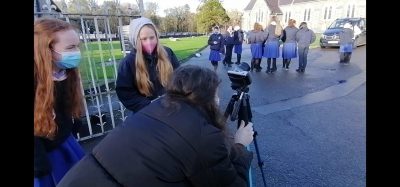 Transition Year students working with film maker Marcella OConnor as part of Creative Schools programme 2020-21. Practising skills in film production.
St. Brigid's Slí na Sláinte Walk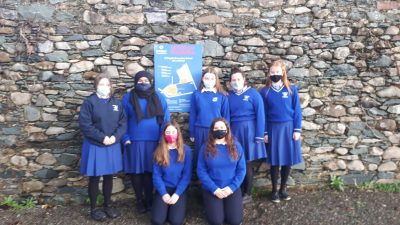 St. Brigid's Leaving Certificate Applied students took the initiative to create a Slí na Sláinte route around the school, the first of its kind in Killarney.
The General Education Task is just one of seven Student Tasks that LCA students must complete as part of their Leaving Certificate. The primary purpose of this task is to underpin the key principle of integration, which will enable the student to develop a stronger awareness of the beneficial and coherent links that exi                                   news        st between the concepts, skills, competencies, experiences, knowledge and understanding that they have developed or acquired from the Leaving Certificate Applied Programme.
Slí na Sláinte is an initiative developed by the Irish Heart Foundation, with the aim to encourage and increase the number of people walking in the Republic of Ireland. It provides an easy, accessible and inexpensive environment for regular exercise for walkers throughout the country. There are over 500 Slí na Sláinte walking routes around the country in communities, schools and workplaces.
Covid-19 has had a huge impact on how people exercise, especially with the closing of gyms, fitness classes, sports and other recreational activities. The LCA students in St. Brigid's know that exercise and getting fresh air is vital and an important part of maintaining a healthy lifestyle. The students wanted to pick a project that would have a positive impact on the school community and something that would be there for years to come. To achieve this goal, they organised the first Slí na Sláinte route in Killarney.
We would like to say thank you to the Presentation Order Sisters who graciously granted St Brigid student's permission to their grounds, without them this project would not have been possible, and thank you to Ms. Moore for her continuous support.
Article written by Elaine Parker LCA
Global citizenship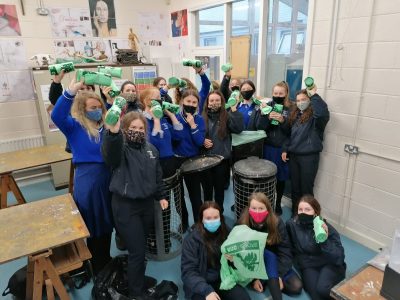 4Green Global citizenship class who campaigned to get  their school to switch from polythene refuse sacks to biodegradable bags. They also contacted local schools and business to encourage them to make the switch-small sustainable alternatives helping to create ripples of change.
T.Y. Flower Arranging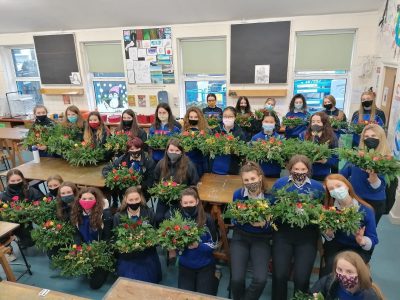 Christmas is possibly the best time of the year. It's a time when families get together and spend time with each other. It's a time when you burn the turkey or eat too many sweets Christmas morning. Christmas is a special time during the year where we are whisked away to our own magical winter wonderland. Today, Friday the 11th of December, the TY students decided to make Centre pieces for Christmas. The students made these beautiful Centre pieces using greenery and flowers such as roses- both MS Archibald and MS Quilter also helped the TY's throughout the session.
An oasis was used to hold these decorations in place. It soaks up the water like a sponge and acts as both a preservative to prolong the life of the ferns and flowers. We then began to build up our Centre piece leaf by leaf. We used evergreen leaves for these decorations. Students were asked to bring in greenery, so the classroom looked like a forest by the time we were nearly finished. Each student was given 3 roses as well chrysanthemum flowers. Each and every wreath were so unique and different, no two looked the same.
There was certainly a 'Christmassy' vibe in the classroom especially when Mariah Carey (All I want for Christmas is you) was playing in the background.
Decorating or in our case making Centre pieces is a great way to express our personality and taste, within the comfort of our own classroom while having fun with our friends! It's a wonderful outlet for many people, especially when you have other areas of your life that are busy, and sometimes chaotic.
We all had so much fun this afternoon, and we would all really recommend it for people of all ages.
Dignity Packs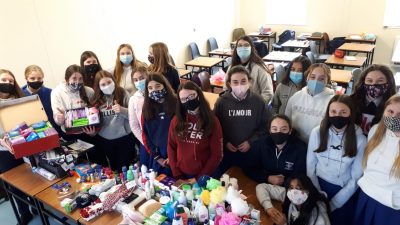 2nd year students have been completing coursework on active citizenship, obligations and responsibilities and human rights.
This Christmas, 2nd year students as part of their CSPE work decided to make "Dignity packs" and donate them to Kerry Adapt Refugee Centre. Catherine Casey the general manager collected the packs from the students on Friday 11th December 2020.
"We made the packs to support and provide families whose lives were dramatically changed because of domestic violence / abuse. In the packs we ensured to include products for self-care and essential hygiene products. We studied human dignity which inspired us to try our best to help the people who are not given the same rights as us".  – Clíona & Beatrice 2 Green
LCA students donate Christmas hampers to the Killarney Community Nursing Unit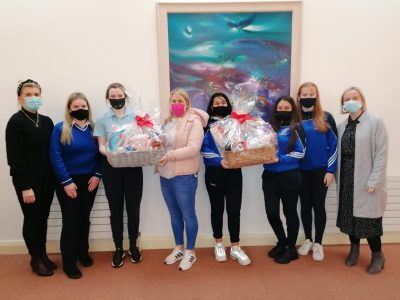 LCA students and their Enterprise teacher, Ms. Eilish O Riordan donated Christmas hampers to the residents of the Killarney Community Nursing Unit
LCA girls(Megan Lenihan, Alison Carroll, Tasnim Hoque, Karolina Frimlova, Kara Huggard) also in the picture Cora and Enterprise teacher Ms O Riordan presenting the Christmas hampers to Rosemary Lenihan these hampers are for the residents of killarney community nursing unit.These were put together by the LCA enterprise class. Hopefully they will bring joy to the residents at Christmas.
Angus Beef Schools Competition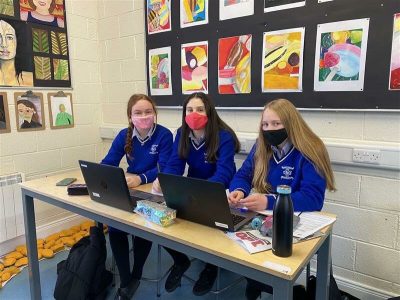 St. Brigid's TY's go through to the next round of the Angus Beef Competition. The entry from  Alanna Brady, Kate Donoghue and Abbie Daly for the Certified Irish Angus Beef Schools Competition has been chosen from a large volume of entries to go forward to the next stage of the competition. The next stage will involve a 15-minute interview based on their video application. This interview will be taking place in person with all COVID-19 guidelines on social distancing and sanitizing adhered to. However, this may not be possible if restrictions don't allow gatherings. In such a scenario the interviews will take place online.
They will be interviewed by representatives from:
  Irish Angus Producer Group
  ABP Food Group
  Kepak Group
  Agricultural Science Teacher.
Should our students be successful in this interview, the next stage of the competition will involve our team going forward to an exhibition in Croke Park at which the final 5 schools will be selected to win the Angus calves. This event usually occurs the 2nd week of March in Croke Park but with the current situation it will most likely be moved to the second half of April with the Croke Park venue subject to change also.
Thanks to Ms Ahern for helping the girls with their entry.
Palliative Christmas Jumper Day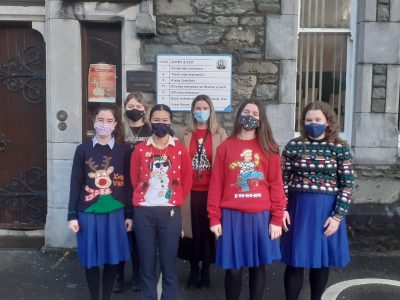 St Brigid's teachers and students participated in the Palliative Christmas Jumper Day. The fundraiser 'Presents for Palliative' was a combined fundraising effort between 6 schools in the Killarney area – St. Brigid's, St. Brendan's College, Killarney Community College, The Monastery and Holy Cross National Schools and St. Francis Special School. All monies raised will be going to the Palliative Care Unit in University Hospital Kerry.
Poetry competition winners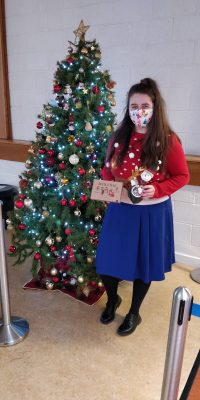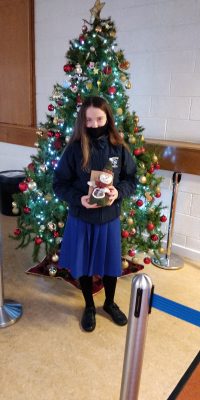 Congratulations to our poetry Christmas competition winners Laura Looney 6th year and Elizabeth Roche 1st year. Their fantastic poems will be in the December edition of the Lantern magazine.
St Brigid's Generating Entrepreneurs of the Future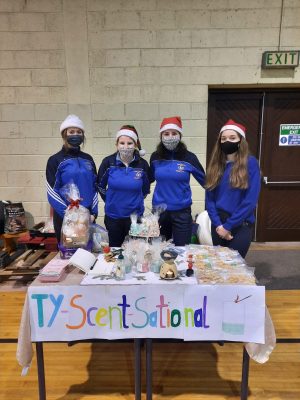 St. Brigid's Presentation School Killarney held their annual Enterprise Christmas Market where 77 students from Transition Year and Leaving Certificate Applied formed their own mini companies and set up their stalls from 9am to showcase their products to fellow students and their teachers. The students are encouraged to get creative and design their own products ranging from Christmas baked goods, decorations, fashion wear and diaries.
The ever-increasing high standard of products for sale is only just one part of what the Christmas Market promotes. The students gain a very valuable learning experience in what it's like to run your own business and market your goods to budding customers.
In the spirit of Christmas, the students are advised to donate a portion of their profits to the event's chosen charity the Lions Club food appeal and Cycle to Kenya Initiative to raise funds for the non-profit organizations. The Christmas spirit was there in abundance as a sizable donation was made.
Tobar Nua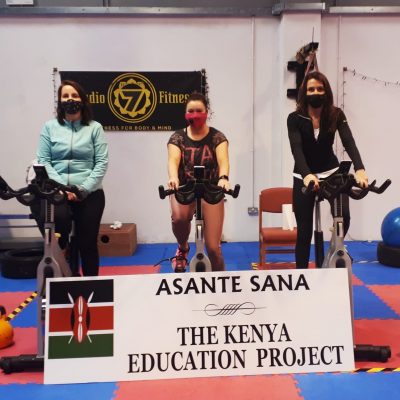 Representatives from Tobar Nua came to speak to the TY students about friendship and religion. The girls learned the qualities of a good friend and how to work together as a group to earn points for their team. Many fun filled games were played throughout the day which helped with their communication skills and how to come together and work as a team. They had a great day with Tobar Nua and learned so much about positive relationships and friendships.
TY students, Ms.Murphy ,Ms.Brosnan, Ms.Cronin and Principal Ms.Moore have cycled 1,400km of the 8000km journey so far as part of the Killarney to Kenya Charity cycle. Both students and staff were delighted to take part in this fundraiser as the Kenya Education Project has a positive impact on the life's of many children and their families yearly. The charity provides food and education for hundreds of children on or below the poverty line in Kenya. The charity also works in conjunction with St Vincent de Paul helping deliver clothes as well as financial aid to families. There is still time to donate via the following link https://www.gofundme.com/f/from-kerry-to-kenya-8000km-gym-cycle
Principal Róisín Moore Sheree Murphy Adrienne Brosnan