Pieta House
Pictured below are 2nd year girls from St. Brigids Secondary School Killarney pictured handing over a cheque to Pieta House after the girls collected €600 in their Christmas Enterprise Market prior to Christmas.
140 enterprising students aged from 13-17 got the opportunity to set up their own business and sell their products in the school gym on December 18th.
The market was a fantastic success with all proceeds going to Pieta House.
Amnesty International Talk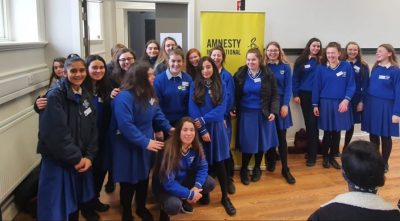 On Wednesday January 29th, a group of TY students attended a talk and workshop given by Amnesty International on Human Rights. This was held at Nano Nagle Place in Cork. The workshop involved identifying how various sectors of society in Ireland are being denied their basic human rights, such as refugees and homeless people. The students looked at how these issues can be rectified and how they themselves can become part of the solution through various activities.
BAKE OFF WINNERS 2020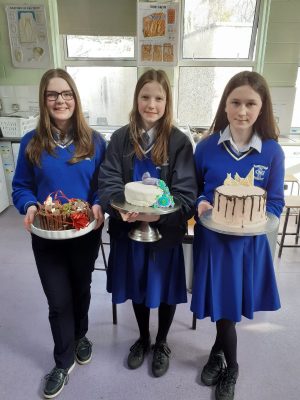 Congrats ? to everyone that took part in this year'Junior Bake Off?
Junior Bake Off Winners are:
1st- Heather Culloty
2nd- Aoife Cronin
3rd- Katie O'Connor
Election 2020
With the General Election 2020 coming up it was a great opportunity for St. Brigid's Killarney CSPE students to put into action their knowledge of the election process in Ireland.
Last week students from 2nd and third year held mock general elections to elect a Taoiseach! The class was a hive of activity with roles such as presiding officers, four candidates to run for election, the constituency voters, a Garda, tallymen, a returning officer being carried out. Students calculated the quota needed to be met, the transfer of votes, as well as the processor of the election process. Well done to all involved, good habits start young. Your vote is your voice!
TY Global Citizenship Class
St. Brigid TY Global citizenship class taking part in one of a series of workshops being held by Amnesty International: Stories of Home, Stories of Welcome project. The project explores the theme of asylum seekers, refugees and the direct provision system in Ireland.
St. Brigid's Students visit the Buffalo Farm in Macroom
5th Year Agricultural Science students visited Macroom Buffalo Farm today as part of their course. The trip was very informative and included topics such as farm safety, sustainability, animal husbandry, nutrition and artisan food production.
2nd Year Students go Skiing
St. Brigids 2nd Years students went on a ski trip to Sierra Nevada in Spain.