Sport
Sportshall Athletics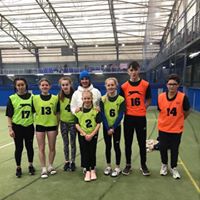 Well done to the u13 girls, u15 girls and u15 boys who all won Ulster titles at the Sports hall championships and will be travelling to Sheffield in April for the UK finals. Well done also to the u13 boys who placed 3rd. Thanks to Ms. Harris who accompanied the students.
Athletics
Great racing today at the Ulster schools cross country in Finn Valley. Katie Dowds 13th, Fionn Farren 9th, Harry Gallagher 8th, Sean Gallagher 6th, Ella McGlinchey 9th, Sara Alexander 3rd, Patrick Murphy 8th , Conor Murphy 4th , Pauric McKelvey 14th. Well done to all involved and thanks to Ms. McMullin who accompanied the students.
Gaelic
Our 1st Year Girls Gaelic team attended a blitz in Magherafelt recently. Well done to the girls on their performance and thanks to their coaches Ms. Mc Gill and Shaun Boyce.
Debating
Well done to our debate team who recently won a match with the motion, 'Nuclear power is essential for a clean energy future' against St. Catherine's, Killybegs. Well done to the team captain Caitlin Thompson and her team members Dermott Harkin, Sarah Morris and Sarah Mc Menamin. Thanks to all members of the debate team for their contribution and teamwork over the year and to their teachers Ms. O'Donnell and Ms. O'Driscoll.
Debating team on the BBC
Well done to the debate team who travelled to the BBC studio in Belfast and featured on 'The Top Table'.
Transition Year
Strictly Come Dancing
Well done to our TY students who organised 'Strictly Come Dancing' recently. Twelve couples took to the floor in front of a full house as follows: Roisin Lillis and Neil Mulcahy, Cara Mc Menamin and Daniel Dalton, Jessica Byrne and Conor Lynch, Alissah Cullen and Conor Thompson, Aisling Cannon and Tim Scanlon, Elin Gallen O Dwyer and Sean Breen, Aoife Sweeney and Ben Callaghan, Brenda Carr and Cian Mulligan, Sarah Mc Bide and Karl Doherty, Hannah Mc Menamin and Sean Mc Grory, Serena Mc Ardle and Jack Patton, Cara Wilkinson and Ciara Dalton. Congratulations to Elin Gallen O Dwyer and Sean Breen who won 1st place, Brenda Carr and Cian Mulligan in 2nd place and Sarah Mc Bride and Karl Doherty in 3rd place. Well done to Sarah Mc Menamin, Aoibheann Curran, Nakita Mc Laughlin, Zara Doherty, Leah Kelly and Aimee Lafferty who were MC's in the night. Many thanks to the judges and to Shona Tinneny who worked with the dancers over the last number of months. This was another very successful project encouraged by the diligent and hardworking Mr Brian Mc Crea and Ms Catherine Cooke.
Talent Show
The TY events team held a very entertaining variety show in the Balor Theatre. Well done to all the students who took part. Many thanks to the judges Caroline Bell, Sean Lafferty and Rodney Deery, to Ms. Roache who worked with each of the performers and Ms. Cooke who guided the events team. Congratulations to the winners on the night Catherine Gallagher, Ciaran Coleman, Sean Coleman and Cael Gallagher, to the runners-up Dylan Carlin, Ronan Carlin and Luke Browne and the Spice girls who took 3rd place.
Friday Modules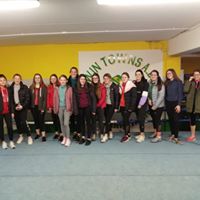 Our TY girls are boxing clever both in and out of the ring and here's the proof! As part of their Friday modules they're enjoying an introductory course with Twin Towns Boxing Club and are loving it!
Coding Taster Day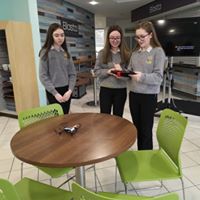 Some of the TY1 students flying drones at the coding day in LYIT.
Celebrating Success
Cycling

We were delighted to welcome Mitchell Mc Laughlin back to the college. Mitchell is moving to Italy in January to join the Zappi Racing Team. He presented one of his team's cycling jerseys to the college. We admire Mitchell's dedication to his sport and wish him the very best of luck in future career.
Rugby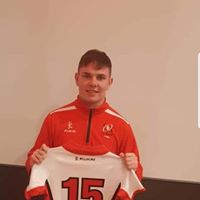 Cody Laverty 6th year was presented with his Ulster u18 jersey at a recent Ulster match. Well done to Cody on this fantastic achievement.
Mentoring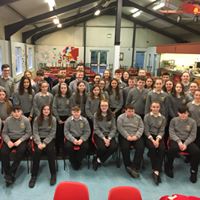 We are piloting a mentoring programme this year in conjunction with LYIT through which 5th year students will mentor 1st years. The 5th years attended training in LYIT in November and were then linked with their mentees pictured below in December. The mentors and their mentees continue to meet up with positive feedback as supportive friendships are being formed. Well done to all the students involved who are engaging so well with the programme and thanks to the teachers who are leading the programme Ms. Sproule, Ms McCullagh, Ms. Cowan and Ms. E. Rodgers.
Safer Internet Ambassador Day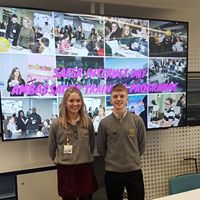 Two of our 5th year students Mark Sproule and Ellie White attended the Webwise Safer Internet ambassador training day in Google on Wednesday, where young people from all over the country met to share ideas and plan for activities in their schools ahead of Safer Internet Day. Thanks to Ms. K. White who travelled with the students.
Sunny Side Out – Global Citizenship Committee and Student Council
Deputy Thomas Pringle dropped in to meet with our hard-working Global Citizenship Education Committee and Student Council members.
They talked at length about their current project, Sunny Side Out, the Fossil Fuels Divestment Bill and clean and green alternatives for future generations.
Deputy Pringle praised their level of research on the topic and mature questioning. He reminded them that their combined efforts and actions have a cumulative impact and that they will make a difference to the world they live in. Before leaving, he encouraged them to 'keep the pressure on'! Thanks to Mr. Mc Crea for organising the visit.
Green Party candidate Michael White addressed our Global Citizenship Education Committee and Student Council recently. Up for discussion were Ireland's carbon emissions, local environmental issues and Solar energy as a clean and green alternative to fossil fuels. He commended the group for the work they are doing with their project, 'Sunny Side Out', telling them that 'they're ahead of the curve', given their ethical attitudes and stances on current affairs issues. Many thanks to the groups for their work and to Mr. Mc Crea who is leading the project.
Green School Committee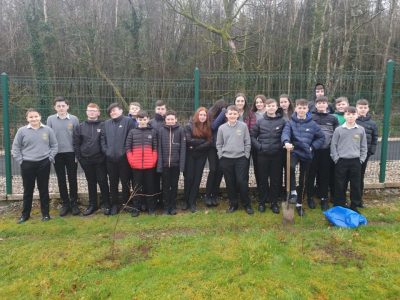 Biodiversity and Forestry Workshops:
Two of our 1st year classes braved the elements this morning for their outdoor classroom activities on biodiversity and forests. Many thanks to Rob Nelson from Greenschools for delivering the workshops. Thanks also to Mr. Cannon and Ms. Cowan for organising and facilitating the workshops. As a follow-on from the workshop Mr Cannon's 1st years planted some trees which were donated by Green schools team.
Maths
Huge congratulations to Evan Carron Kee, Siobhan Doyle, Anna Quinn Kilcoyne and Laura Whelan who took 2nd place in the Team Maths Higher Level Leaving Certificate Maths quiz which was held in Letterkenny recently. Very well done also to Ciaran Chaney, Gavin Friel, Ronan Gallagher and Caitlin McGonagle who performed very well on the night. Both teams represented the College wonderfully in what was a very competitive competition. A very enjoyable evening was had by all. Thank you to the students for their hard work and commitment and to the Maths teachers for preparing them so well.
Science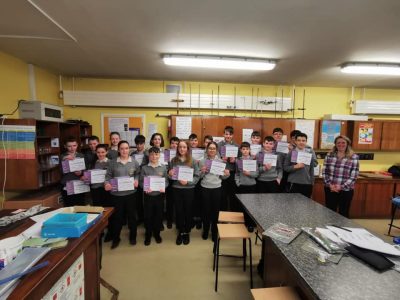 Ms. Gorman's science class receiving their Junior Achievement Ireland Award with trained business volunteer Jayne Spalding from Pramerica . The 1st year science students completed five sessions which covered the STEM subjects which they really enjoyed. Well done to all involved.
Home Economics
Busy bees in Home Economics class this week as the 2nd years finish their 1st Classroom Based Assessment, Creative Textiles – Can't wait to see the final results.
Enterprise
Thanks to Grace Korbel Keeney from Enterprise Ireland and to Martin O'Reilly from O'Reilly Sports who visited the college to talk to our 6th year LCVP classes and gave very informative and interesting talks.
Catholic School's Week
Well done to 6th Class Breda, and their RE teacher Ms. Rodgers, who produced a beautiful poster to celebrate Catholic Schools Week.
St. Brigid's Day Crosses
Some of our students making St. Brigid's crosses for Saturday 1st February.
Annika's first St. Brigid's cross and Corey teaching his class St. Enda how to make crosses the way his great grandfather taught him.