Dignity Packs donated to Adapt and St. Vincent de Paul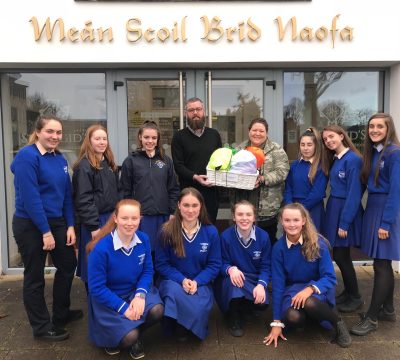 After an outstanding reaction to a plea for donations, St. Brigids TY students were humbled to give over 80 dignity packs and Argos vouchers to Adapt Tralee & St Vincent De Paul today at our Christmas Carol Service.
Both very worthwhile charities. Both doing outstanding work in Kerry. One looking after women and children of domestic violence and one looking after the homeless of Kerry and Cork.
Thank you to everyone who donated. The staff, the students, the parents and the community of St Brigids. Students were so grateful for every single item, nothing going unnoticed.
We hope you have a very Merry Christmas and know that you have made a difference to someone's life at their toughest time.
Jumper Day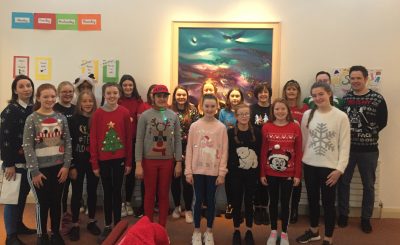 St. Brigid's students wear Christmas jumpers to raise money for the Simon Community. Each student donated €2 and the proceeds will be presented to the Simon Community.
St. Brigid's Generating Entrepreneurs of the Future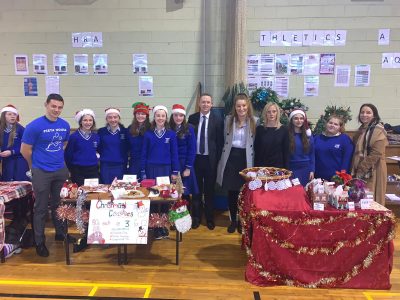 St. Brigid's Presentation School Killarney was the place to be for all your Christmas shopping needs in the run up to the holidays. The school held their annual Enterprise Christmas Market where 148 students aged between 13 and 18 formed their own mini companies and set up their stalls from 9am to showcase their products to parents, fellow students and their teachers. The students are encouraged to get creative and design their own products ranging from Christmas baked goods, decorations, fashionwear and even locker shelves. The ever-increasing high standard of products for sale is only just one part of what the Christmas Market promotes. The students gain a very valuable learning experience in what it's like to run your own business and market your goods to budding customers.
The event was sponsored by the local AIB branch in Killarney, who provided prizes and two insightful judges on the day. St. Brigid's also collaborate with the local enterprise office in Tralee to provide the students with first hand guidance through every step of the process in creating your own business. In the spirit of Christmas, the students are advised to donate a portion of their profits to the event's chosen charity Pieta House to raise funds for the non-profit organisation. The Christmas spirit was there in abundance as over €600 was raised.
The show is not over yet as a few Transition year students are on the cusp of qualifying for the Local Enterprise County Finals in Tralee in the new year. The remaining students will lie in wait until next year's enterprise market, where they will be keen to re-establish their entrepreneurial career once again.