Leaving Certificate Class of 2020
Below is a message written by Róisín Moore Principal:
On behalf of the school community I am delighted to congratulate the class of 2020 on their Leaving Certificate and Leaving Certificate Applied results. The Leaving Certificate journey was particularly arduous and harrowing this year and the students faced enormous uncertainty and had to cope with a constantly evolving situation from March 12th until May 8th. These students missed out on many of the rites of passage associate with the completion of second level education.
The outstanding results this year are testament to the dedication and commitment exhibited by the students not just in their final year but throughout their senior cycle. We were thrilled that 3 of our students were awarded maximum points of 625 points and in excess of 31 % of students received in excess of 500 points. This is in line with the school's academic profile in previous years. All of our Leaving Certificate applied students received distinctions.
Monday was a most surreal day in the school as the usual excitement, apprehension and energy associated with results day was absent. However, the most striking absence was the absence of the girls who due to COVID-19 restrictions were required to access their results online. As a school we missed meeting them and sharing in their celebrations.
We are however mindful that for many of our girls the uncertainty is not over as they await third level offers on Friday. In addition, on Monday 14th September the students will be given access to the estimated percentages assigned to them by the school. As a school we know that these estimated percentages will, in many cases, be at variance with the calculated grades assigned by the DES and will leave parents and students with numerous questions. The process used by the DES to convert the school's estimated percentage into calculated grades remains unclear.
Unfortunately, some students including those who studied additional subjects outside of school will have little alternative except to commence preparations to sit the written papers in November thus prolonging the uncertainty.
It is our hope that no matter what the future holds for the class of 2020 that they will look back fondly on their time in St. Brigid's and that they will always be proud to be Pres girls.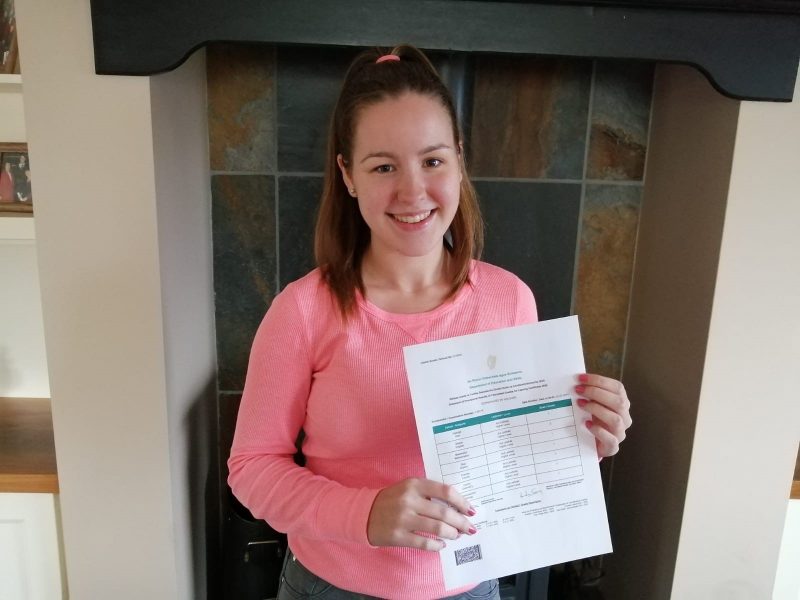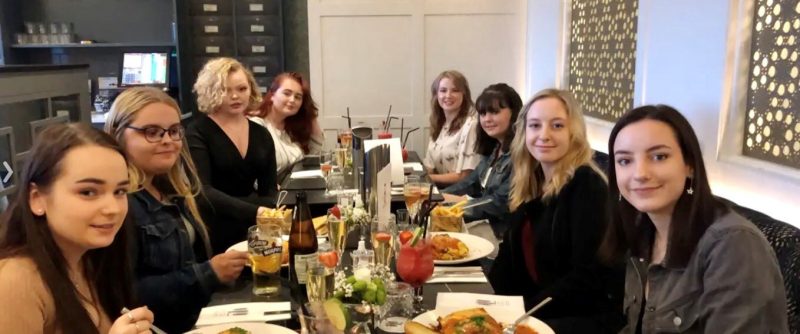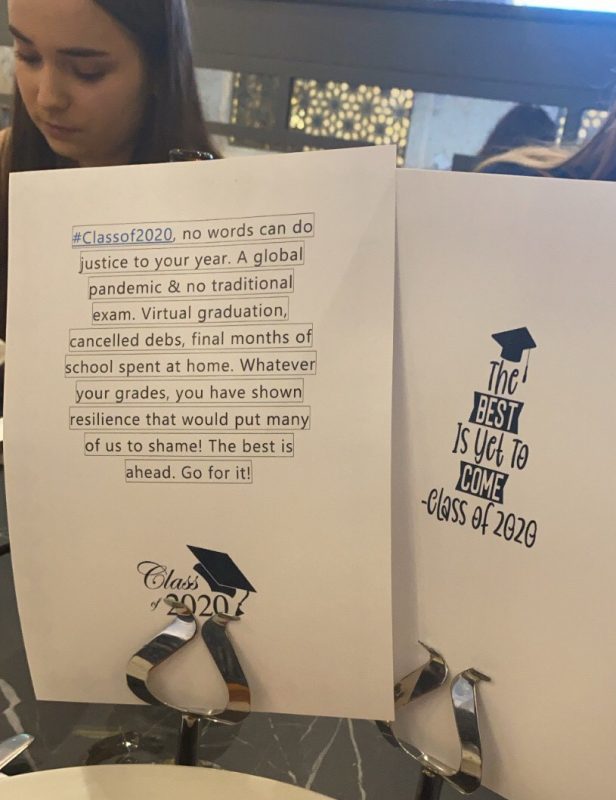 Walk to School Initiative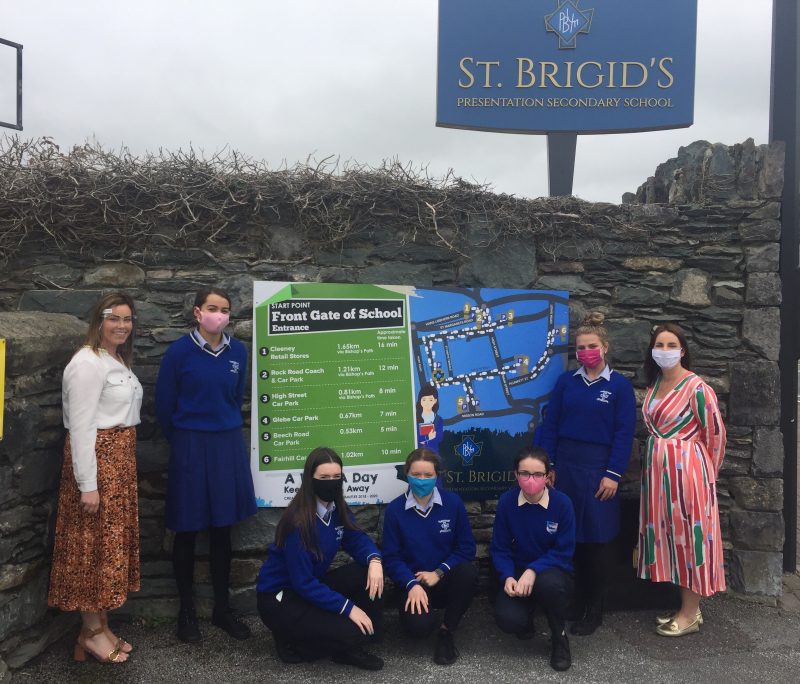 Ms. Sheree Murphy Green schools co-ordinator and her committee comprising of TY students over the last two years have been working hard to promote the encouragement of walking and cycling to school. Their latest initiative saw them designing signage for outside the three main school gates showing the times and distances it takes to walk from any of the main carparks in town to school.
" For example it only takes 5 mins to walk from beech road carpark to the main school entrance, by students getting dropped here would decrease the amount of traffic hugely in around the school and would save parents from being stuck in traffic also" said Sheree.
On the signage you will also see the slogan " A Walk a day, keeps the CO2 away" which Aideen Mullen of Transition year produced.
St. Brigid's received their fourth green flag in May which was for their work in promoting alternative means of travelling to school. St. Brigid's are in talks with the Killarney Municipal Council and hope that other schools will follow their lead in promoting students getting dropped at the different carparks. The core message is even more important now as walking and cycling to school and work not only is good for the environment, mental and physical health but also reduces the potential of congregating at school gates. The initiative compliments the school's Covid Response plan and the school is encouraging parents, students and staff to embrace the change.
Transition Year Trip
Transition Year students from St Brigid's had their first trip out on their first day back to the Eclipse Outdoor Adventure Centre outside Kenmare. They left Killarney in three buses all wearing masks waiting for their adventure to begin. They had a rough and tough day in the muck, over obstacles, in kayaks as well as orienteering just to mention a few of the activities undertaken. The weather was ideal and this was an energetic fun start to their Transition Year. Below are some photos to give a flavour of the day.