Sport
All Star Awards
Congratulations to Oisin Gallen and Patrick Dolan who received Ulster Schools GAA All Star Awards at a gala ball in the Europa Hotel, Belfast. This is the first time that the college has had any representatives on the U19 Boys All Star team. It's a fantastic achievement for both Oisin and Patrick and well deserved for their performances during the year. It is also a great honour for the college and for their clubs – Sean Mac Cumhaills and St. Mary's Convoy. We wish both players continued success in their future careers.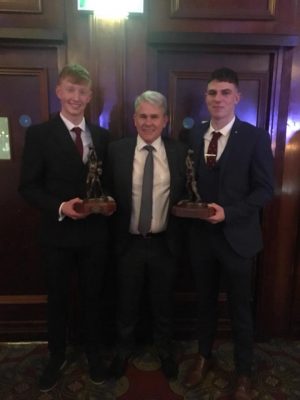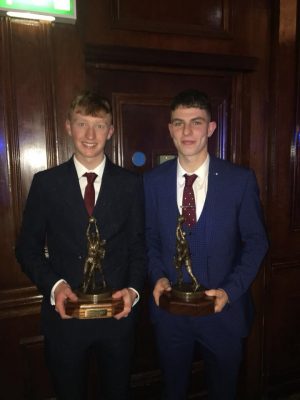 Athletics
Congratulations to all St. Columba's students who took part in Donegal's Track & Field event held in Lifford AC. Twenty-four athletes travelled to Lifford bringing home 21 medals.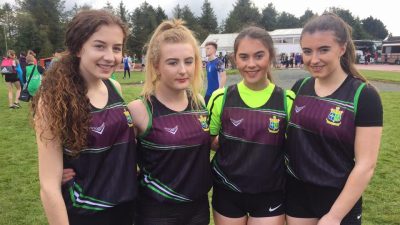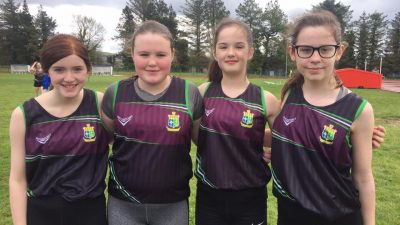 U14 girls Gaelic team
Hard luck to our U-14 girls Gaelic team who were beaten by Colaiste Cholmcille, Ballyshannon in the Ulster schools quarter final.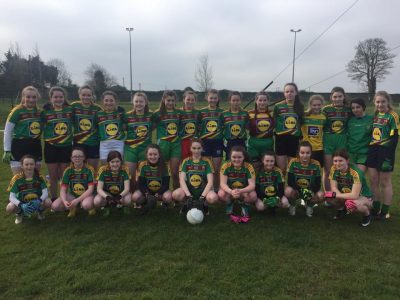 U15 boy's soccer team
Our U15 Boys Soccer team recently competed in the all Ireland final against St. Joseph's College, Galway. St. Columba's got off to a great start with Jamie Murray scoring after four minutes. However, four goals were conceded in the first half. Despite this the team battled hard in the second half and pulled another goal back.
We are all very proud of all the team and congratulate them on reaching a national final. Well done to all the boys and their coach, Mr Mc Glinchey, for all their work and commitment during the year. We are sure that this group of players will enjoy continued success in the years ahead.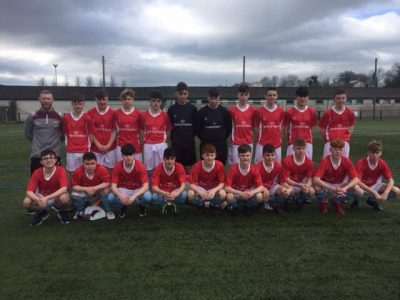 U16 hurling team
A big congratulations to our U16 hurling team and their coach Ms Coulter who won the Ulster final recently.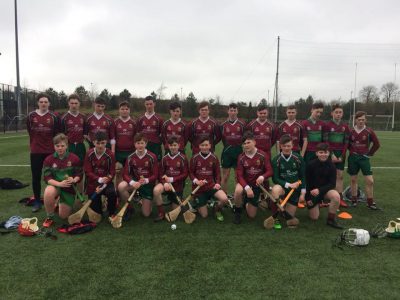 Senior girls Gaelic team
St Columba's senior girls Gaelic team took part in the Elaine Winston Memorial Cup in Loreto College, Letterkenny recently. Thanks to Loreto for a superb tournament.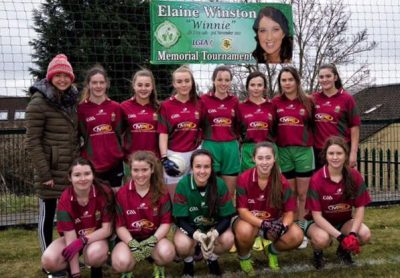 Transition year
Strictly Come Dancing
Well done to our TY students who organised their own 'Strictly Come Dancing'. Fourteen couples in total took to the floor: Caitlin Mc Gonagle and Philip Boyle, Caitlin Smeaton and John Reid, Hannah Mulcahy and Conor Duffy, Siobhan Doyle and Aaron Houston, Aoife Mc Cardle and Cael Gallagher, Rachel Bonner and Sean Coleman, Martina Gallagher and Aodhan Walsh, Ruth Reid and Pete Byrne, Molly Patton and Calvin Harvey, Eleanor Mc Daid and Lee Mc Laughlin, Jennifer Byrne and Luke Browne, Laura Sproule and Tiernan Kelly, Daniella Jansen and Gavin Friel and Jodie Bell and Luke Mc Loughlin. The role of MC was shared by Ellie Galvin Kelly, Niamh Doherty, Evan Carron Kee, Catherine Mc Glinchey and Aine Wilkinson. Congratulations to Rachel Bonner and Sean Coleman who came 1st place, Martina Gallagher and Aodhan Walsh 2nd and Caitlin Mc Gonagle and Philip Boyle 3rd. The night was such a great success thanks to the hard work, dedication and commitment of Ms. Catherine Cooke and the TY events team led by Caitlin Mc Gonagle and John Reid.
Tour to Munich and Salzburg
Our TY group enjoyed four days in Munich and Salzburg during the Easter break. During their stay they visited Bavaria's Berchtesgaden and had a tour of the town's 500-year-old salt mine on Obersalzberg. They also visited Dachau concentration camp memorial site, they enjoyed a horse drawn carriage ride to Ludwig Castle in the Black Forest and of course a tour of Allianz Rena, Home of Bayern Munich FC.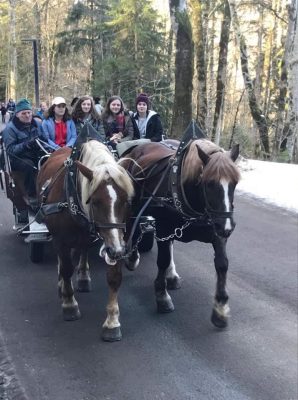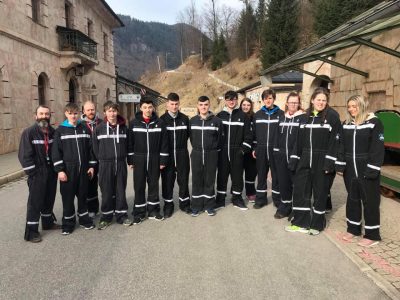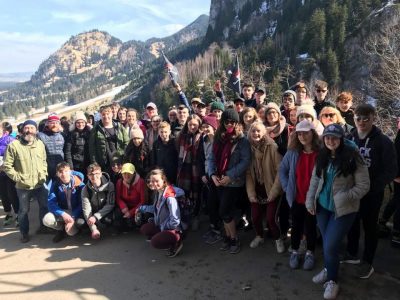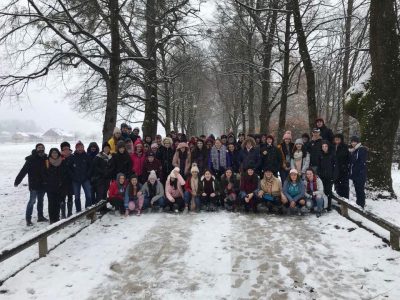 First Aid
Our TY group participated in three days of First Aid training. Thanks to Emmet Ryan for providing that training.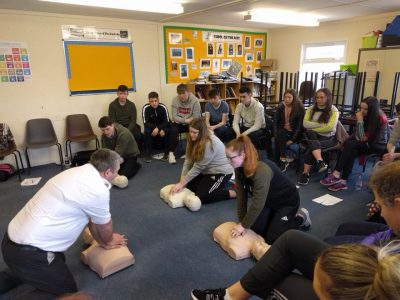 Leaving Cert Applied
Afternoon Tea
Thanks and well done to our LCA class and their teacher, Ms. Mc Mullin, who organised and prepared an Afternoon Tea for their teachers.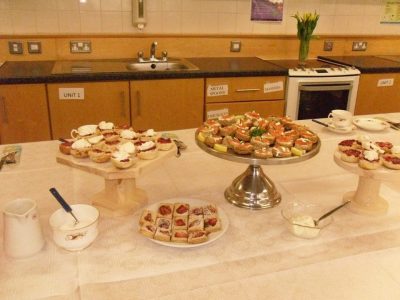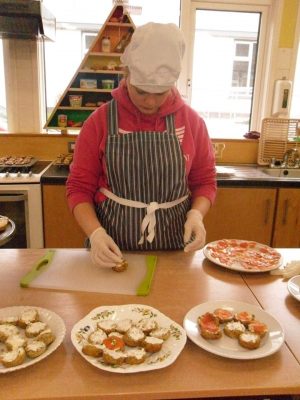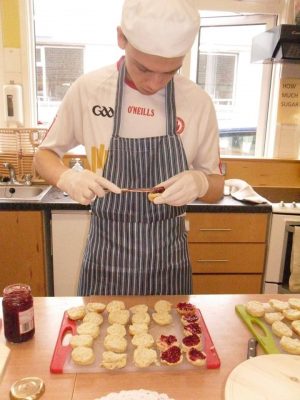 JCSP
Make a Book Project
Congratulations and well done to everyone in 2nd Class Cara who received their certificates for their work on the 'Make a Book' project. Ms. Rodgers worked with the class who presented their projects in the Villa Rose Hotel.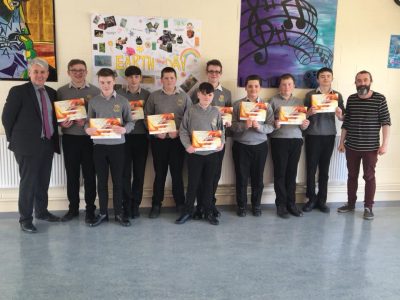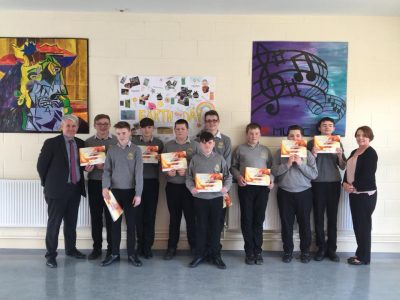 Girls Active
Trip to Gartan
Our Girls Active group enjoyed a day out recently in Gartan Adventure Centre.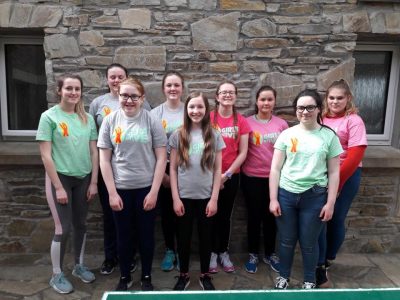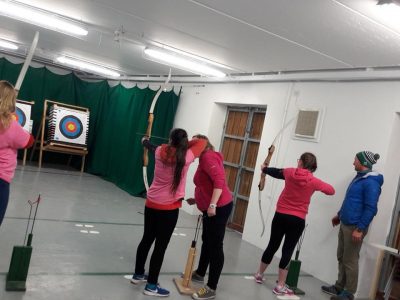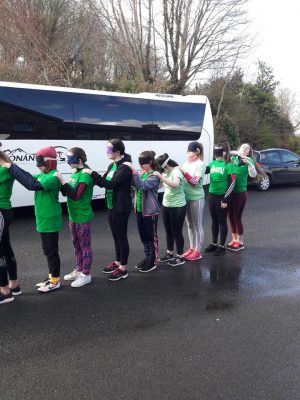 CSPE
Trip to the Ulster
American Folk ParkClass Cathal travelled to the Ulster American Folk Park as part of their CSPE Action Project. The group had a very successful visit which was both fun and educational.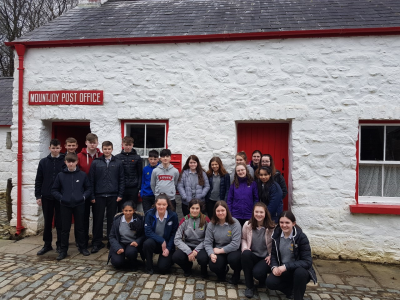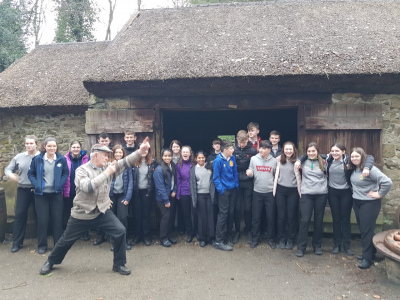 Student Council
Some of our student council and Donegal youth council representatives attended an event called 'Beyond the birds and the bees' in the Mount Errigal Hotel, Letterkenny. The event was based on one of the key agenda items voted on by the wider youth population of Donegal at the Donegal Youth Council AGM in 2016.
Junior Certificate Home Economics Practicals
Just a flavour of some of the fabulous creations by our junior certificate HE students during the practicals. Well done to the students and to their teachers Ms. Howard, Ms. Timony and Ms. Gately.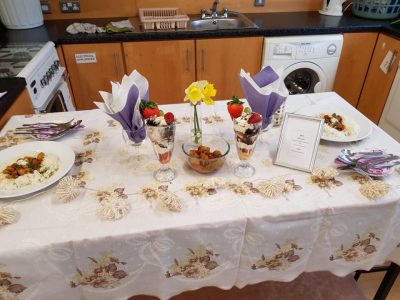 Parents' Council
Our parents' council hosted two events in April a guest tea and a card drive. These events were both held in our local GAA centre and were attended by staff, parents, friends and family. Well done to all involved on these successful fundraisers.