Below is all the news from St. Columba's Stranorlar from the last two months. There has been plenty of activity in every area of school life.

Sport
U15 Boys Soccer
Congratulations to our U15 Boys Soccer team who won the Ulster final in the Brandywell Stadium by defeating Carndonagh Community School by 5 goals to 1.Congratulations also to their coach Mr Atcheson and to Mr Rodgers who assisted the team. The boys went on to play in the All Ireland final against St. Aidan's CBS, Whitehall on Wednesday 8th May in Monaghan but unfortunately they lost out in a penalty shootout.
U14 girls Gaelic
Our U14 girls Gaelic team reached the Ulster Semi Final and played against St. Pat's of Maghera but unfortunately were defeated on the day. Well done to the girls and their coaches Ms. Mc Gill and Shaun Boyce on a great season.
Basketball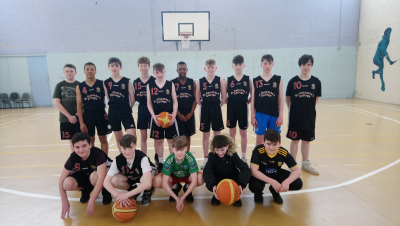 Our first year boys basketball team travelled to Falcarragh for the Donegal League semi finals. Unfortunately they did not make it through to the final but well done to all the squad and to their coach Ms. Wade for a great season of basketball.
Athletics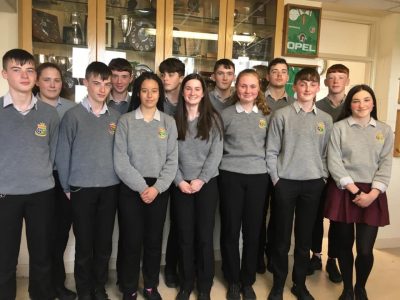 26 athletes travelled to Antrim Forum on Wednesday 8th May to participate in the District athletics.  Between them they took home 24 medals- 14 gold, 4 silver and 6 bronze. 19 athletes qualified for the Ulsters in Antrim Forum. Congratulations to all the athletes who subsequently competed in the Ulster school's athletics in Antrim Forum on 17th and 18th May. The following were our medal winners.
Adrienne Gallen broke two Ulster school records in the junior girls shot and hammer which is a fantastic achievement.
Hannah Murray – 2nd in the junior girls 800m.
Leah Mc Monagle – 1st in the junior girls long jump.
Yvonne Boyle – 2nd in the discus.
Sarah Gallagher – 2nd in the junior girls high jump.
Daniel McHugh, Diarmuid O'Donnell, Bobby Hannigan and Patrick Murphy – 2nd in the minor boys 4×100 relay.
Dairmuid O'Donnell – 1st in the minor boys high jump.
Daniel Mc Hugh – 3rd in the minor boys 100m.
Aeron Doherty- 2nd in senior boys long jump and triple jump.
Daniella Jansen – 3rd in the 400m.
Michael Mc Gonagle – 3rd in the inter boys hammer.
St. Columba's also won the overall girl's Ulster School's award.
Well done to all who took part and to their coaches. Thanks to Ms. Mc Nabb and Mr. O'Reilly who travelled with the students. We wish the best of luck to all who have qualified for the All-Ireland school's final which takes place in Tullamore on the 1st June.
Physical Education
Walk to Croke Park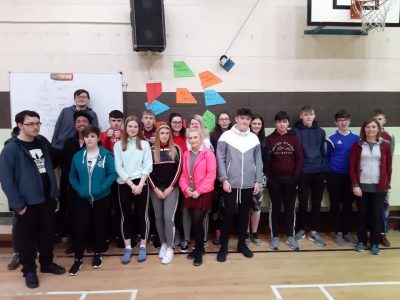 Well done to Ms. Mc Mullins PE class who walked 260km to Croke Park over the course of 4 weeks during their PE class. All 5th year PE students took up the challenge and Class Bronagh were the winners. Well done everyone.
Active Schools Week
Each day a different year group played basketball in the college hall and soccer on the astro pitch. A Staff v 5th and 6th year students Basketball match was also held one lunch time, while our 6th Year students took on a youthful staff team at soccer another lunchtime as part of Active Schools Week. Well done to all involved. Many thanks to members of our Sports Council who prepared healthy smoothies for the teams.
Charity
No Uniform Day in Aid of the Lenten Charity Appeal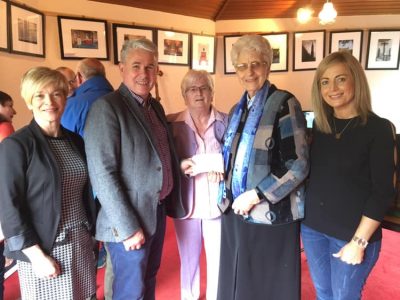 The college held a 'No Uniform' day on Friday 12th April in aid of the Lenten charity appeal. €1200 was raised on the day. The proceeds were presented to Sr Ann Brady, Provincial Leader of the Sisters of Mercy Northern Province, for two projects in Nigeria. Sr. Marie Boylan runs a breakfast club for the poor in Minna while Sr. Goretti Kelleher runs a centre in Yola for those displaced by the Boko Haram.

St. Vincent de Paul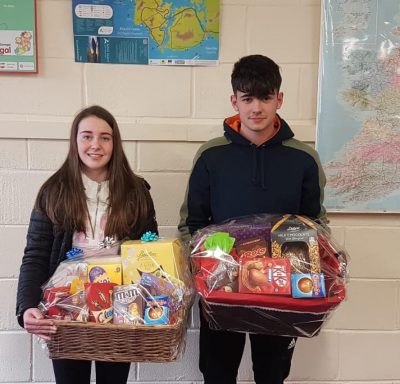 Two hampers were raffled leading up to the Easter holidays  in aid of St. Vincent de Paul. Congratulations to Rachel Lawne and Jason Mc Elchar, who won the hampers and well done to Ms. Cowan and the students who raised €229.
Home Economics
Cookery Practicals
Ms. Mc Mullin and Ms. Howard's Home Economics class prepared some beautiful dishes during their practical cookery.

Home Economics students visit LYIT School of Tourism
The 5th Year Home Economics classes and Ms.Timony had great fun attending the LYIT School of Tourism Taster Day in Killybegs. They were treated to cookery demonstrations, mocktail tastings and given a presentation on the opportunities on offer at the School of Tourism. The students were spoiled with samples and treated to lunch. A massive thank you to the staff and students in LYIT School of Tourism for a fabulous day and especially past pupil Fiona Kelly, who made them feel like VIP's on the day.
Home Economics Crafts
Ms. Howard's junior certificate Home Economics class created some beautiful wall hangings as part of their junior cert.exam.

Bake Off Final
Our two finalists had a wonderful day in Loreto Millford at the Donegal Schools Bake Off final. Roisin McLaughlin (6th) and Julia Tytko (1st) did themselves and the school very proud. The standard was extremely high with fabulous cakes and very high level of skills on display. Well done to the winners. Thanks to Ms.Timony for all her support for the students throughout the competition.

5th Year Home Economics
Some of our 5th Year Home Economics students enjoying a cookery class on Protein Denaturation and Coagulation – high level of skills demonstrated making creme brulee, meringues, chocolate souffle, brownies and Baked Alaska- which disappeared very quickly!
Global Citizenship Committee
National Tree Week
The Global Citizenship Education Committee and their peers in Class Bronagh were busy as they marked National Tree Week. In a continuation of their good work, they decided to branch out to 'Plant for the Planet', again displaying tree-mendous commitment to their strong be-leafs. Thanks to Mr McGuire who kindly gifted the beech slips to the committee.
Reflecting on the Past Year
The senior students of the Global Citizenship Education committee enjoyed a morning of coffee and cake and time to reflect on their brilliant work over the past year. They also found out how Global their work is, when a South African lady who was in town visiting, compared with them, the similar work she does as a Green Schools teacher in Capetown. Well done and congratulations on your efforts. Thanks to Mr. Mc Crea and the Global Citizenship Education Committee for all their work over the year.
Transition Year
Strictly Come Dancing
The transition year 'Strictly Come Dancing' took place in the Finn Suite in Jackson's Hotel. Well done to all twelve couples who danced and put on a fantastic show. Congratulations to the winners Caitlín Mc Gonagle and Faizan Sohail, to Ellie White and Mark Sproule who came 2nd and to Sarah Sweeney and Pauric McKelvey who came 3rd. Well done also to the MC's Amanda Bates, Aoife Mc Gonagle and Louise Mc Laughlin. Many thanks to the judges Jim Tinneny, Sean Mc Dermott and Lauren Mac Donagh and to the staff who assisted on the night Mr. Brennan, Mr. Mc Crea, Mary Byrne and Grainne Mc Gowan, to Gabrielle who also came along on the night. A special thanks to Shona Tinneny and her team Gerry and Mark who have worked with the students over a six week period and to Ms. Cooke who facilitated the students in getting this opportunity.
John Paul II Award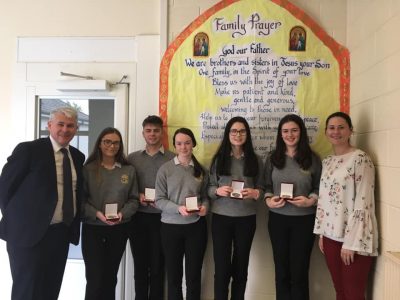 The Pope John Paul II Award is a faith achievement award for young people between the age of 16 and 18. It is non-competitive, inclusive, flexible and voluntary.
The award enables participants to take an active part in the life of their Church – in the life of their community and society. It enables young people become more aware of the teaching and role of the Catholic Church in the world and to engage at a deep level with Christ.
Congratulations to Grainne Smith who completed the silver award and to Caitlin Smeaton, Martina Gallagher, Sean Coleman and Hannah Mulcahy on completing the gold award. Thanks to Ms. Roache who coordinates the award.
Microsoft Office Championship Finals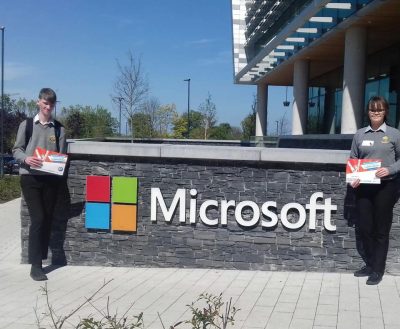 Congratulations to Michael O'Kane and Sarah Morris, two of our TY students who qualified for the Microsoft Office Suite 4 Nations Championship finals which took place in Dublin on May 13th. Well done to both students on their achievement and thanks to Ms. Harkin Diver who travelled with the students.
Visit by Matt Carthy
Mr Matt Carthy visited the college to meet with our Transition Year students who are participating in the European Parliament Ambassador School Programme. This is a network of schools across the EU raising awareness of European parliamentary democracy and European citizenship values. 60 schools in Ireland are taking part in this Programme.
A number of our TY students were selected as Junior Ambassadors during the year for showing enthusiasm and involvement in the programme and received a Junior Ambassador Certificate from Mr Carthy. All other students completing the programme received a Certificate of Participation.
Many thanks to Mr Carthy for his visit and to Ms. Cooke for all her work on this Programme.
Italian  Tour
Our Transition Year students travelled to Italy during the Easter holidays where they visited the sites in Verona and Venice and also enjoyed a trip to Gardaland and a match at the stadium in Milan. Thanks to Ms. Cooke, Mr. Mc Crea, Ms. Mc Grath and Cathal Dorrian who travelled with the students and put a great deal of time into organising what was a fantastic trip.
Awards Evening
The transition year awards night was held in the college on Monday 20th May. It was an opportunity for the students to look back on the many activities, travels, challenges, opportunities and successes that the year has brought and they were many.
The awards on the night were as follows:
TY 1
Most cooperative student – joint winners Isabel Conaghan and Daniel Crawford
Initiative award – Sarah Sweeney
Spirit of TY – Ellie White
Best portfolio – Tiffany Marley
Runner up Best portfolio – Pauric Mc Kelvey
Best interview – Ellie White
TY 2
Most cooperative student – Aoife Bradley
Initiative award – Abby Meenan and Dervla Dunnion
Spirit of TY – Mark Sproule
Best portfolio – Aoife Mc Gonagle
Runner up Best portfolio -Olivia Reid
Best interview – Abby Meenan and Michael Harris
Well done to all the students and thanks to Mr. Mc Crea and Ms. Cooke and to all the students involved in the preparations for the evening.
Wellbeing
We held a wellbeing week in the college and used Jigsaw's MyWee5 as the focus for the week.
Day 1 of well-being week began with some music on the intercom as students arrived in to school. At 9:45 am classes were encouraged to take part in some meditation/mindfulness and at lunch time there was a Pilates class, which was attended by both staff and students. A good start to the week!
The theme on Day 2 was CONNECT so all 1st and 6th year students connected to create a human chain around the college. Thanks to Pauric Harrold and Ciarán Foy for the drone footage and to Ms. Sproule and Ms. Mc Mullin for organising the event.
The theme for Day 3 was 'Get Active and Eat Healthy'. All our students and their teachers enjoyed a walk up the woods at different times throughout the day. Thanks to the sports council members who marked out the route along with Ms. Mc Mullin who coordinated the walks.
The well-being theme for Day 4 was 'Get Involved'. We held a well-being fair in school, based on the theme, to help make our students more aware of the many activities, both inside and outside of school in the local area which they can get involved in, all of which, have a positive impact on mental health. There were also many organisations at the fair, who provide support to young people who are experiencing difficulties. There was great interaction between the students and those at the stands and we hope our students are now more aware of all that is available for them. Many thanks to all members of the student council, the sports council and the Global Citizenship committee who prepared stands for today and to the 5th year students who assisted with setting up and clearing of the hall and with looking after our guests.
The focus for Day 5 was on giving and while there were many random acts of kindness being carried out around the college, the student council  raised €85 for Aware through a bake sale held at break time. Well done to Ms. Rodgers and to the student council.
A poster competition was organised by Ms. Mc Mullin for 1st years in advance of wellbeing week as a means of promoting the activities. Well done to the winners.
Below are some photos taken from the week.
Wellbeing Week Video
Click here to view a video crated in the school during Wellbeing Week.
Careers
Computing taster day at LYIT
A group of 5th year students travelled to Letterkenny Institute of Technology today to attend a computer taster day. The students had the opportunity to create apps and webpages, along with working with drones and networking. Thanks to the guidance counsellors Ms. Sproule and Ms. Mc Cullagh for organising the trip.
English
Pramerica Young Writers Competition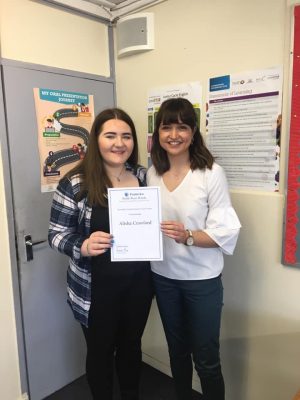 Well done to Alisha Crawford, one of our 3rd year students who came 3rd place in the Junior Cycle category of the Pramerica Young Writer of the Year, 2019 with her story "Wild Flowers".
There were over 500 entries throughout Ireland in the competition.
This is a fantastic achievement for Alisha pictured with her English teacher Ms. Mc Gill.
Annual Golf Classic
Our 19th annual golf classic was held in Ballybofey and Stranorlar Golf Club o May. Many thanks to our main sponsor Lafferty Transport and the Navenny Grill Ltd, to the staff at B&S golf club for ensuring that the greens were in tremendous condition again this year and to Mary and staff for the refreshments. Thanks also to the members, local businesses, school suppliers, parents and staff past and present for your continued support. Well done to all involved and a special thanks to Mr Sweeney, Deputy Principal who was the main organiser of the event.
History
All of our 2nd Year students visited the Ulster American Folk Park in Omagh, Co Tyrone as part of their History course. Thanks to the History teachers for organising this trip
Leaving Cert Mass
Thanks to Fr. Kieran Mc Ateer who celebrated our leaving cert mass on Tuesday 21st May in the college. The students, their parents, family members and staff past and present filled the college hall. The theme of the mass was 'Follow your Dreams' and Fr. Mc Ateer encouraged the students to do this and in the words of Sr. Catherine Siena to 'Be who God meant you to be and set the world on fire'. Many thanks to the religion teachers for all the preparation that went into the evening, to the students involved in the mass and to Ms. Roache and the choir for the beautiful music, all of which contributed to making it a memorable occasion for all.
Senior Prefects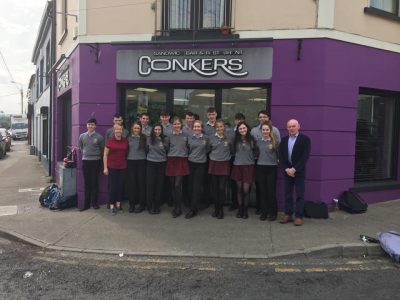 Our Senior prefects enjoyed breakfast with their year head Mr. Kelly as a thank you for all their work throughout the year.
Prize-Giving
We held our annual prize giving ceremony in the college on 15th May. It is one of the highlights of the school year where we take the opportunity to acknowledge the efforts and achievements of our students during the current school year. It is of great significance also to our Leaving Certificate students, as a number of perpetual awards are presented to students in the Leaving Certificate Year – they include the Patrick Kavanagh Award for the composition of a piece of English poetry, the Chic Logue Award for Music, the Nicola Nixon Award/Spirit of Candy for Art, Corn na Gaeilge for ability in Irish language and culture, the Catherine McAuley Award to the student who has a knowledge of the foundress of the Mercy order and who displays the values Catherine held, the Barry Mc Cool Award for modern European languages and several more awards including Student of the Year Awards. The Charlie Mc Groarty 'Spirit of Hope' Award for personal achievement was presented by Charlie Mc Groarty Snr and the new Home Economics Junior Cert Crafts Award for excellence in that subject area was presented by the HE department.
Tommy Gallen, owner of Roseville House, the Villa Rose Hotel and Jackson's Hotel was our keynote speaker at the prize giving ceremony. Tommy spoke about the importance of good manners and he had some sound advice for the students regarding the importance of working hard and following their dreams.
Sr. Nuala returned to the college for prize-giving and presented the Catherine Mc Auley Award.
The students got an opportunity to say a fond farewell to two members of the teaching staff, Mr. Mc Lean and Mr. Brennan, ahead of their retirement this summer.
Excellent entertainment was provided by Irish dancers, singers and musicians. Congratulations to all the students who were nominated and received awards.
Here are some of the major award winners:
Chic Logue Award – Roisin Mc Laughlin
Nicola Nixon Art Award – Ciara Gallagher
'Spirit of Candy' Art Award – Laura Gron
Corn na Gaeilge – Ruth Keane
Barry Mc Cool Award – Ciara Phelan
Patrick Kavanagh Award – Aisling Mc Cullagh
Catherine Mc Cauley Award – Tori O'Hagan
CEIST Award – Ronan Mc Ginty
Charlie Mc Groarty 'Spirit of Hope' Award – Pauric Moss
Home Economics Junior Cert Crafts Award – Cara Mc Menamin
Student of the Year Awards – Áine Sproule and Ronan Mc Ginty.
Sports Awards:
Boys Soccer – Jack Burke
Girls Soccer – Sinead Harkin
Boys Gaelic- Rory Dalton
Girls Gaelic- Nicole Laverty
Boys Rugby – Adam Marley
Girls Rugby – Vicky Galezyka
Golf – Michael Curran
Boys Basketball – Ben Ó Curráin
Girls Basketball – Michaela Griffin
Contribution to Sport – Alex Mc Geehan
Sports Girl of the Year – Holly Gillespie
Sports Boy of the Year – Aaron Gilooley
Darkness into Light Walk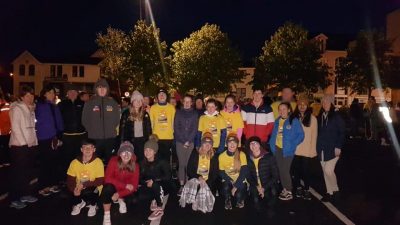 26 of our students and staff joined over 200,000 people taking part in the annual Darkness into Light 5k walk in Ireland and around the world. This is the eleventh year of the event to raise awareness of mental health, self-harm and suicide. Thanks to Ms. Cowan who organised the school group.