Sport
Athletics
Our athletes competed in the Donegal Cross Country competition that was held in Magheragallon, Gweedore. This was a tough course to run with a strong coastline crosswind but our students ran exceptionally well and were very successful on the day.
Soccer
Our u-17 boys soccer team had a great game against the Abbey Vocational School, with brothers Jamie and Michael Harris each scoring a hatrick.
The u15 boys soccer team also defeated the Abbey Vocational School.
U-19 girls basketball
The u-19 girls basketball team played both PCC Falcarragh and Ballinamore in a blitz. The girls put up a good battle and enjoyed the day, but unfortunately didn't have any success.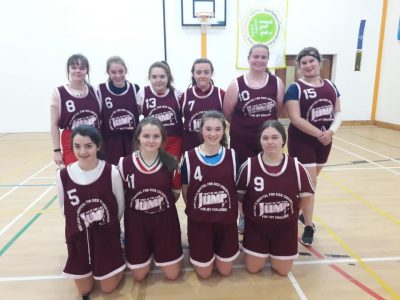 Futsal Competition
The 1st year boys futsal team won the Donegal section of the FAI futsal competition, scoring 21 goals in total. They beat Loreto Milford in the final 4 to 1, with 2 goals from Oisin Duffy and one each from Sean Martin and Shaun Mc Menamin. The boys are now through to the Ulster final on November 13th, where they will face the winners of Cavan Monaghan and Inishowen. Well done to the team and to their coach Mr. Cannon.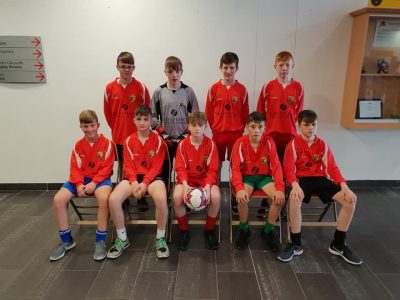 U-14 boys Gaelic
Well done to the u14 boys Gaelic team who defeated Loreto Milford.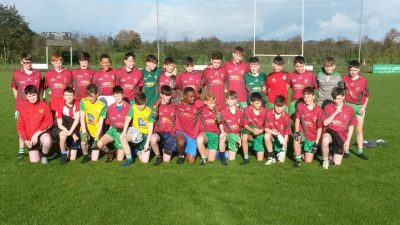 Astro League
Class Eoin and Class Erin contested the final of the 1st Year 'Astro' league which ran over a few weeks. There was nothing between the teams at full time, with each team scoring once. The matter was settled on penalties with Class Eoin coming out on top. Well done to all involved and many thanks to Mr Cannon for organising the league.
U-16 girls Gaelic blitz
St.Columba's College hosted the Ulster U-16D Group 1 Blitz, with 6 teams battling it out in Donegal's Centre of Excellence, Convoy.
Colaiste Cholmcille Ballyshannon & St.Columba's College both qualified for the Ulster Cup.
Well done to all teams involved, Karen Guthrie, Donegal senior ladies captain and past pupil for her inspiring words and for bringing the Ulster senior Cup.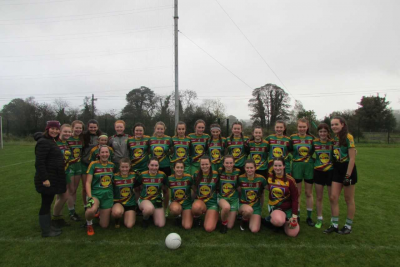 U-19 girls Gaelic
Congratulations to our u20 girls Gaelic team who travelled to Cookstown for a blitz and won all four matches. Included in the selfie are their coaches Ms. Mc Govern and Ms. Mahon.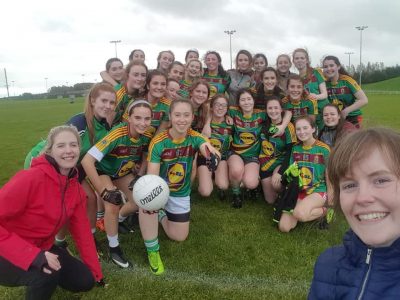 U16 boys Rugby
The u16 boys rugby team defeated St. Eunan's College by 34 points to 12 points.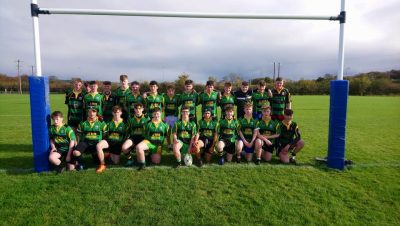 Maths Week
Puzzle Competition
Each day during maths week we ran a competition as a way of encouraging students to complete maths puzzles. The puzzles went up each day on the digital screens and were given out to students who could then submit their answers and enter in the competition. Congratulations to our competition winners, Evan Carron Kee 5th year, Theresa Mc Menamin 1st year and Liam McGettigan 6th year and well done to the many other students who took part.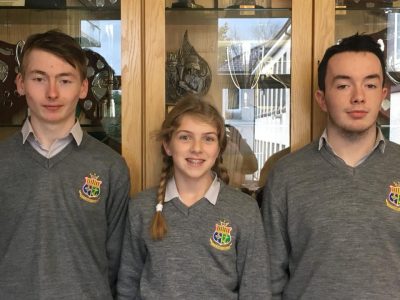 ESS project
A group of 3rd year students did a Traffic Count in Stranorlar, which will form part of their Geography Project for Junior Cert Environmental Studies. As part of Maths week, the data collected will be analysed in charts and computerised graphs will be produced. Well done to all of class Cara and their teacher Ms. Mc Nulty.
Maths in English class
One of our Leaving Cert English classes used graphs to chart the changing atmosphere at key moments in their comparative texts, proving that numeracy and maths skills can be developed in any classroom
Parents Council
The Parents Council organised 'The Kube' in Jackson's Hotel to begin the celebrations for our 50th anniversary. It was fantastic to have so many from our school community (past and present) taking part to raise funds for our sports facilities.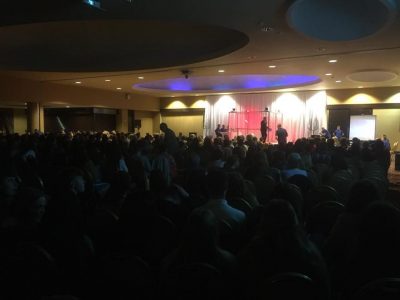 Trips
Sligo IT open day
A group of 51 leaving certificate students attended Sligo IT open day with their guidance counsellors Ms. Sproule and Ms Mc Cullagh. The students attended talks and workshops and got a flavour of what is on offer at the college.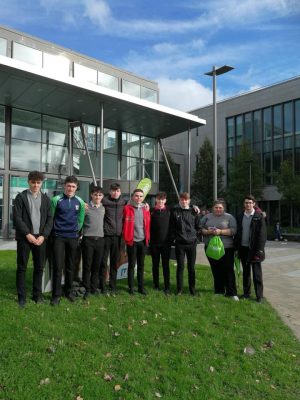 The Road Safety Road Show
The Road Safety Road Show took place once again for Donegal students in the Aura Leisure Centre, Letterkenny and all of our 5th year students attended.
The Road Safety Road Show is a unique partnership between Donegal County Council and members of the Donegal Road Safety Working Group, which provides a platform to positively influence the driving behaviour of young students as they commence their driving careers.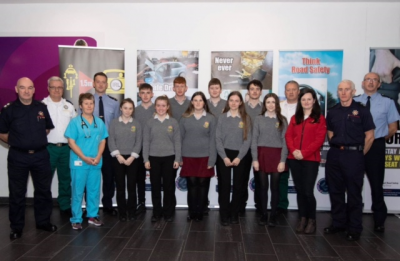 Rugby trip to Kingspan Stadium
Close to 100 of our students travelled to Kingspan Stadium, Belfast to watch the Ulster v Connaught rugby match. While the result did not go the way of the Ulster men, it was a very enjoyable trip. Many thanks to Lucia Mc Cauley and all at the Bank of Ireland for the match tickets and to the students who ran the school bank and achieved their target.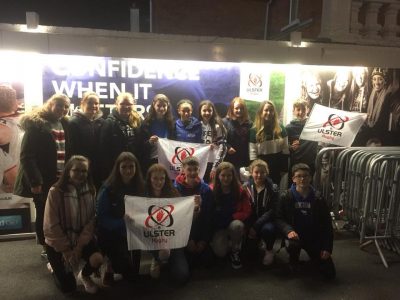 Transition Year
Newspaper Articles
The transition year students continued with their articles in the local paper this month. Michael Harris wrote a very comprehensive report on the U17 Boys Soccer team's victory over Rosses Community School in the first game of the league, Ellie White wrote about all the activities that took place during positive mental health week in the college, Brooke Ramshaw wrote a very interesting article on the Museum of Free Derry and the walking tour and Mark Sproule detailed his interview with one of our teachers Mr. Steven O'Reilly before one of his championship games with our local GAA team, Mac Cumhaills. Well done to all involved.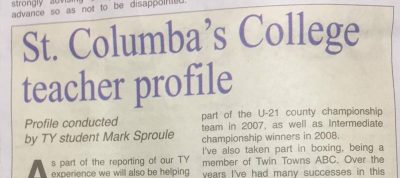 Visit to the Museum of Free Derry
Our Transition Year group travelled to Derry and took in the sights and delights of the Walled City, despite the rain on the day. In the morning students made their way to the Museum of Free Derry, where they met with curator John Kelly and Rossa Doherty and visited the exhibition on display. They had a
guided tour of the Walls with the 'Legenderry' Yellow Coat Garbhann, stopping at the Fountain, Bishop's Gate, St Columb's Cathedral and the Bogside.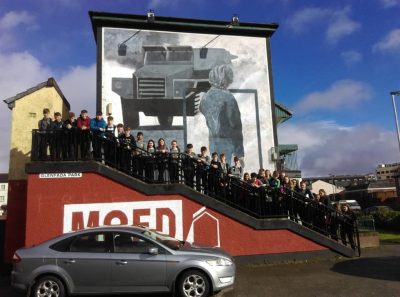 Retreat in Esker
The TY group travelled to Esker, Athenry for an overnight stay and brought the sunshine with them! They enjoyed workshops, activities, mass and some time out. The retreat finished with a short prayer service which involved the whole group. It was a chance to express gratitude for all the things they have in their lives, especially family and friends. Good memories were made on the day, which they will bring with them through the rest of TY and beyond.
50th Anniversary Book
Planning began for the 50th anniversary book this month. The students and their teacher Ms. Cooke will spend many hours sorting through the many photographs from the past and present with the help of both current and past teachers.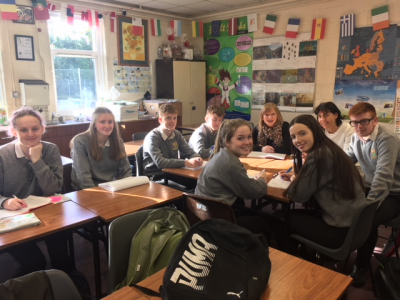 European Studies
As part of their promotion of the EU, the transition year class painted this mural of Europe in the canteen.
Talks
Visit from the Gardai
Garda Brenda Healy, community officer Ballybofey Garda station, spoke to our 3rd, Transition Year and 5th Years regarding the dangers posed by fireworks around the Halloween period. She also addressed the problems posed to our local community and emergency services by inappropriate and reckless behaviour at this time of year.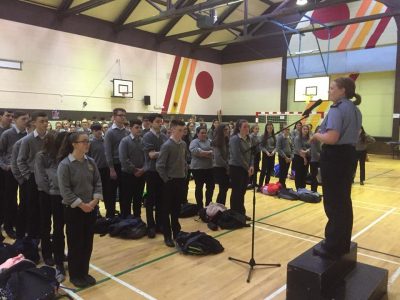 Careers Information Evening
A careers information session for parents of our 6th Year students in the college. The event was organised by Ms Sproule and Ms Mc Cullagh who also presented to parents on the night. Representatives from four financial institutions- B&S Credit Union, Bank of Ireland, AIB and Ulster Bank – along with representatives from LYIT and Ulster College were on hand to offer advice and guidance.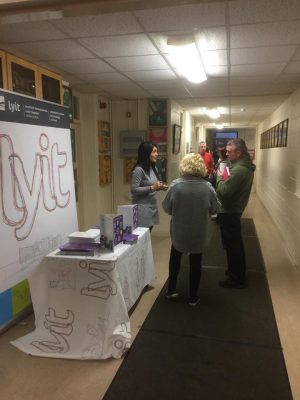 Maynooth University Talk
Thanks to Kay Mitchel who visited the college to talk to our leaving certificate students about the courses available at Maynooth University.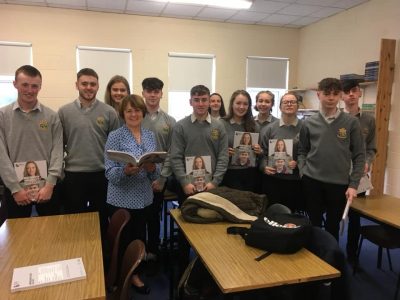 Donegal County Museum
Caroline Carr from Donegal County Museum visited the college to present to our 1st year students on 'The work of an archaeologist'.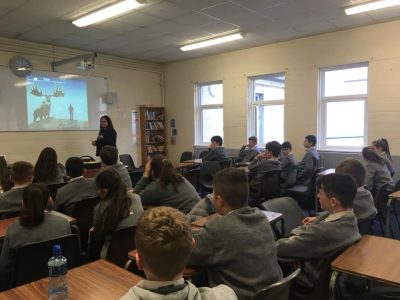 Shoebox appeal
As part of their CSPE Action Project, 3rd year class Conor invited Ms Norma Wilson co-ordinator of TEAM HOPE to come into their class to talk to them about the Christmas Shoebox Appeal for 2018.
She talked to them about the children who will be receiving the shoeboxes and spoke of her experiences in countries such as Kosovo, Belarus and Armenia to name a few.
They are hoping everyone will support and donate a shoebox this Christmas for a very worthy cause.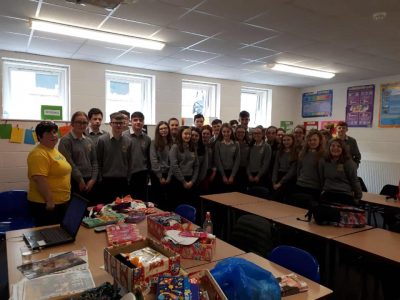 Positive Mental Health Week
Promotion of Jigsaw's MyWee5
During mental health week, we focused on one of the FIVE-A-DAY in assembly each morning, through the intercom and through activities going on in the college throughout the week. The MyWee5 is a campaign by Jigsaw to highlight what each of us can do to mind our own mental health. The five-a-day are Connect, Be Active, Take Notice, Get Involved and Give.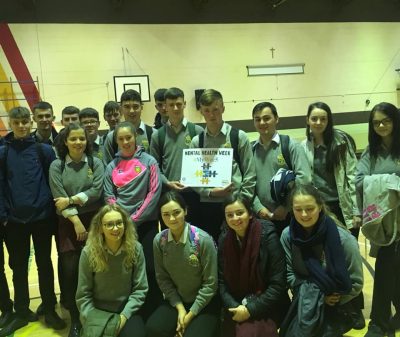 Thought for the Day
The thought for day during mental health week focused each day on the five ways we can positively enhance our mental health linking in the Jigsaw's MyWee5 campaign.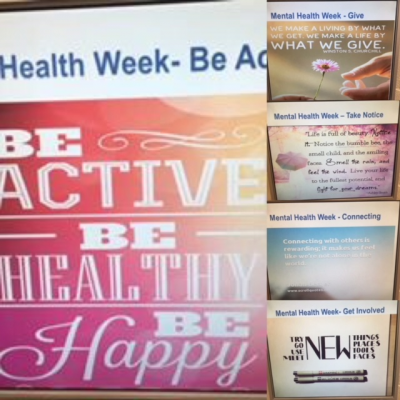 Mindful Colouring
1st year classes Emma and Eoin, took time out of class to listen to some calming music and to do some mindful colouring. Some students also opted to read quietly. Thanks to their teacher Ms. Neilson for organising this activity for mental health week.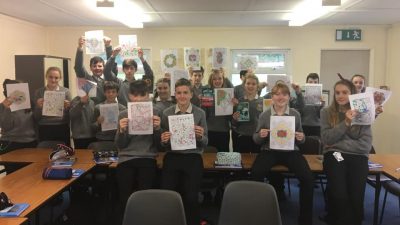 Bake Sale Fundraiser
Class Carmel 3rd year and their teacher Ms. Mc Gill organised a bake sale which was a huge success, raising €170. The money is being donated to Jigsaw, Donegal. Well done to all those involved in the baking and organising and to the many students and staff who came to support them.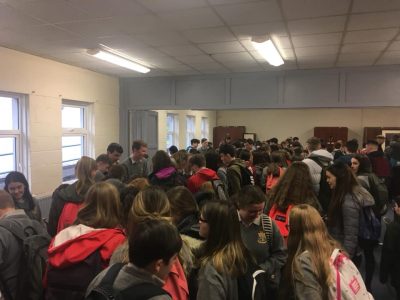 Wellbeing walk
3rd year Class Catherine enjoyed a pleasant wellbeing walk in Drumboe Woods with their teacher Ms. Cowan. Being Active is one of Jigsaw's five-a-day and is known to have a positive impact on mental health and wellbeing.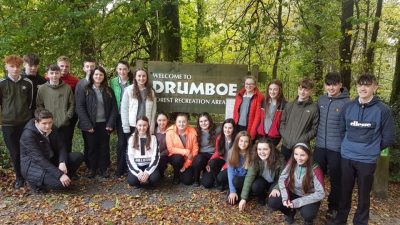 Self-Care Calendar
The self-care calendar for October was called Optimistic October. The calendar is displayed in each of the tutor rooms and on our digital noticeboards and was highlighted particularly during positive mental health week.
Tea and Talk
Class David 2nd year and 5th year class Breda enjoyed tea and talk with their teacher Ms. Elizabeth Rodgers. The 2nd year students have also created their own 'tree of life', where they can place their positive thoughts. Connecting with others is one of Jigsaw's five-a-day and is known to have a positive impact on mental health and wellbeing. Well done to the students on their lovely home baking for the event.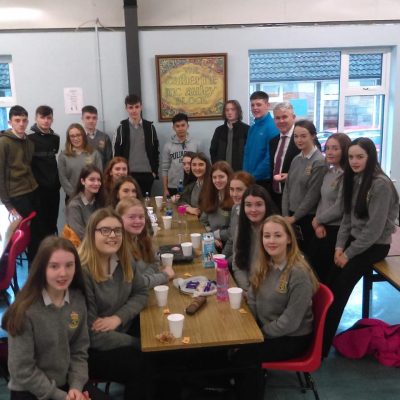 Positive focus class – an attitude of gratitude
Class Carmel, pictured during RE class, where every week they have a positive focus day, which promotes an attitude of gratitude. During mental health week the students put up posters around the school, encouraging others to have an attitude of gratitude. Well done to the students and to their teacher Ms. Kingston.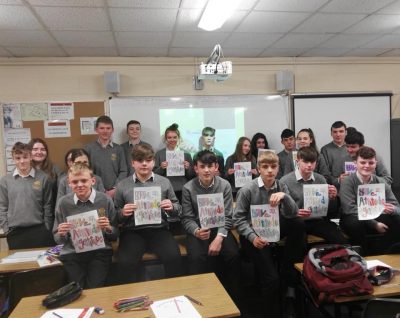 Mindfulness in the oratory
Many thanks to Ms. Martina Rodgers who organised a session of mindfulness in the oratory  for staff and students during mental health week. It is particularly important during mental health week to highlight the importance of taking time out from our busy lives.
Random acts of kindness
2nd year class Deirdre started their Random Acts of Kindness initative during Mental Health Awareness week. Each student got a random act to do either at home or in school over the course of the week.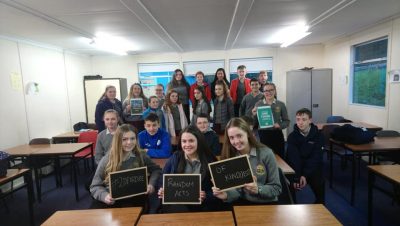 The wellness wall
Thanks to Ms. Karan Diver and class Damien for developing this wellness wall during their life skills class to promote wellbeing.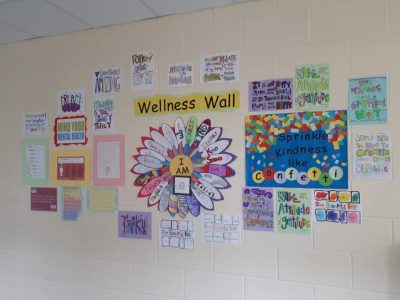 Gratitude Project
2nd year Class Denise completed these alphabet posters focusing on things to be thankful for during RE class for positive mental health week. Well done to all the students and to their teacher Ms. Howard.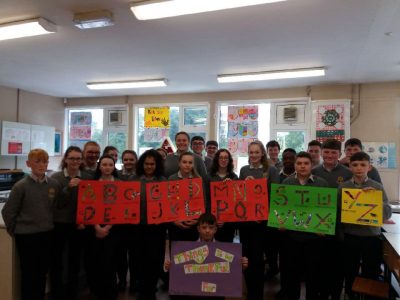 Healthy Eating
Many of our students enjoyed fresh fruit as part of Mental Health Week, which was kindly sponsored by our local SuperValu.
This initiative supports the idea that a healthy body is a healthy mind and healthy eating is a crucial part of that. Thanks to Ms. Mc Mullin, to her leaving certificate Home Economics class and class Cara who prepared and gave out the fruit.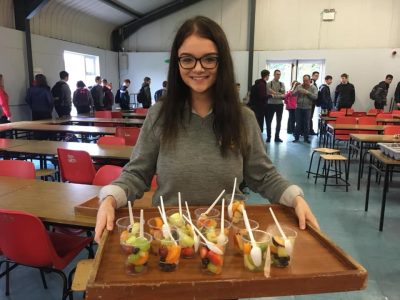 Art
Suile na nOg
A number of our transition year and 5th year students will have their work exhibited in Suile na nOg, junior certificate Art exhibition in the Regional Cultural Centre, Letterkenny in November. Well done to all the students and to their art teachers Mr O'Donnell and Ms. Mac Grory.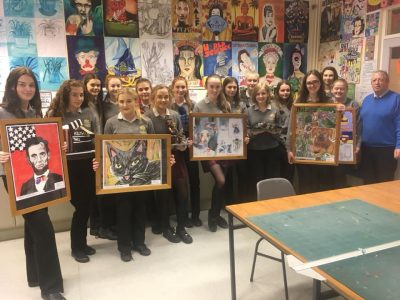 Other News
Debating
Congratulations to our Debating Team who defeated Moville Community School in their first outing of this school year. Well done to Niamh Doherty Heapes, Lalita O Kane, Cael Gallagher, Evan Carron Kee and their teacher Ms. Wade.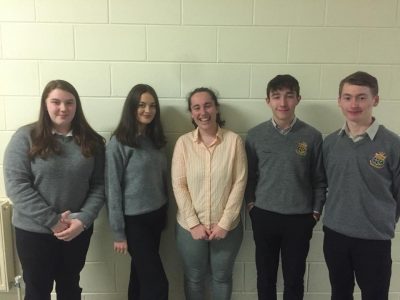 Leaving certificate Retreats
Students from our Leaving Cert classes travelled to Ards Friary for their retreat. Many thanks to our RE teachers for organising the day in collaboration with the staff in Ards.
The Rosary
Some of our leaving certificate students have presented to the 1st year classes on their experience of the Rosary and their trip to Medjugorje. The Rosary was held in the oratory each Thursday for the month of October.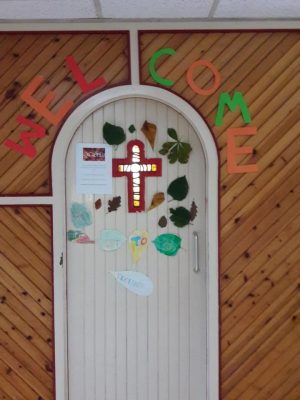 Mass for 1st Years and their Teachers, Parents and Guardians
Many thanks to Fr. Kieran Mc Ateer who celebrated mass with our first years, their teachers, parents and guardians in the college. The theme of the mass was 'Share the Light of Jesus'. Fr. Kieran spoke to the students about sharing the many talents they have, both in school and in their community.

Mentoring
We are delighted that St. Columba's has got the opportunity to be involved in a mentoring programme with Pramerica, through the Business in the Community partnership.  Thirteen lucky 5th Year students will get an opportunity to participate in this mentoring programme which will run until the final term of their Leaving Cert year.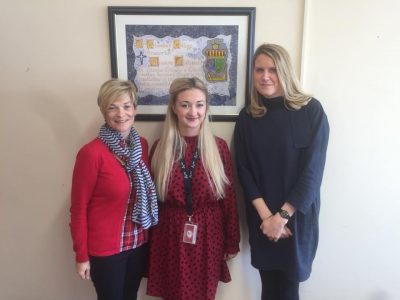 Donegal Youth Council Elections
The Donegal Youth Council election was held on 25th October. Representatives from the HSE and Donegal County Council were present to ensure that everything ran smoothly. Our own student council members and other 5th year students assisted at the voting and carried out the count. Well done to the four candidates who had put themselves forward and congratulations to Hannah Mulcahy who was elected as our School representative for Donegal Youth Council.