Ballybofey Celebration of 400 years
Our local town of Ballybofey has reached the ripe old age of 400 years and to celebrate there was a party! Our TY students were there to lend a hand and join in the activities, footing turf, fair day craic and old time fun and games among them.
History trip to Derry
Our transition year students visited Derry and took in the sights, sounds and history of St. Columba's City. The weather was kind as both groups took a walking tour that covered 1500 years of history. Later they visited the Museum of Free Derry where they met Rossa Doherty, a relative of a Bloody Sunday victim, who explained the events of 30th January 1972. Everyone enjoyed their visit and as Monday's go, it was Legenderry! Many thanks to Mr. Mc Crea, Ms. Mc Gill and Ms. K. Diver, Carina and Tara who travelled with the students.
Retreats
TY in Esker
The transition year group went on their annual retreat to Esker Monastery. The retreat has always been a special time on the TY calendar and this year was no different. Our students enjoyed two days in tranquil surrounds with well being the focus of activities. Mass was celebrated with all students involved. Fun was had, memories were been made and the students returned refreshed to take on the new challenges of TY. Many thanks to Mr. Mc Crea, Ms. Rodgers, Ms. Cowan, Ms. White, Mr. Ward, Tara, Carina and Cathal who travelled with the students.
6th Years in Ards
Our leaving cert students travelled to Ards over two days for their retreats on 15th and 17th October and our 5th years on 22nd and 24th October. Many thanks to the team who worked with the students in Ards and to the RE teachers who accompanied the students Mr. Rodgers, Ms. Rodgers, Mr. Mc Crea, Ms. Roache and Ms. Culkin.
Visit from CEO of Concern Dominic Mac Sorley
Dominic Mac Sorley, CEO of Concern visited the college to talk to transition year students about the valuable work of Concern. During his visit Dominic also also met some of the students who are involved in the Concern debating team. Many thanks to Dominic and his team for taking the time out to come and talk to our students.
Celebrating Talent
Congratulations to Muireann Bradley, 1st Year Class Andrew, who won gold in her division at the Brazilian Jiu-Jitsu Irish Open in the National Indoor Arena which took place at the end of September. In the final Muireann defeated a very tough and much more experienced opponent, winning by submission via armbar. This is the second year running that Muireann has won Irish Open gold and will now go on to fight in the IBJJF European Championships in November. We all wish her every success.
Congratulations to Ben O Currain from last year's Leaving Cert class. His LC Engineering project was awarded 1st place by the Donegal Region of the Engineering Technology Teachers Association (ETTA). Ben's project will be put forward to be judged at the national conference of ETTA in the Mullingar Park Hotel on 22nd/23rd November. Well done to Ben and his teacher Mr. Donnellan.
Visit by Garda Brenda Healey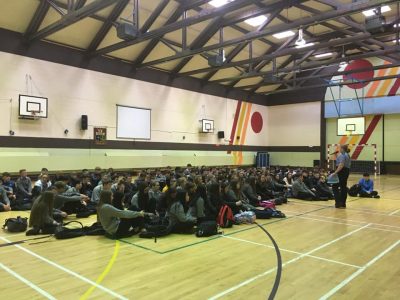 Garda Brenda Healey visited the college to talk to our students about the dangers of fireworks.
JCSP
Our 2nd and 3rd year JCSP classes enjoyed a fun day out at the Old Foundry and Arena 7. Many thanks to Ms.Harris , Sean Boyce & Ms.Holmes for accompanying the group.
Parents Association AGM
Oisin Mc Conville was guest speaker in the college for the parents council AGM. Oisin shared the story of his struggle with addiction with parents and members of the wider community. He also spoke to our 3rd year, TY and 5th year students. During the talks, Oisin gave a very open and honest account of the impact of addiction on his life and how he overcame this with the support of his family. Many thanks to Oisín for his time and for raising awareness of this very real issue.
Art – Suile na nOg
Well done to 35 of our 5th year/TY students who will have their junior cert art projects on display in the Súile na nÓg art exhibition in The Regional Cultural Centre, Letterkenny from October 17th. Well done also to their art teachers Mr. O'Donnell and Ms. MacGrory.
Seismograph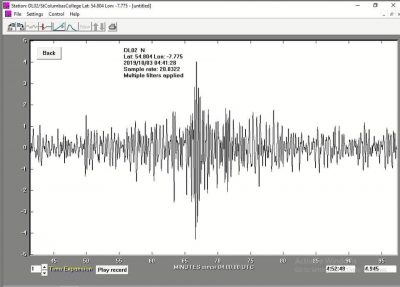 Here it is – our 1,000th seismic event recording at station DL02, St Columba's College. Earthquakes, North Korean nuclear tests, quarry blasts, etc. We record it all. It took 9 years and 6 months to get this far, with a simple farm gate pendulum device. This event was a 5.1 magnitue earthquake in the Dodecanese islands on Thursday, 3rd October. Mr. O Donoghue and a number of our students featured on BBC radio news in relation to the seismograph in the college. See a link below to the podcast.
https://www.bbc.com/news/world-europe-49970817…
Rosary Presentations
Leaving cert students who travelled to Medjugorje in August have been delivering rosary presentations to first year groups during the month of October, the month of the rosary. Well done to all involved.
Debating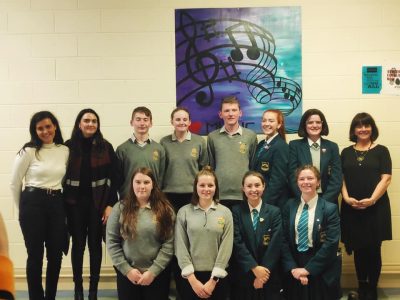 Commiserations to our debating team who missed out on a 2-1 victory to Thornhill College, Derry. Evan Carron-Kee, Niamh Doherty, Luke Meehan and Isabel Conaghan argued in favour of the motion 'Ending World Hunger by 2030 is beyond humanity's reach' in their first debate of this school year. Many thanks to the teachers involved Ms. O'Driscoll and Ms. O'Donnell.
St Columba's College achieve GOLD at TESA (The Entrepreneurial School Awards)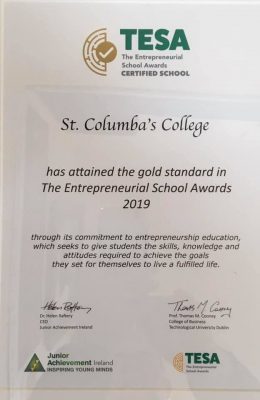 We were delighted to be awarded a GOLD certificate at The Entrepreneurial School Awards (TESA) ceremony held in Microsoft Place, Dublin on the 10th October.
The Entrepreneurial School Awards (TESA) recognises and celebrates outstanding commitment to entrepreneurship education, which aims to provide opportunities for young people to develop the ability to think positively, to identify opportunities to make things happen, to have the self-confidence to make things happen and to use their talents to build a better society (economically and socially).
All TESA – certified schools have shown foresightedness and enthusiasm in adapting entrepreneurship education as part of their students' development. Three different levels of certification were awarded to competing schools (Gold, Silver and Bronze)
In awarding a GOLD standard, the judges recognised schools that demonstrated that entrepreneurship education was truly embedded across a wide variety of schools endeavours and ensuring that a broad range of students engage in entrepreneurial activities through a variety of approaches.
The college was represented at the awards Ceremony by Ms. Catherine Cooke.
SPHE – Streetwise programme
Our 1st year classes attended the 'Streetwise' Substance Abuse Programme. The programme is designed as a support and follow up to the SPHE programme and aims to boost the students understanding of the alcohol awareness lessons already covered in class.
World Mental Health Week
In conjunction with Jigsaw Donegal, we promoted the the MyWee5# campaign during mental health week. The campaign highlights the ways in which people can look after their mental health – Connect, Be Active, Take Notice, Get Involved and Give.
Green Schools Team
The Green Schools team held a very successful bake sale raising €252 which will be used to plant flowers and shrubs around the college. Thanks to Ms. Cowan and her team who organised the bake sale.
Drop Everything and Read
We held a Drop Everything And Read (DEAR) session today on October 11th. Students brought reading material and sat quietly reading for the duration of the class. DEAR is one of the strategies being implemented as a means of improving literacy, which is one of the strands of our school self-evaluation. Well done to students and teachers for their participation.
Home Economics
2nd Year Home Economics students busy making pizzas in Ms. Timony's class – putting their yeast knowledge to the test and practicing some key culinary skills.
Trip to Harvey's Point and LYIT Killybegs
Our 1st group of 6th Year Home Economics students enjoyed their day finding out about careers in the Tourism and Hospitality Industry. They had a tour of Harvey's Point Hotel and heard great insights into the careers available within the hotel sector. From there they travelled on to Killybegs Tourism college where they had a tour of the campus and all the newly refurbished facilities, followed by a fabulous three course meal in their on campus Millennium Restaurant – where they were looked after by one of our past pupils Vicky. Thanks to Ms. Timony and Ms. Mahon who travelled with the students.
Careers
The Careers Information Evening took place in the college in October. Many thanks to the representatives from B & S Credit Union, Bank of Ireland, A.I.B, LYIT, Ulster University and Maynooth University who were available to answer queries and offer advice to parents. Thanks also to those who presented on the night, to Kathleen Browne who gave valuable guidance on the SUSI grant, to Kay Mitchel from Maynooth University who gave sound advice in relation to choosing a college course and to our guidance counsellors Ms. Sproule and Ms. Mc Cullagh who organised the evening and gave very informative presentations on the CAO and UCAS systems, Access programmes and scholarships.
Study Skills
Our 3rd and 6th year students attended a Study skills and Motivational workshop with Ray Langan. The Programme called 'Rayse the Game' is an excellent workshop which gives students the techniques and the motivation to make the most of the year ahead.  The students found the workshop enjoyable and engaging. Many thanks to Ray and to our guidance counsellors Ms. Sproule and Ms. Mc Cullagh who organised the workshop.
Sport
1st year girls Gaelic
Our 1st year girls Gaelic team took part in a blitz in Holy Cross Strabane. They are pictured here with Katy Herron past pupil, now teacher in Holy Cross who took time to talk to the girls about her sporting career with Donegal ladies and her pending trip to Australia to play Aussie Rules. Well done to the girls and their coaches Ms. Mc Gill and Shaun Boyce who had a very successful blitz.
1st year Girls Futsal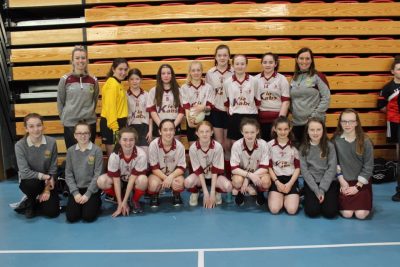 The first year girls Futsal team competed in the ulster qualifiers held in Aura Leisure centre. 12 local school teams took part in the blitz & St.Columba's won 3, drew 1 & lost 1 to qualify for the semi final. Unfortunately they met a very strong Loreto Milford side. Exceptional performance from the girls & it's a good foundation to build on moving forward. Well done to all involved and to the coaches Ms. Harris and Ms. Shiels.
U16 Girls Gaelic
The U-16 girls played the qualifying Ulster blitz with 13 players. As underdogs they beat Crana college, Mulroy & Gweedore. They led their final game by 4 points at half time against a very strong Ballyshannon side. Fresh legs beat them in the end. Finishing second in the group-top two teams qualify to the Ulster School's play offs after the mid term break. Well done to the girls involved and to their coach Ms. Harris.
September News
Please click below to read our September News.