Global Citizenship Committee
St Columba's students were well represented amongst the several hundred who gathered in Letterkenny on Friday 20th September as part of the Global Warming Strike Action Day. Joining with millions of others around the Planet, their message was clear and simple, the time to act on the Climate Change Crisis is now! Amidst the sunshine and relaxed atmosphere, the student's concern was evident in their dignified and respectful protest. They were joined by TD Thomas Pringle and Cool Planet Ambassador Nuala Carr, who both praised their collective response and meaningful actions. #stcolumbaschangingtheworldalittlebit
Our new 1st years
We were delighted to welcome our incoming 1st Year students to our Transfer Programme which took place over three days in August. Well done to all who took part in the programme. Thanks to Mr Cannon who coordinated the programme, to all the staff who worked with the students over the three days and to our Leaving Cert prefects who gave up their time to help out.
Senior Prefects/ Head boy and Head Girl
Introducing our senior prefects for the 2019/2020 school year: Hannah Mulcahy, Dylan Carlin, Eleanor Mc Daid, Gavin Friel, Caitlín Smeaton, Cael Gallagher, Sophie Mc Crory, Caitlín Mc Gonagle, John Reid, Martina Gallagher, Sean Coleman, Siobhan Doyle, Philip Boyle, Áine Wilkinson and missing from the photograph Amy Laverty and Tiernan Collins. Congratulations to all the students, we wish them well in the year ahead. Many thanks to Karen Murphy Speech, Drama & Communications who visited the college to work with the students on leadership skills. A special congratulations to our head boy Sean Coleman and our head girl Siobhan Doyle.
Careers
Some of our 6th years attended the open day at Ulster University Magee on September 20th. The students had an enjoyable and informative trip and were complimented for their excellent behaviour by the university staff and Ms. Sproule and Ms. Mc Cullagh, our guidance counsellors who travelled with the students.
Athletics
We had some great results from the secondary schools cross country event in Finn Valley A.C which took place on Wednesday 18th September. Medal winners on the day were Riona Doherty 7th, Sarah Alexander 6th, Katie Dowds 9th, Shaun Gallagher 10th, Harry Gallagher 12th, Fionn Farren 13th, Conor Murphy 1st, Patrick Murphy 2nd, Ella McGlinchey 4th, Hannah Murray 2nd, Abbie McGranaghan 6th, Ultan Mc Menamin 31st, Aaron Quinn 5th , Pauric McKelvey 10th, Pablo Lopez 19th.
1st year girls team 1st , 1st year boys team 2nd, Senior boys team 3rd. Well done to all involved and thanks to Ms. Mc Mullin who accompanied the students.
Home Economics
Ms Timony's 3rd Year Home Economics class busy evaluating their Buttermilk Tea Scones with Jam and cream.
Celebrating Talent


Congratulations to Sam Fagan, one of our 1st Year students, on winning the Young Handler at the International Sheepdog Trials in Scotland. Well done to Sam and everyone involved on this great achievement.
Seismic Station at St. Columba's
Louise Cullen of BBC NI visited the college recently and interviewed some 6th year students about seismology in the college as our seismic station, DL02, approaches its 1,000 recording for the global schools network. Many thanks to Mr. O'Donoghue for all his work with the seismic station.
Optum Scholarship
Everyone in St Columba's College is delighted that one of our students from the Leaving Cert class of 2019 is among this year's Scholars. Congratulations to Nicole Laverty who has been awarded an Optum North-West Healthcare Scholarship to study Early Childhood Care, Health and Education in LYIT.
Trip to Medjugorje
33 of our students and 5 staff members travelled to Medjugorje in August for a week long pilgrimage. They had an early start to each day with morning prayer. They visited Blue Cross  with Fr Sean, who has been with our group in Medjugorje for the past number of years and travelled back from Syria to join our students. The group also visited Apparition Hill, they took part in the choir and the reading at mass in Medjugorje and were up at 5am one morning to climb Cross Mountain. The group visited a local river to relax after mass in the church of St. Anthony and one evening during a visit to the Blue Cross, one of the visionaries led them in prayer. All students receiving their LC results were remembered in their prayers. Well done to the 33 students who participated fully in all aspects of the pilgrimage and must be complimented on how they embraced the whole experience. Many thanks to our generous benefactor who sponsored the pilgrimage again this year. Many thanks also to the two priests, Fr Sean Crowley and Fr Kieran Holmes, who worked with our group during the week and to the housekeeper for her warm welcome and hospitality. Last but not least, many thanks to Mr Donnellan, who coordinated the pilgrimage again this year, and to Ms. Culkin, Ms. Breslin, Ms. M. Rodgers and Shaun Boyce for giving of their time to travel with the students. We hope that everyone gained something from the pilgrimage to Medjugorje 2019.
Poetry
Congratulations to Sean Livesley, 5th Year, whose poem has been Highly Commended in the Patrick Kavanagh Student Poetry Award 2019 (Senior Section).
Sean's achievement will be acknowledged at an award ceremony which takes place on Sunday 29th September 2019 at St. Daigh's School, Inniskeen, Co. Monaghan. Well done to Sean and his English teacher, Ms O Gorman.
Congratulations to Aisling Cannon on winning second place in the PDST National Poetry Competition (Junior Section) for her entry titled 'Malala Yousafzai'. Her achievement will be acknowledged at an awards ceremony in the Hudson Bay Hotel, Athlone, in November. Well done to Aisling and to her English teacher, Ms Neilson.
Leaving Cert Applied
A great day of history, construction and fun on the LCA trip to Fanad Lighthouse and Letterkenny Activity Centre. Everyone had a great day. Many thanks to Mr. Gavigan Cathal and Ms.Holmes for travelling with the group.
Trip to Killybegs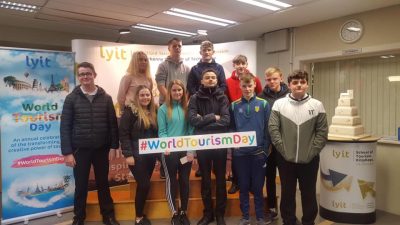 Our LCA students travelled to LYIT Killybegs for their World Tourism Day event which featured live cookery demonstrations, food sampling and mocktail demonstrations. Our students were able to experience the wide range of courses available at the college including Culinary Arts, Hospitality and Tourism and investigated possible career paths in the Irish tourism industry.  The students were welcomed by Martin and Harry McLaughlin to Cherrymore Kitchens in Donegal Town, where they had a behind the scenes tour of the design process involved in the making of kitchen and bedroom units. All students were presented with a Cherrymore pen by Martin. A special thank you to the McLaughlin brothers for our tour. Thanks also to Ms. Mahon and Mr. Gavigan who travelled with the students.
Transition Year
Our transition year students enjoyed a bonding trip in Letterkenny which included some wet and muddy fun at the Old Foundry, a film at Century Cinemas and some food and lazer tag at Arena 7. An enjoyable day was had by all with plenty of team building, fun and laughter as new friendships were formed. Thanks to Ms. Harris, Ms. Cooke, Mr. O'Reilly, Ms. Mac Grory, Ms. Roache, Audrey and Carina who travelled with the students.
Mentors visit Pramerica
Our 5th year volunteer mentors attended the launch of the Pramerica Spirit of Community Awards in Letterkenny recently. The guest speakers were two of last years national winners and the inspirational Nikki Bradley. Thank you to Naomi Hegarty (past pupil) for inviting us to attend and well done to Sarah Morris who won herself an Echo Dot for sharing her experience on Instagram. Thanks also to Ms. Sproule who accompanied the students.
European Day of Languages
September 26th was European Day of Languages and as a way of promoting this, our visiting Spanish students presented to the Spanish classes on the culture (festivals, food, traditions and art) and  history of Spain. They focused on their hometowns of Santander, Madrid and Zaragoza to show the contrast in language and culture, using a mixture of Spanish and English. Presentations were made to 1st, 2nd and 5th year Spanish classes. Well done to Juan and Pablo Lopez, Lucía Pescador and Juan and Ana Otazu and thanks to Ms. K. White who worked with the Spanish students to prepare their presentations.
Horse-riding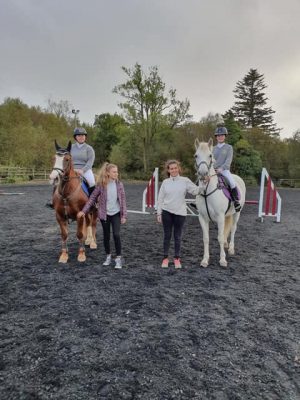 Well done to Kym Doherty and Megan Lafferty who took part in the horseriding competition held in Omagh recently. Both girls achieved a clear round in one of their classes. Well done also to Cara Mc Menamin who assisted as a stable hand. Kym was awarded a rosette on the day for all the sponsorship she raised for charity. Well done to all involved and thanks to Ms. O'Driscoll who accompanied the students.
JCT Information Talks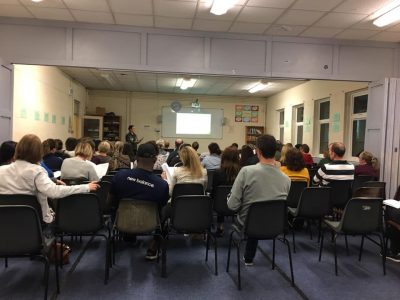 We held two JCT information evenings recently in the college for the parents of 2nd and 3rd year students. Many thanks to Ms. Timony, JCT coordinator who gave a very informative presentation.
Junior cycle science in action
Ms. Gorman's 1st year science class made some excellent models of animal and plant cells. The models included a chocolate cake which was iced like a plant cell made by Saoirse Mc Glinchey and a labelled model by Eoin Grieve. Well done to all the students on their creative and imaginative models.
Opening Mass of the new school year
Many thanks to Fr. Anthony Briody who celebrated the opening mass of the school year in St. Mary's Church on Mercy Day 24th September. The theme of the mass was 'Share the light of Jesus' and Fr. Briody encouraged the students to let their light to shine. All new students to the school were welcomed, especially the new 1st years. Thanks to the RE teachers who made all the preparations for the mass, to the music teachers and their choir for the lovely music and to all the students who participated in other aspects of the mass.