Carol Service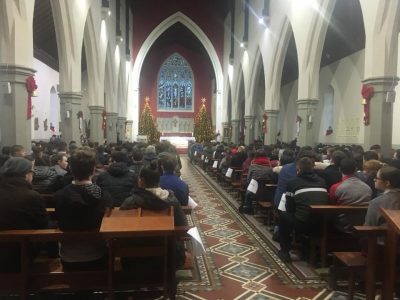 We had our Carol Service in St. Mary's Church on Thursday 20th December. Many thanks to Fr. Łukasz and to the teachers from our RE and Music Departments who organised and facilitated this very special occasion. Thanks also to the excellent choir and to all the students who participated in the many aspects of the service. Rossa Glackin, regional President with St. Vincent De Paul, thanked students and staff for their recent fundraising and for the donated hampers. Terry O'Reilly, Cúnamh and Teresa Farrell, SVP outlined their charity work and thanked all at the college for the funds that were raised recently.
Carol Singing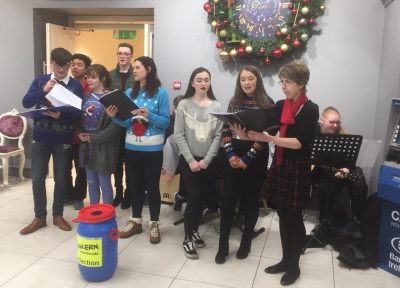 Our carol singers performed in Mc Elhinneys in support of Concern. Many thanks to all the students and their teachers, Ms Roache and Ms E Cooke.
Sport
Senior Boys Soccer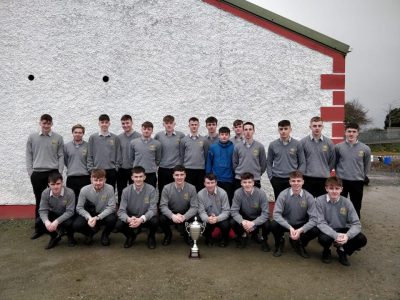 The senior boys soccer team won their league final.
1st year Boys Futsal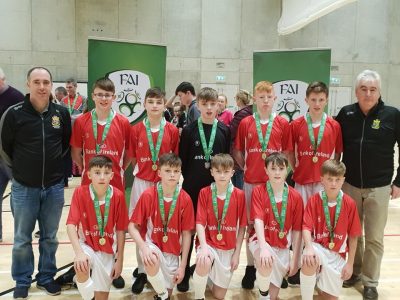 Our 1st year boys futsal team was one of four teams which travelled to Waterford for the All Ireland. Well done to the boys who came in 2nd place.
U15 Boys' Soccer Team
December: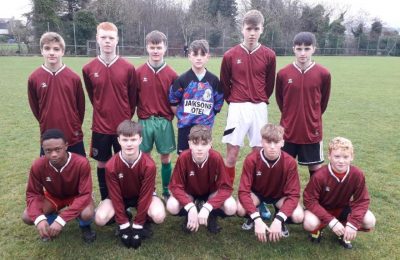 Congratulations to our U15 Boys Soccer team who defeated St. Eunan's College by 3 goals to 2 in a very keenly contested game. Well done to all the boys involved and their coach Mr. Atcheson.
January: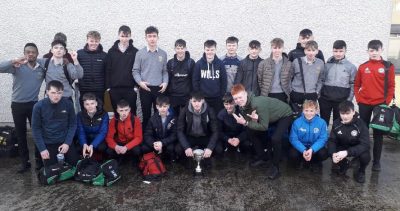 Our u15 Boys Soccer team won the county League by defeating Carndonagh Community School by 3 goals to 1. Well done to all the boys involved and their coach Mr. Atcheson.
Basketball
Our 1st year girls' basketball team recently attended a blitz in Finn Valley College. Well done to the girls and their coach Ms. Culkin on a great performance.
Transition Year
Newspaper Articles

The Ty students continue with their articles in the local paper this month. Michael O'Kane wrote an excellent about their visit to the European Parliament.
The Simon Community Talk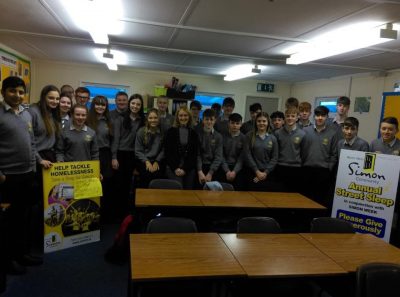 Collette Ferguson from the Northwest Simon Community addressed our TY students as they finalised plans for their sponsored 'Sleep Out' on Friday 14th December.
The Sleep Out
Over thirty hardy souls took on the challenge of experiencing what life on the street might be like for someone without a home. The students were out and about collecting public donations, with all funds going to two very worthy causes, the North West Simon branch and Pieta House, Letterkenny.
Sports Journalism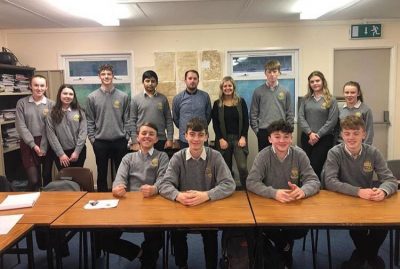 The TY students will complete a module on sports journalism as part of their sports leadership course. Thanks to journalist Chris McNulty who visited the college to talk to students about Journalism as a career.
'St. Columba's Got Talent'
On Thursday 23rd January, our transition year events company hosted 'St. Columba's Got Talent'.  The event was very well organised and thoroughly entertaining from start to finish with ten fantastic acts. Well done to Aoibheann Curran and Brenda Carr who were the winners on the night and to runner up Matthew Kilkpatrick. Well done also to the TY events team and their teachers Ms. Cooke and Ms. Roache for all their hard work.
Taster Day
Our Transition year students attended a taster day at Letterkenny Institute of Technology. They met with lecturers and students from the college and attended classes in the areas of Business and Science.
Christmas Lunch
The TY students enjoyed Christmas lunch together in the Villa Rose Hotel, where they had earlier been given some silver service training.
Trip to Dublin
Our TY group travelled to Dublin and visited The Dáil, Glasnevin Cemetery and Butlers chocolate factory.
Student Council
Donegal Youth Council Agenda Day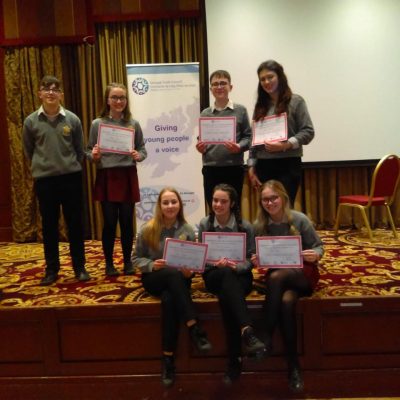 Some members of our student council attended the Agenda Day run by Donegal Youth Council in the Mount Errigal Hotel. Student representatives from every school in the county were in attendance and worked together for the day to decide the agenda for the newly formed youth council for the next two years. Our own new youth council representative Hannah Mulcahy met with her new fellow council members today and Daire Harper, who has served on the council for the last two years and continues to serve as the Donegal representative on the National Executive was MC for the day. We wish both Hannah and Daire every success with their projects over the next two years.
Non- Uniform Day
The student council organised a non uniform day on the last day of term in aid of their two chosen charities, the Bumbulance and the Peter Mc Verry Trust. They encouraged students to wear something festive and gave prizes for the best effort in each class. Well done to the student council who raised over €1000 for the charities.
Wellbeing
Cyber Safety Talk
Our 2nd and 5th year students attended a cyber safety seminar delivered by Ray Langan. The seminar gave students a personal toolkit to protect themselves from online dangers. Many thanks to Ray for a very engaging and informative seminar and to David Mc Conville Orthodontics, Sligo and Donegal Town who sponsored the event.
The Women's Centre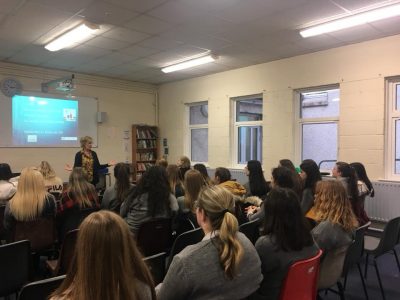 Eilish McArt from the Women's Centre in Letterkenny visited the college recently to talk to our 5th year students about the iLash clinic and other services available at the women's centre.
Debating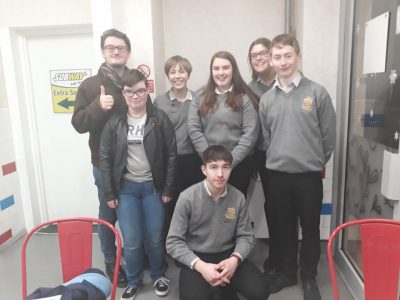 Our debating team secured a 3-0 victory against Thornhill College, Derry recently. The two teams had debated earlier in the term and Thornhill won 2-1 so it was a great comeback for St. Columba's. Well done to the team of Rachel White, Niamh Doherty, Cael Gallagher and Evan Carron Kee. The debating team now stand on 9 points out of a possible 12 from the league stage and must wait and see if they will make it to the knockout stage in January. Well done to all involved and to their teacher Ms. Wade.
Leaving Certificate Applied
The leaving certificate applied class prepared Christmas lunch for their teachers for Christmas. The food was excellent and thoroughly enjoyed by all, while the service was first class. Thanks to the LCA team and their teacher Ms. Mc Mullin.
Scholarships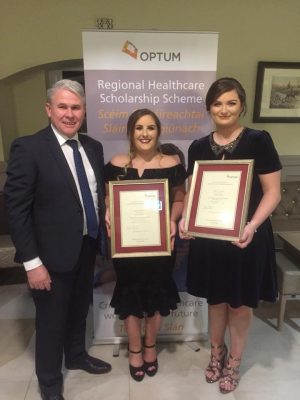 Congratulations to past pupils Sophie Carlin and Jodie Gallagher who received their Optum Scholarships at a function in Rockhill House recently. Best of luck to Sophie and Jodie in their future studies.
Spanish Students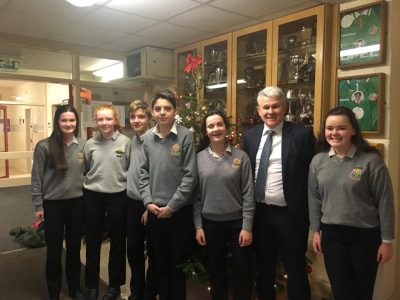 It was a week of farewells as we said adios to three more Spanish students who have been with us since September. Brothers Pablo and Juan Lopez and Angela Saez Del Barrio joined the 3rd year students at the beginning of the year and very quickly fitted in with life at St. Columba's. They were a great addition to the college and will certainly be missed. We wish them well as they return home and hope to see them again at some stage.
Art
Christmas Theme
The 1st and 2nd year art students were busy making snowmen and penguins for their Christmas projects over the last few weeks. Well done to all involved and to their teachers Mr. O'Donnell and Ms. Mc Laughlin.
Home Economics
Baking Competition
A Bake Off Competition was held by the Home Economics department. The team of eight judges had a difficult decision. Well Done to all who entered and congratulations to Roisin McLaughlin (6th), Sarah Morris (4th), Julia Tytko (1st), Grace O'Connor Donoghue (1st), Ellie White (4th), Grainne Gillespie (5th) and Aine Sweeney (2nd) who are through to Round 2 in January – The Technical Bake.
Mentoring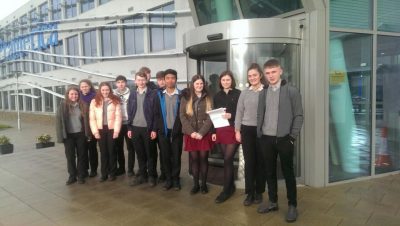 A group of our 5th year students attended their first session of the mentoring programme at Pramerica in Letterkenny on 16th January.
Maths IMTA Senior Quiz
Our college maths team, made up of Jack Meenan, Ben O Currain, Oisin Mc Menamin and Shane Rowan came 1st in the county IMTA senior quiz in Letterkenny on 24th January. The same four boys won the junior quiz three years ago. Well done to the boys and to the teachers in the Maths department who prepared them so well and we wish the boys the best of luck in the national finals.
Academic Awards
Two of our current transition year students Sarah Sweeney and Daniel Crawford travelled to an awards ceremony at Maynooth University on 29th January to represent the 6 students who achieved an A grade in their junior certificate business studies exam in 2018. Well done to Sarah and Daniel and also to Abby Meenan, Peter Mc Monagle, Thomas Mc Menamin and Michael O'Kane on this fantastic achievement. Thanks to Mr. Sweeney who travelled with the students.
Fundraising for our Local Charities
December has been a month of fundraising for our two local nominated charities, which are St. Vincent de Paul and Cunamh. Throughout the month, each class in the college has, with the help of their class teacher organised an event, activity or competition to raise funds for these charities which assist and support families in our local area. The events have included numerous bake sales, a 'hang tight' challenge, leg waxing, a bushtucker trial, guessing the number of sweets in the jar, guessing the teacher from a baby photograph, the fashion show, teacher v student football match, sponsored silence, guessing where in the world the teacher is from the photograph, Mr & Mrs, lollipop shop, a penalty shoot out and guessing the secret sound. A special mention to class Eithne 1st year who raised €460 from their sponsored silence.
In addition to the fundraising, many students and staff donated food items which were used to make up forty food hampers for St. Vincent de Paul.​
Are you smarter than a 1st year?
Our transition year events team organised 'Are you smarter than a 1st year?' to raise money for their chosen charity which is Donegal Hospice. Congratulations to the team of 1st years who defeated the teachers.
Charity – Pieta House and the North West Simon Community 
Emma from Pieta House, Letterkenny, was presented with a cheque for €700 by the Transition year students. The money was raised from their sleep out held in December. Well done to the students and coordinator Mr Mc Crea. A cheque for €700 was also presented to North West Simon Community.
Literacy
DEAR
We held a school wide Drop Everything and Read on Friday 18th January. DEAR is one of the  strategies being fostered as part of the literacy strand of school self evaluation.
Book Review
One of our 6th year students Sebastian Cantos, who attends the college book club provided the book review for this month. This is another of our literacy strategies to encourage our students to read more.