NUI Maynooth Jnr Cert Excellence Award

Two TY students, Amelia Shaw and Orla Fogarty had plenty to smile about on Tuesday January 30th in NUI Maynooth when they were acknowledged for achieving excellence in their 2018 higher level Junior Certificate Business Studies exam. The event, which is run in association with the Business Studies Teachers Association of Ireland and the Departments of Accounting & Finance, Law, Economics and Business in NUI Maynooth aims to recognise schools' contribution to teaching and promotion of excellence in the discipline and the hard work and dedication of the students involved. Congratulations girls.
Smile Week
On Monday 30th January we launched "Smile Week" in our school. Smile Week is an initiative that we started three years ago in an effort to promote the importance of positive mental health in our school along with the message that it is the simple things in life that are the most important. We have a week of speakers from different organisations, zumba, meditation, indoor and outdoor activities at lunchtimes and yoga amongst other organised events; there was something for every year group!! On Monday the teachers started proceedings in fancy dress and on Friday we hosted a dress up day for students! The week was a great success!

TY Girls Attend IWish Conference

Our TY girls attended the IWish conference in the RDS on February 11th. The day revolved around the promotion of STEM subjects for girls. The conference had a variety of well known, influential and successful ladies who are based in a wide range of STEM careers. There was also an opportunity to explore an exhibition hall of interactive stations from different organisations and companies. A very inspiring and informative day for all.

The Sound of Unity Concert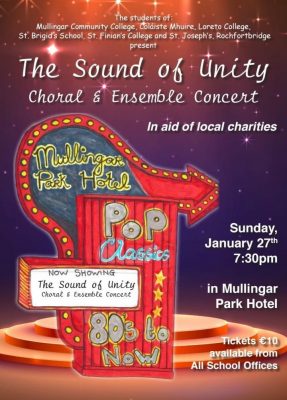 Our choir students at St. Joseph's were excited to be collaborating with students from Mullingar Community College, Coláiste Mhuire, Loreto College, St. Brigid's School and St. Finian's College in "The Sound of Unity" Concert which took place in The Mullingar Park Hotel on Sunday, January 27th at 7:30 pm. All the proceeds of the initiative went to charity. We couldn't have been any prouder of our students and indeed all of those from each of the six schools who took part. Everyone who attended agreed that it represented everything that school life should be about; working together, standing together and showing what can be achieved when we do. Thank you to our own Ms Muldoon for all the energy and effort she put in to getting our own students ready, and well done to all the teachers and students involved!
Young Scientist Competition
Our Young Scientists explaining their projects to Michael Martin Fianna Fáil leader, former minister Denis Naughton, all in the course of the day between 2 rounds of judging. Roisin and Grace extracted oils from a variety of different plants and investigated their anti-fungal properties by means of preventing fungus from growing. This was then infused into a mat which could be used in sports complexes to prevent the spread of fungal diseases.
Fintan and Cormac modified a fire alarm by inserting a transmitter so that the exact location of a fire in a large building could be identified by means of a LED lighting up on a master board when it receives a message from the transmitter. Also pictured are Fintan and Cormac explaining their idea to local TD Robert Troy who was very impressed with the level of work done on such an innovative idea.