Concern Debate Team
Well done to our Concern Debate Team who have had two successful debates this month. The team opposed the motion that 'Nike should be applauded for standing with Colin Kaepeenick. They outlined that Nike was using Kaepernick for the benefits of their own profits and highlighted how they did not promote social equality whilst underpaying people to work in horrendous conditions. They remain at the top of their group in the league and their next debate is away against Saint Olivers, Oldcastle in the coming weeks.
Science Week
It was a wonderful week of all things science related. TY students visited the local primary schools to do experiments and both First and Second Year Students took part in a science quiz. There was a science trip for seniors and special science projects undertaken by all. We've particularly enjoyed the science jokes that were circulating around the school!
UCD Entrance Scholars Awards
Congratulations to Sarah Flanagan, Lily O'Gara and Sarah Burke who have received scholarships from UCD in recognition of their strong academic achievement in the Leaving Cert exam. These awards are presented to first year students who have achieved 560 points or more.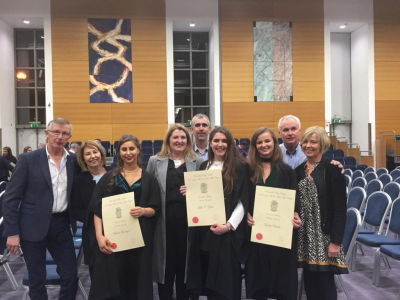 Football Final Winners!!!
Congratulations to our First Year Boys who won the final of the Brother Hubert League yesterday in Cusack Park with a score of 6.6-4.5! What a great achievement for a new team and their coaches Mr Kevlihan and Mr Cole