Welcome back
After months of silence, it was great to hear the noise and laughter ring out across our corridors in late August as we welcomed students back to school.  We would like to welcome our new 1st year students and their families to the St. Joseph's school community.  Welcome also to our new members of staff and other students who have joined us in various year groups.
New extension
Work has commenced on a new extension to our school.  It comprises 7 classrooms, a Home Economics room and bathrooms. The new extension will be linked to the main building via a covered walkway.  It is expected that the new building will be completed by September 2021.
Green Schools – 9th flag
The staff and students of St. Joseph's were delighted to be informed that we had secured our 9th Green Flag in May of this year.  Well done to Mrs. McGrath and her team of Transition Year students who spearheaded the work on Sustainable Transport which was the focus of two year's work.  We are only one of  a handful of secondary schools in the country to have achieved the 9th flag.
Mentors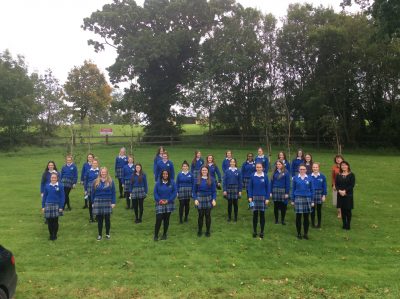 Our 5th year Mentor Team were recently presented with their badges by Mrs. Mac Cabe (Principal) and Mentor Coordinator Mrs Breda McLoughlin.  The girls work with our first year students to help them settle into secondary school.
Exam results
Well done to our 6th year and 3rd year students on their superb exam results.  In what proved to be a challenging and difficult few months, we commend our students for their hard work and resilience.  Thanks you to our teaching staff and the parents who supported our students during this time.  We wish our Leaving Cert. students every success as they embark on the new chapter of their lives.
Halloween Celebrations
Well done to our TY students and their teacher Ms. O'Malley who added a splash of colour to the school this week by each carving out a pumpkin in Science class. There were some excellent faces, with some pumpkins even wearing their mask! Happy Halloween everyone!