First Year Induction Day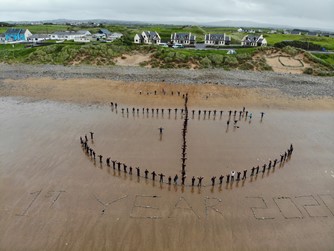 90 first year students joined the ranks of St. Joseph's Secondary School on the 1st of September. What a memorable day for each and every boy and girl who arrived at our school gates all masked up but still smiling within!
The highlight of the day for both staff and students was a trip to the beach and the shaping and creating of an 'Anchor' image in the sand.
We chose this symbol as it highlights and represents for all our school community the importance of maintaining resilience and strength during these unprecedented times.
A special word of thanks to all the staff who helped make our first day back for our new students a memorable one and one which we hope the class of 2020 will cherish in their hearts as they move through the corridors of Spanish Point!
Opening School Mass
Our Opening School Mass took place on Wednesday the 16th of September in Miltown Malbay Parish Church. Due to Covid 19 and social distancing regulations this was a very different opening mass for our school community. The mass was live streamed into every class group in the school to watch with only a selection of students from each year group participating in the church. This unique way to celebrate our opening to our school year was shared with the wider community as the local parish could also avail of the live stream. The theme of 'Light' was shining throughout the parish!
A huge thank you to the students who participated and of course to Fr. Donagh our School Chaplin.
Care for the Earth
Ty students practised their gardening skills that many of them learned during their time in 'Lockdown' by getting close to nature and planting Spring bulbs by the statue of 'Our Lady'.
The statue was recently moved to a new location on our school grounds following the completion of building works to our new extension. 'Our Lady' now overlooks the Wild Atlantic Way. Transition Year RE students decided in keeping with our 'Care for the Earth' theme in class that they would clean around the statue and plant bulbs.
A huge thank you to Jack our Caretaker who gave the students a lesson on how to correctly use a shovel and how to mark the ground for planting.
What a fabulous initiative by our TY students that the whole school community can enjoy next Spring.
History Alive!!!
Ms.Guilfoyle's first year history class had quite a treat this month when Alex O'Brien 1B kindly brought in some historical artefacts belonging to his Grandad. Alex and his Grandad share a real love of history and storytelling. During this interactive lesson, Alex demonstrated to the class artefacts such as World War 1 medals, gas masks and helmets all from that era.
Great fun learning about this time in history was had by the whole group. Many thanks to Alex and his Grandad for bringing history to life and to Ms. Guilfoyle for embracing the opportunity to bring history alive to our young students.
Social Distance Music !!!
We may not be able to sing but that didn't stop our first year music class from playing a few tunes while still practising social distancing! Thank you to Ms Miller for keeping the beat alive in our school.
Final Thanks

Finally, a huge thank you to all our staff, caretakers, cleaners, parents, board of management members and students for enabling us all to return to our school safely. So much gratitude is owed for the hard work and long hours that so many have put in over the summer months and after school during September to help bring some normality back to our lives. Sadly some of our school community could not return such as our beloved Sr. Martina and we never got to say a proper goodbye to our Leaving Cert class of 2020 whom we are so proud of their achievements. Hopefully there will be better days ahead for us all to enjoy together once again, until then Míle Buíochas to everyone who got us this far!