St. Vincent de Paul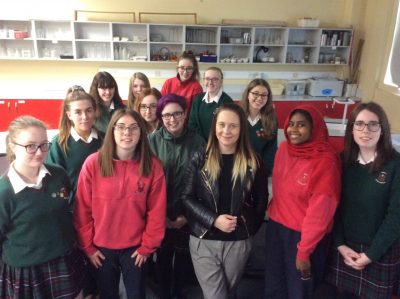 Well done to St. Leo's College, St. Vincent de Paul conference who have worked so hard this term to help people in need at Christmas. The volunteers commenced their Christmas campaign by holding an information day in November. This was instrumental in creating awareness around the work of the conference within the school. Later there was a very popular and well supported 'Christmas Jumper Day' which raised over €750 for SVP. This money will be used to pay for vouchers for families in need at Christmas time. The volunteers are also running a food appeal in the school this week and will take part in hamper packing with Carlow St. Vincent de Paul and the Lyons Club. This team is led by our wonderful Sixth Years, Alison Brennan, Shauna Downes, Michaela Gallagher and Ellie May Farrell who have given many years of great service to the conference. This leadership team are ably assisted by the Fifth Year and Transition Year members. Many thanks also to their teacher, Ms. Cathy Craddock who coordinates the work of St. Vincent de Paul within the school.
Junior Debating
Congratulations to the Irish Junior Debating team who successfully defended the motion "Tá RTÉ ag freastal go maith ar mhuintir na hÉireann" against St. Mary's Arklow on Tuesday last. A special thank you to Roisin Behan who stepped in at the last minute for her sister Niamh who was unwell. Thanks also to teachers, Julie Clarke, Giollaiosa Ni Mhaonaigh and Laura Dunphy who work closely with the debating team.
Annual Catherine McAuley Lecture
St. Leo's College was honoured to invite past-pupil, Dr. Mary Kelly to deliver the Ninth Catherine McAuley Lecture in the school's Assembly Hall last Thursday. This was a very auspicious date for the school as the 12th of December marks the foundation date of the Mercy Congregation.
Dr. Mary Kelly, Chairperson Wexford Festival Trust and formerly Director General Environmental Protection Agency (EPA) and Chairperson An Bord Planála, delivered a very inspiring lecture, which focused on Women in Science and Climate Change. It was an incredible afternoon for Fifth Year science classes and invited guests. The audience was treated to a fascinating review of Dr. Kelly's own education journey. She paid particular tribute to Sr. Kathleen Kennedy who ignited her passion for the scientific world. Her message for young women was unequivocal – you are extremely capable and need to seize any and every opportunity presented. The lecture also emphasised the importance of being able to adapt to changing circumstances in life as well as leading one's own life-long learning.
The assembled students were joined by a number of invited guests and members of the Mercy Congregation, who travelled from as far as The Mercy International Centre, to attend the lecture.
The Chamber Choir commenced the afternoon with a wonderful performance of "Hark the Herald Angels Sing". This was followed by Katie Brennan who performed a beautiful piano solo, Claire de Lune by Debussy and Katie Ni Shuilleabhain who performed a selection of traditional pieces on the harp.
The lecture concluded with an insightful reflection by principal, Ms. Clare Ryan who made a beautiful presentation to Dr. Kelly. This was followed by a reception in the school refectory. The reception was organised by teacher, Ms. Laura Dowling and a team of helpers from the Anam Cara and Meitheal leadership teams. Sincere thanks also to Ms. Carrie McCarthy for organising the music for the occasion.
Music Week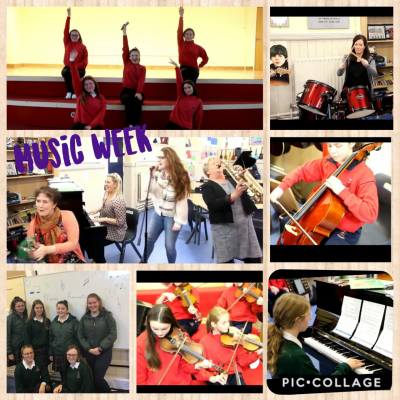 The corridors of St. Leo's College were alive with the sound of music this week! Ms. Carrie Mccarthy and her team of music assistants from Transition Year organised a wide range of musical events. The music-fest comprised of a series of lunchtime concerts including Christmas Karaoke. First Years enjoyed a quiz where students competed to "Guess the Melody". Finally, there was a well-supported Poster Competition. It was a great Music Week the coordinators, led by Ms. McCarthy, ensured that a variety of musical genres was represented. The Christmas Karaoke was particularly enjoyable!!
Leaving Cert Applied News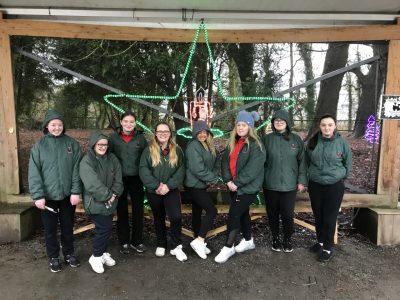 The LCA students enjoyed a wonderful trip to Castlecomer Discovery Park recently.
International Day
The third annual St. Leo's College International Day was held on Monday, November 25th. St. Leos is proud to be the home of students fr  om 40 different international countries. Students were invited to don their traditional dress, cook food and create projects all centred around their home nations. The event was held in Cairdeas Library which was teeming with students from across the school who were afforded the chance to attend the event throughout the morning. Representatives from Nigeria, Brazil, Bangladesh and Spain preformed traditional dance routines which were thoroughly enjoyed by the audience. A fashion show was held at break time, hosted by fifth year students Dayo and Sharon both representatives of Nigeria. Traditional outfits from Angola, Pakistan and Switzerland were worn, which a few local GAA jerseys thrown into the mix.
Local senator, Jennifer Murnanne O'Connor supported the event, chatted with students, took photos and enjoyed food from around the world. The event was meticulously organised by Ms. Karen Brennan with the assistance of her fifth year students, Amy McLoughlin and Shauna Downey. A huge thank to Ms. Brennan for her hard work around this event, which is a highlight of the school calendar each year.
Annual Mock Parliament
Monday December 2nd was a proud day for St. Leo's College as the 2nd annual Mock Parliament was held. Fourteen 4th and 5th year students represented several different European countries to form a parliament. The event was chaired by 5th year student Sorcha Peters Lynam and 6th year student Lolia Akinyemi. The event was organised by the school's European Parliament Youth Ambassadors. St. Leo's College was honoured to welcome MEP Maria Walsh to the event. Ms. Walsh spoke to students about her introduction to politics after she won the Rose of Tralee in 2014. She spoke about her work in the European Parliament, her stance on current political views, youth in politics and of course equal participation and representation for women. The floor was then opened to questions from the enraptured audience of Transition Year students and 5th year Politics and Society students.
The parliament was opened with students debating the motion "Should common health care be available across the European Union?" This was a very passionate and engaging debate. Amy McLoughlin, who represented Portugal, started off the debate by agreeing with the motion; Lauren Dunbar (Iceland) and Riona Nolan (Netherlands) were strongly against the motion and made some strong arguments to support their point of view. At the end of each motion, parliament members were asked to cast their vote. The audience were then invited to contribute their opinions and questions. The question of the Europe wide legalisation of abortion and gay marriage was also discussed. Niamh Millward (Italy) and Roksanna Seiget (Poland) were strong debaters on the morning, injecting humour into these very engaging and animated debates.
Amy McLoughlin from 5th Year closed the Parlimentary session with a speech to thank everyone involved. On behalf of the EYP committee she extended a heartfelt thank you to their contact teacher, Ms. Karen Brennan who meticulously organised the event for the second year running. Flowers and cards were presented to Maria Walshe M.E.P. and to Principal, Ms. Clare Ryan who is retiring before Christmas. Amy thanked Ms. Ryan for her consistent support of the European parliamentary debates in the school over the last number of years.
Debating
The Senior French Debating team were delighted to progress the quarter-finals of the Alliance Française School's competition last Wednesday in Rahney, Co Dublin. They successfully opposed the motion that 'Young people are more preoccupied than ever by trends and appearance'. The girls debated against a strong team from Manor House, Dublin. Congratulations to the girls and their teacher, Ms. Una Ni Mhaoldhomhnaigh.
An Gairdin Beo
The 3C R.E. class visited An Gairdin Beo with Sr. Mary Carmody and Sr. Bernadette O' Rourke recently.
Leo's Got Talent
Congratulations to everyone involved in the Annual Leo's Got Talent Competition last Thursday night in the school's Assembly Hall. The hall was packed to capacity with tickets for the concert selling out quickly. First place in the Junior Category went to Tamara Chavez, First Year and Rosanne Ferraria, Third Year. The girls are cousins who sang a beautiful ballad entitled, A Thousand Years. Caoimhe Martin took second place in the Junior Category with a captivating solo on the grand piano. First place in the Senior Category went to the fantastically talented duo, Annie Bolger and Rachel Haughney singing Don't Stop Believing. Second place in the Senior Category went to sisters Ceara and Amy Nolan on guitar and violin respectively, singing Fix You. The competition was ably compered by Debbie Robinson from the Parent's Association.
Trip to Trinity
A large group of Senior Science students attended an excellent Careers talk for Chemistry students in Trinity College on Wednesday the 13th of November.  Kate O' Connell, TD and Pharmacist spoke to the students about the relationship between Social Media and Science. The visiting group also listened to presentations from representatives of the pharmaceutical industry. The event concluded with a presentation from a panel of PhD students, who described their personal trajectories from the classroom to the research laboratory. This was a very informative trip for the girls and was kindly organised by Science Teacher, Ms. Mary Dunphy.
Visit to Carlow IT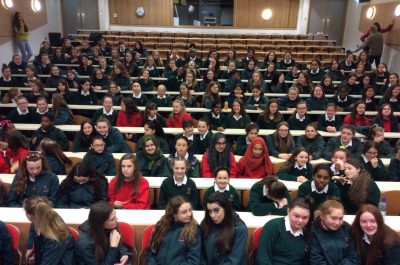 All first years went to Carlow IT for a "Women in Technology" event this week. The girls listened to fascinating accounts from women already working in the biomedical science industry. The girls learned about how to promote a technology culture for women within their own school community. The trip concluded with a very engaging and entertaining "hands-on" display where visitors could inspect turtles and giant snails up close!
The Fall of the Berlin Wall
There was a wonderful cross-curricular collaboration in St. Leo's College this week when students of German, History and Politics and Society remembered the 30th anniversary of the fall of the Berlin Wall. During the week class tutors recalled their own memories of this seminal moment in European history. The week drew to a close with the History Department organising a screening of a documentary about the fall of the wall in 1989 in the Cairdeas library.
LGBTI Stand up Talk
There was a very informative talk delivered by a panel of speakers from The Vault in Cairdeas Library. Students from every year group received an opportunity to develop their awareness around LGBTI issues and to learn about Stand Up Awareness week. On Friday students from every year group sported the Pride colours so that the whole school made up the LGBTI rainbow flag. Congratulations to all who organised the awareness week.
Science Week 
John Paul II Awards Ceremony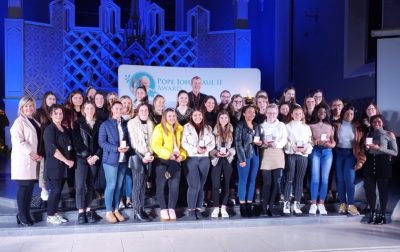 The annual ceremonies for the Pope John Paul II Awards were held on Monday 18th and Friday 22nd of November. Such was the number of recipients across the diocese of Kildare and Leighlin that the ceremony was split between two nights. The total number of recipients this year was 372. The students from St Leo's College received their awards on Monday in a beautiful ceremony in the Cathedral of the Assumption, Carlow. This is the 10th year of the award and the 10th year that St. Leo's had recipients of the award. Cathriona Kelly, past pupil of St. Leo's and Youth Ministry Co-ordinator for the diocese, led the ceremony, at which 133 young people from the South and West deaneries were awarded their medals by Bishop Denis Nulty, with 41 of the recipients from St. Leo's College. The remaining recipients were awarded at their ceremony in Cill Mhuire Church, Newbridge on Friday night. The students from across the diocese were involved in parish, school and community volunteering for the past year in order to achieve their awards and we wish to congratulate them on their hard work and dedication.
Transition Year
It was a busy week for Transition Year students.  On a wet and drizzly Monday morning all transition year classes braved the inclement weather to visit the RSA Education service in the grounds of the car park in Visual theatre. The students learned about the National Road Safety's mission to raise awareness about the importance of safety on our roads. A team of road safety educators delivered a powerful and effective information session about road safety relevant to young learner drivers and the community in which they live.
Well done to those students participating in the Social Care module who completed their training as Cardiac First Responders this week. This is an essential life-long skill and all students received certification following their Cardiopulmonary resuscitation training.
Dunbrody Visit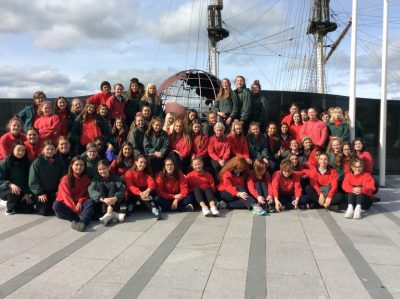 Another tranche of Transition Years had a wonderful excursion with the History Department to the Dunbrody Famine Ship in New Ross, Co. Wexford. The students received a very educational and engaging tour of the ship that really helped them develop an understanding of this critically important era in our nation's history.
YCT 1 Assessment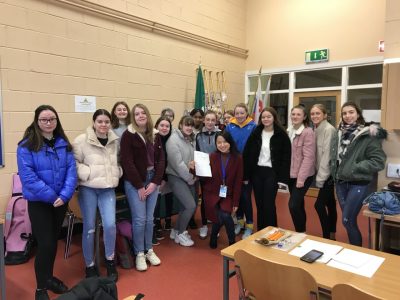 Sixteen Transition Year students sat their Youth Chinese Test (level1) in St. Leo's College last weekend. This is a Chinese proficiency test for Post Primary students. This is the second year students took the exam as part of the school's Transition Year Chinese Studies module. The College regards this as a fantastic opportunity to begin learning a new world language. Well done to each of these determined students who came to school on Sunday morning to sit the exam in the Cairdeas Library. Thanks also to language teacher, Ms. Claire Tierney who does so much to promote this new language on the school's curriculum.
College Awareness Week
College Awareness Week was a fantastic success. This annual event culminated in a very inspiring presentation in the school's Assembly Hall last Friday morning.  A panel of speakers made which comprised of Guidance Counsellors and Teaching Staff spoke about their own experiences at Third Level. They spoke about personal and money management as well as how to navigate the curriculum at tertiary level.  Sincere thanks to the Guidance Department who generated a real ambition for Further Education with a range of talks, activities and events throughout the school week.
Battle of the Wits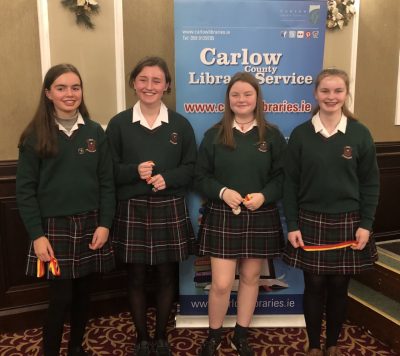 Well done to our Battle of Wits Table Quiz team from Transition Year who came second in the County Final this week and have qualified for the regional final in Athlone in December. The successful team members are Rachel Stock, Emma Hughes, Anna Lynch and Kate Brennan. Congratulations also to the team's mentor Ms. Veronica Doyle. 
Women in Sport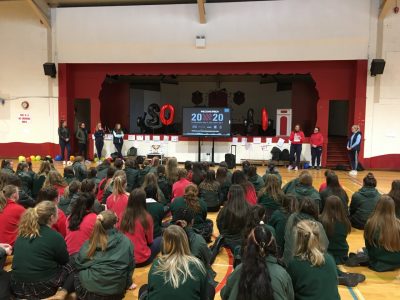 Many thanks to the PE Department and the 6th year LCPE class who organised an amazing event to promote women in sport. The staff and students were thrilled to welcome back past-pupils, Kylie Murphy, Danielle Callanan, Nuala Mohan (Carlow Ladies Football Captain) & Maria Kinsella (Carlow Ladies Football player) in to speak at the event! This was a wonderful occasion which captured the experience of women in sport in Ireland.
Senior Volleyball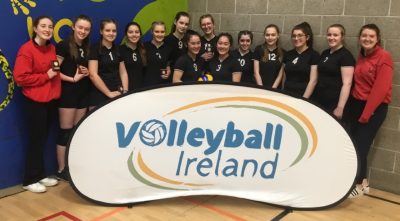 Well done to St. Leo's College Senior Volleyball team who played Elphin Community College in UCD on Thursday last in in the All-Ireland Senior C final. Despite starting very well, our team lost the first set and struggled to recover. They had some good points but unfortunately ended up on the losing side. However, to get to an All-Ireland Final is no mean feat. Well done to all of the students on the squad who did exceptionally well – We are very proud of you all! Many thanks to all the team's loyal supporters who travelled with the team and their coach, Ms. Vivienne O' Neill.
Senior Gaelic Football
Congratulations to our Senior Gaelic Footballers on their fantastic win over Loreto Balbriggan on Friday. The girls won after a fantastic performance with an impressive score of 2-13 to 2-7. The girls now march on to their first Leinster Final in eight years, where they will meet the winners of Kilcullen vs Ballymahon. Well done to coaches, Ms. Natalie O' Carroll and Ms. Aisling Byrne.