LCVP ANNUAL SENIOR CITIZENS' PARTY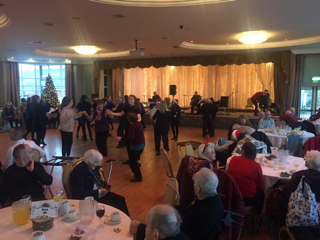 On Thursday the 28th of November 2019, Scoil Mhuire 5th Yr pupils studying LCVP for their Leaving Cert hosted a party for the senior citizens of our local community.  The pupils undertook a number of fundraising activities including holding a bucket collection on the main street of Buncrana and selling tickets for a hamper.  In addition, donations were given from Scoil Mhuire staff, The Parents Association, local organisations and individuals.
Scoil Mhuire principal, Rosaleen Grant said that the attitude and dedication of the pupils in both the fundraising and hosting of the party was a great source of pride for Scoil Mhuire.  "This annual event has grown year on year and the project is a credit to Annette McGonagle and the other staff and school community that support the pupils. Our young people gain so much from this day and always enjoy their time with the older members of our community. "
The pupils sent invites to local homes including Beech Hill Manor and The Nazareth House. They also sent invites to organisations supporting older people including ALONE.  The pupils extended the invite to any senior citizen who wished to come along and spend the afternoon socialising over a over a lovely meal. The guests that attended on the day were from all over Inishowen from Newtown to Moville.
The school pupils put extensive planning to prepare for the Christmas party.  Purchasing biscuits and chocolates to serve with tea before and after the meal. They visited local pharmacies to request donations of make-up and nail varnish for use by the guests. They created centre-pieces for the tables and prepared favours for every guest.
Two hundred guests arrived between 11:30am and 1pm and were escorted to their tables by the pupils.  The Inishowen Gateway staff assisted by the team of pupils served a beautiful meal to the guests. Throughout the party many talented pupils from every year in Scoil Mhuire entertained the guests.  There was a variety of entertainment including Irish, hip-hop and Jive dancers. The singing included classical songs and country and western. A selection of musicians played beautifully as a backdrop to the meal. The guests were also entertained by the talented Scoil Mhuire teachers Maeve Ward and David Deeney.
When the meal was over the guests were entertained by the music and singing of Anthony McCarten and Martin Friel from Rathmullan.  Fionnan Bradley lead group of pupils in jive dancing. When they finished their performance, they invited the guests out to the dance floor for some jiving and old time Waltzing.
When the dancing was finished, the team of pupils assisted their guests from the hotel to their transport and ensured the Inishowen Gateway staff had the help they needed to have the room cleared and ready for their next event that evening.
LCVP teachers Annette McGonagle and Clare Mc Dermott said that they were extremely proud of the Scoil Mhuire pupils. "The thorough planning to prepare for the party and the excellent teamwork by the pupils make the party possible. However, most compliments from the guests have been about the polite and attentive manner in which these pupils have ensured that their 200 guests have had a wonderful afternoon". This entire event demonstrates CEIST ethos in action.
BUNCRANA CHRISTMAS TREE FESTIVAL
Scoil Mhuire's entry for the Buncrana Christmas Tree Festival – a community display of Christmas trees based on passages from the bible was a tree made of white silk ribbons and paper stars. Scoil Mhuire was given the Star Tree based on Matthew 2:2 – "Where is He who has been born King of the Jews? For we have seen His star in the East and have come to worship Him."
Christmas Carol Singers
Click below to view a video taken of some of our students singing at our recent Christmas Carol service.
CELEBRATING 25 YEARS OF  SVP CHRISTMAS FOOD APPEAL IN SCOIL MHUIRE
Student Co-ordinators, Paige Ferguson and Aoife McGovern pictured with fellow volunteer helpers in 5th and 6th year, Ms Lorna Barron, Deputy Principal and ex-President of St Vincent de Paul who started the SVP food drive in Scoil Mhuire in 1994 handing over the proceeds of this year's silver anniversary campaign to Scoil Mhuire substitute teacher, Mr Fionan Bradley who is the current President of the Society of St Vincent de Paul
LEAVING CERTS ON RETREAT ON THE BANKS OF LOUGH FOYLE
Some of the Leaving Certs who attended an Advent Retreat in Termonbacca in Derry pictured with their RE teachers, Ms Edel O'Connor and Mr Michael Doherty.  The retreat was organised by the Derry Diocese.
PAPAL CROSS AND JOHN PAUL II AWARDS
As part of the Papal Cross and Pope John Paul II Awards, students from Scoil Mhuire have an' Act of Kindness Day' planned for Thursday 19th December when they will distribute candy canes in school and in town and organise tea and mince pies for parishioners after morning mass.
SECRET SANTA SACRIFICE FOR 'BOTHAIR'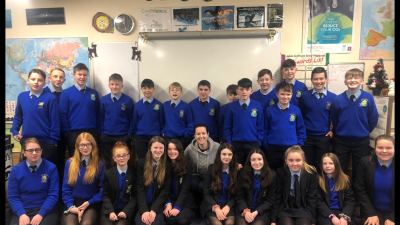 Instead of doing a 'Secret Santa', 1B in conjunction with their Wellbeing Teacher, Ms Denise Dowds decided to donate €2 each towards buying a goat through the charitable organisation 'Bothair' – in this way they are reducing the amount of waste generated in gift giving and helping a family in Africa with life instead. Now we simply have to agree on a name for the goat!
SCOIL MHUIRE CHRISTMAS TRADE FAIR
Below are some photos taken from our recent Christmas Trade Fair.
POETRY COMPETITION PRIZEWINNERS
Congratulations to 3rd Yr student, Laura McCallan and 6th Yr student, Aoife Lennon who both received first place in their respective categories in the Allingham Arts Festival Poetry Competition. This is an excellent achievement for two budding young writers who are pictured with Ms Sinead O'Brien (English teacher) and Ms Rosaleen Grant (Principal)
YSI 'MOODLIFTERS' SILENT DISCO FOR PIETA HOUSE
To promote 'wellbeing' amongst the student body, TY students involved in the Young Social Innovators programme launched their charitable silent disco with proceeds going to Pieta House.