Inclusion Awareness Day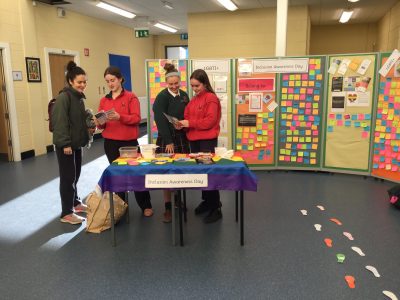 The Student Representative Council in St. Leo's College organised an Inclusion Awareness Day on Wednesday the 30th of January. This was a day to remind students and staff  that everyone is a unique individual with different gifts and talents. Every person, no matter what their background, sexual orientation or where they come from, makes our school a better place. A particular emphasis was placed   on LGBTI+ and supporting them in our school community. 
Members of the Student Council organised a display board in the school which had positive notes written by senior students in the school during their R.S.E. module. The board also contained information on LGBTI+ terminology and contact details of relevant organisations both locally and nationally. The students distributed leaflets and badges given to them by Carlow Youth Services.  
Plaque unveiled in Carlow in recognition of seven Mercy Sisters who left Carlow for Pittsburgh, USA in 1843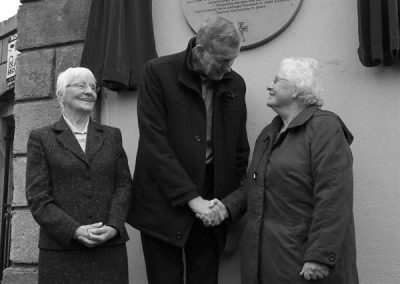 On Sunday 4th November 2018, Bishop Denis Nulty, unveiled a plaque at the Mercy Convent gate Carlow in recognition of the journey undertaken by seven Mercy Sisters who left Carlow and travelled to Pittsburgh, USA in 1843. Bishop Nulty and the Principal of St. Leo's College, Ms. Clare Ryan were joined by a huge gathering from the local town. Bishop Nulty spoke movingly about the audacious journey of Mother Frances Warde who was accompanied by Josephine Cullen, Veronica McDarby, Elizabeth Strange, Aloysia Strange, Philomena Reid and Margaret O' Brien.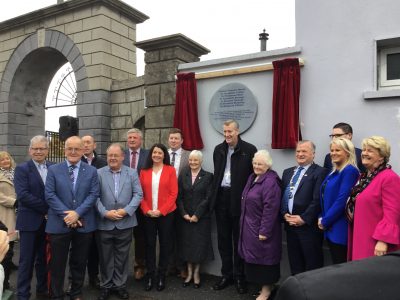 The commemorative event, attended by representatives of the Mercy order from Carlow and Pittsburgh, Council Officials and invited guests were treated to a presentation where speakers outlined the background to the 1843 journey and the work of the sisters in the United States including the founding of Mercy Hospitals, further convents, schools and most notably Carlow University. Speakers included Mons. Caoimhín Ó'Néill, Sr. Sheila Carney RSM & Brian O'Donoghue, Cathaoirleach of Carlow County Council. 
St. Leo's College Chamber Choir performed for the assembled crowd and this was followed by a dramatic depiction of the departure of the seven sisters from St. Leo's College. The students were directed by Janice de Bróithe. Most poignantly this part of the afternoon concluded with seven students from the college receiving seven Posthumous Honorary Degrees on behalf of the seven sisters who travelled to Pittsburgh in 1843. This was a powerful recognition of the courage and indeed the many accomplishments of the sisters of Mercy in Pittsburgh. 
Finally, this series commemorative events concluded with past-pupil Dr. Eimear Cotter, Director of the Office of Environmental Sustainability delivering the 8th Annual Catherine McAuley Lecture to a packed Assembly Hall. The 8th Annual Catherine McAuley Lecture was followed by a beautiful reception in the school refectory. This wonderful commemorative event was co-ordinated by St. Leo's College in conjunction with Carlow Museum and Carlow Co. Council.