Catholic Schools Week
At the end of January we celebrated Catholic Schools Week . The theme for 2020 is 'Living in Harmony with God's Creation.' All week we participated in prayer and reflection on how we can find harmony in our own lives, in our relationships with family, with friends and with everyone in our school community. We also thought about the ways we care for our planet and all living things. Our prayer space reflects the ways we can find peace and harmony. Terza Anderson created beautiful posters for display around our school.
Money Smarts Challenge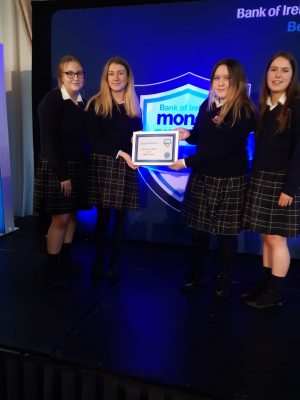 Well done to our TY Business students who competed in the Bank of Ireland Money Smarts Challenge Wexford / Wicklow regional final in Gorey on January 20th. Accompanied by Mrs Breda Dunbar, three teams competed with one team ( Ellie Kenny, Riona Furlong, Anjelica Foley and Aoife Mooney)coming second of 54 teams and will go on to the National Final in Citywest Convention Centre on April 2.
Erasmus+ Project
St. Mary's College Arklow is delighted to announce that we are taking part in an Erasmus+ Project. Erasmus+ is the EU programme that supports education, training, youth and sport in Europe. The programme runs from 2019-2020. There are lots of opportunities for school staff and students to get involved.
Erasmus+ aims to modernise and improve the quality of teaching, training and youth work across Europe, and to support the development, transfer and implementation of innovative practices. These objectives are closely tied with the Europe 2020 strategy of achieving a smart, sustainable and inclusive economy by 2020 for all of Europe's citizens. Fundamental goals for Erasmus+ include improving key competences and skills, and fostering partnerships between education and employment.
In St Mary's we endeavour to play a vital role in the promotion of positive mental health of our students. A small cohort of five of our teaching staff will travel abroad and participate in continued professional development in the various areas of wellbeing, including mindfulness, healthy living, conflict management, emotional intelligence and bullying prevention. Two teachers will undertake a job shadowing placement of a European school that implements a high standard of wellbeing practices in their educational facility. We anticipate that this will have a positive impact on the entire school community, and participants will share and promote their learning from the various courses to all teachers.
Gaelic Team Success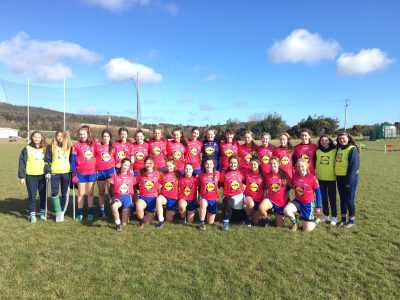 On March 3rd, our Junior Gaelic Team had a great win today over Dominican College Wicklow winning the County Junior A Shield title. Well done to all involved.
Junk Kouture 2020
Congratulations to our two teams who qualified for the South East Regional Finals of Junk Kouture 2020-
'Lady Roulette' and 'Bibity Bobity Boom' were fantastic on the catwalk of the Helix and Lucy Bracken and Faye O'Sullivan were delighted to be announced as finalists and look forward to competing in the Final at the 3 Arena in May.