Safer Internet Day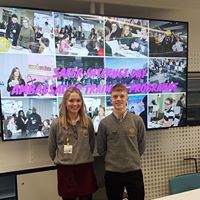 Two of our 5th year students recently attended the Safer Internet Ambassador Day in Google which was organised by Webwise. The ambassador programme is a peer-to-peer youth training programme which gives students the opportunity to lead an online safety campaign in their school as part of Safer Internet Day. Well done to our student ambassadors Mark Sproule and Ellie White and to the team of student leaders who joined them to lead out the programme with all 1st year students on safer internet day Isabel Conaghan, Alex Burke, Shane Alexander, Darragh Chaney, Anna Mc Cauley, Ciaran Alexander, Abby Meenan, Olivia Reid and Allanna Sweeney. Thanks to Ms. M. Rodgers and Ms. K. White who facilitated and supported the student leaders in their work.
Celebrating success – Optum scholarships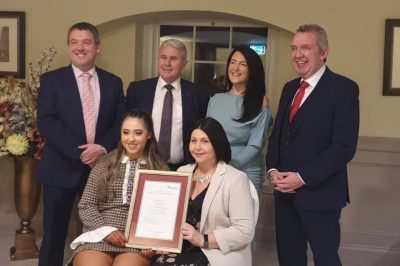 Congratulations to past pupil Nicole Laverty who received her Optum Scholarship at a function in Rockhill House recently. Best of luck to Nicole in her future studies. Last years winners of the scholarships also attended the presentations this evening. We wish Jodie Gallagher and Sophie Carlin continued success in their fields of study.
Catholic School's Week
Well done to Ms. Howard's Religion classes who produced these lovely posters for Catholic Schools Week. The theme for the week was 'Living in Harmony with God's Creation.
Home Economics
Thanks to Ciara Shine from Shines Seafood, Killybegs who visited the college recently and gave an excellent presentation to Ms. Mc Mullin's 5th year HE students.
History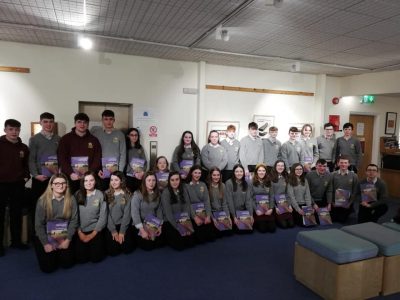 Some of our 5th year and TY students learning about a decade of change in Donegal 1912-1923 in Letterkenny museum today as part of a History project they are involved in. Thanks to Ms. Culkin who travelled with the students.
Business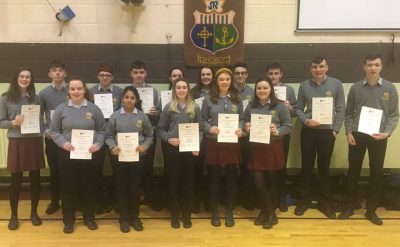 Congratulations to our students who achieved a Distinction or Higher Merit in their junior certificate business studies exam in 2019. They recently received certificates from Maynooth University in recognition of their achievements. Well done to all the students involved and their teachers in the Business Department.
Sport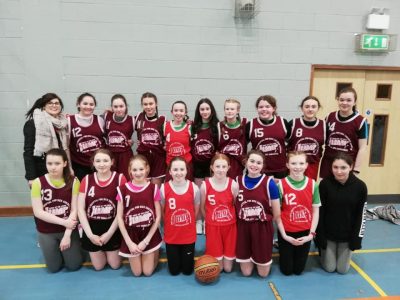 Our 1st year girls attended a basketball blitz in Letterkenny. Well done to the girls on their performance. Thanks to Ms Culkin and Ms O Driscoll who travelled with the teams.
Gymnastics – Junior Cycle Physical Education
Some of our 1st year students focusing on Strand 4 of the Junior Cycle Physical Education which focuses on the gymnastics. Classes taught by Mr.O Reilly, Mr.Hunter & Ms.Harris.
Spirit of Pramerica Volunteering Awards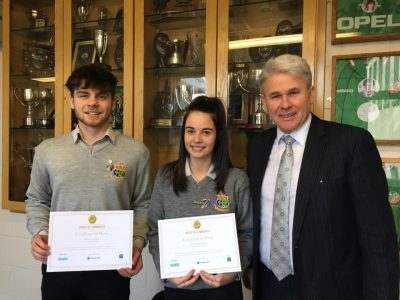 Congratulations to Seán Coleman and Caitlín Mc Gonagle 6th year who were acknowledged through the Pramerica Spirit of Community Awards for their volunteer work. Well done to both students.
Art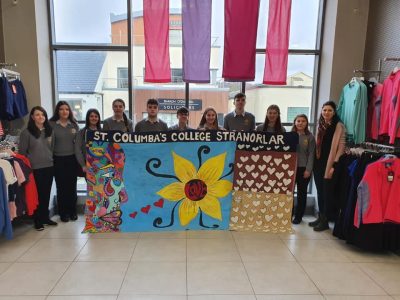 TY 2 pictured in Mc Elhinney's with the banner they created in art classes with their teacher Ms Mac Grory. The banner was created for the project organised by Paul Mack, who travels around the world asking schools and communities to make them. The project is called 'Blanket the Earth with Love'. Paul is travelling to the UK next and our banner, along with lots of others will be hung from a ship in Canary Wharf in London. Well done to all involved.
Transition year Enterprise
Another successful enterprise evening was held in the college. Congratulations to the top three mini companies who will go forward to represent the college. 1st was Shield Solution -Aisling Cannon and Kelsey Dalton, 2nd was DBS Gloves – Daniel Dalton, Ciaran Dalton, Ben Callaghan, Shaun Gallagher and Sean Mc Grory and 3rd place was U've been framed – Megan Doherty and Hannah Gallagher. Well done to all those who presented and to the many prize winners. Thanks to the judges Karen Murphy, Evelyn Mc Glynn, Paul Logue and Rachel Mc Govern and to the enterprise teachers Ms C. Cooke and Ms. K. Diver who have worked tirelessly with the students supporting and encouraging them along the way.
Literacy
While Classes enjoyed a Drop Everything And Read session,  some of the students from transition year taught a literacy lesson to 1st year students from class Aidan. These activities are some of the strategies being used to assist us in our aim to improve literacy. Thanks to Ms Mc Gill for facilitating the literacy lesson.
Mock Euroscola
Transition year and 5th year Business students took part in a mock "Euroscola" organised by Ms.C.Cooke and a group of TY/5th year Business students as part of their European Studies. Students put themselves into the shoes of an MEP for the day. In the two weeks leading up to the event, students were divided into groups and given topics of interest to research. The day started with a French breakfast. Students were then put into committees where the topics were discussed, debated and resolutions were formed. The resolutions were voted on using mentimetre in the plenary session in the afternoon. Two of our MEP Ms. Maria Walsh and Mr Luke Ming Flanagan and former MEP Mr Pat the Cope Gallagher were in attendance. Ms Mairead McGuinness and Mr Matt Carthy were unable to attend but communicated with the students through video link. Councillor Martin Harley was also in attendance. The session was chaired by Sarah Sweeney – a 5th year Business student, MC was Ms Sarah McMenemain (Transition Year) and the tech side of things was looked after by Ms Alissah Cullen. The student journalist for the day was Patrick Patton. Well done to all involved on what was a very successful day.
Retreat
Our 3rd years enjoyed some time out as they attended a retreat held in the college. Many thanks to the retreat team from Derry, which included past pupil Elaine Patton who engaged the students so well resulting in a very enjoyable day. Thanks also to Fr Briody who celebrated mass to conclude the day, to Ms. Roache and the choir for the lovely music and to the Religion teachers Mr. Rodgers, Ms. Rodgers, Ms. Roache, Ms. Culkin and Ms. Howard who organised the day.
Careers
Our 6th years attended an interactive event in the Engineering and Computing Departments of LYIT where they experienced Land Surveying, 3-D printing, app development as well as engaging presentations from college lecturers on course content and job prospects. Thanks to LYIT for offering our students this opportunity as they start to finalise their CAO choices. Thanks also to Guidance Counsellor Ms. Sproule who accompanied the students.
TY – Foroige
Our TYs enjoyed a tour of the famous Crumlin Road Gaol before making our Great Escape to the Houben Peace Centre in Ardoyne. Over a quick working lunch, the TY group listened to a talk by Brian McKee, Community Peace worker. He described his efforts at bridge building and reconciliation in the Ardoyne area of North Belfast, one of the most contentious spaces of the recent political conflict. A special word of thanks to Kit and all the Fóroige team who have been working with the entire TY group and helped facilitate this trip as part of 'Real U' programme. Thanks also to Mr. Mc Crea and Ms. K. White who travelled with the students.
Visit to the Model Art Gallery, Sligo
Our 5th and 6th year Art students visited Creeveykeel Courtcairn and the Model Art Gallery in Sligo. Thanks to Ms MacGrory and Ms Mc Laughlin who travelled with the students.
Model UN Conference
Well done to all our students who attended and participated in the Model UN Conference held recently in Letterkenny; Sarah Sweeney, Ellie White, Cormac Gallen, David Gillespie, Ciaran Alexander, Shane Alexander, Sarah Morris, Caitlin Thompson, Sarah Mc Menamin, Conor Thompson, Brooke Ramshaw, Amanda Bates, Emma Ní Churráin, Aisling Cannon, Dermott Harkin, Derek Harkin Molly Beth McGlinchey and Abby Meenan. Thanks also to Ms. O'Donnell  and Ms Mc Gill who travelled with the students.
1st Year Boys Gaelic Team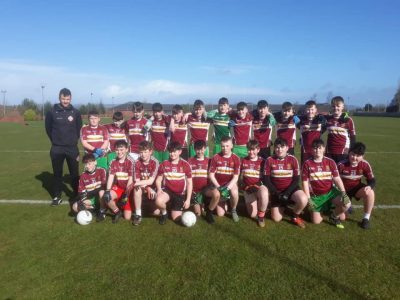 Our 1st year boys Gaelic team who played Dean Maguire College Carrickmore, Co Tyrone in Strabane recently. Unfortunately the boys were defeated but well done to all involved on a very good performance. Thanks to coach Mr. Mc Ginty and Mr. Phair who also travelled with the team.
U14 Girls Gaelic Team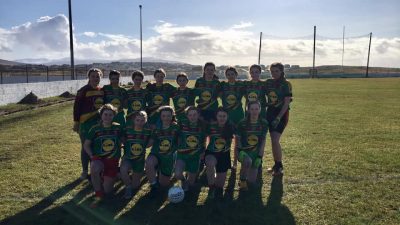 Well done to the U14 girls Gaelic team who came 2nd in a blitz in the blitz held in Gweedore. They are now through to the next stages of the Cup. Well done to the girls and to their coaches Ms. Mc Gill and Shaun Boyce.
Home Economics students visit Harvey's Point Hotel
The Junior Certificate Home Economics students went to Harvey's Point Hotel for afternoon tea and a tour of the hotel, including the new look ballroom. They got to speak to a variety of staff who informed them about all the different aspects of the hospitality industry – a very insightful visit and a real treat. Thanks to Ms. Mc Mullin and Ms. Timony who travelled with the students.
Green Schools Programme
Some of our 1st year Woodwork students made bird boxes as part of the Green Schools Programme. Well done to all involved and to their teacher Mr. Mc Ginty.