CEIST Bake Off Final 2020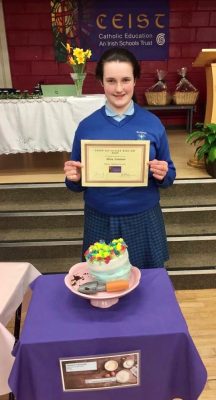 Anna Coleman second year who was selected to represent St Mary's Mallow in this years CEIST bake-off final. Anna is a keen baker and she created and decorated a spring themed, floral, chocolate cake. With the assistance of her Home Economics teacher Ms.Caitriona Desmond, Anna embraced the opportunity to show off her Home Economics baking skills and thoroughly enjoyed the experience.
A fantastic opportunity for all involved.
Transition Year "Grow Your Future" Project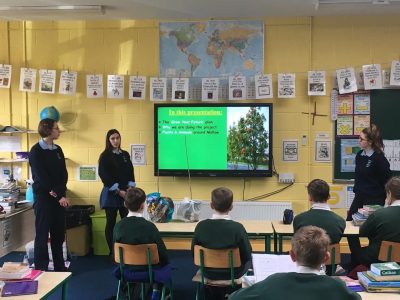 Transition Year students, who with the guidance of their teacher Mr Kevin Sheehan, gave presentations to students of Burnfort NS, Convent Primary School & Analeentha NS as part of Teagasc's 'Grow Your Future' project to plant 1000 trees in Mallow. The topic was well received by all primary school students and teachers and the girls were highly commended on their enthusiasm, preparation and presentation skills.
Together with their teacher, the girls hope to return to the same schools in the near future to present trees for planting.