European Studies

European Studies Transition Year European Studies students took part in a live Zoom call on May 5th with South Constituency MEP Billy Kelleher to celebrate Europe Day as part of the European Ambassador School's Programme.
Mr Kelleher discussed a number of topics with the schools involved including; the EU's response to Covid 19 and the predicted global down turn to follow, supports for small businesses, the rise of neo-fascism in the EU, the differences between the role of a TD and an MEP.
Our own students asked a number of questions about Climate Change supports, particularly as to whether the parliament will focus on working remotely instead of flying to Brussels and Strasbourg. Mr Kelleher believes that this may be a possibility in the future but underlined the importance of improving broadband access in some areas of Ireland.
He also spoke of the importance of people understanding the importance of the Green Deal with the aim of becoming carbon neutral by 2050.
Well done to Anya Wilson, Anjelica Foley, Michaela Moriarty, Sarah O Driscoll, Lucy Bracken and Lauryn Guilfoyle who acted as ambassadors for the school.

Build a Bank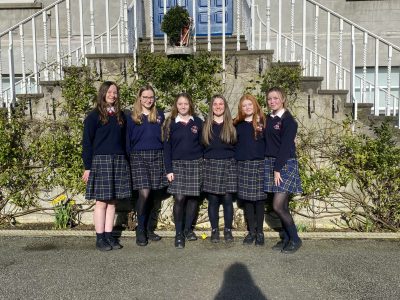 Our TY Build a Bank group  "Friends Finances Bank " was one of four TY Build a Bank teams awarded a Judges' Merit Award in the Build a Bank Final. They won a voucher for €200 for their school and a €60 voucher for each member of the bank team. Clodagh O'Sullivan, Isabella Gordon and Lucie Kindlon showcased the hard work of the entire team (Isobel Carr, Kaitlyn Byrne and Lucy Bracken)by giving their PowerPoint presentation on their behalf at the Build a Bank Challenge National Final. The girls were delighted and very grateful to local AIB Liaison Officer Gemma Carton who advised and encouraged the team during their project.
Lockdown Run Challenge
In recent years during "Active Schools Week" we have completed the "Run for Europe Challenge". While that was not possible this year due to the Covid-19 crisis, 28 students and 18 members of staff participated in the "Lockdown Run" challenge. As a school we covered 1,045kms in approximately 7 days. Well done to all involved.
Congratulations to our top three student runners:
First place was Ella Healy with 81.63km
Second place was Ciara Lancaster with 77.81km
Third place was Aine Byrne with 56.61km.
Congratulations to our top three teacher runners:
First place was Lora Doyle with 92.27km
Second place was Valerie Power with 61.69km
Third place was Sandy Carr with 51.84km.
Fundraising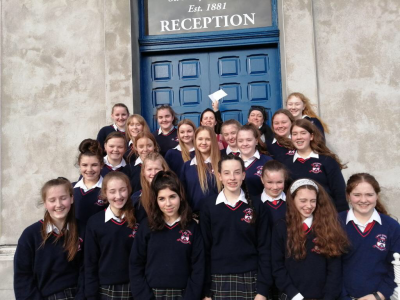 Anne-Marie Mc Morrow of Bray Women's Refuge recently visited our school. During her visit she met the 2-Emily class where she was presented with a cheque for €1,675. This was the proceeds of the girls 'Sleep In' for which a number of the girls also won Garda Youth Awards. Well done to all involved.
Money Smarts Challenge Quiz
Congratulations and well done to Ellie Kenny, Riona Furlong, Anjelica Foley and Aoife Mooney, who as runners up in the Regional Final of the Bank of Ireland Money Smarts Challenge Quiz, had qualified for the recently cancelled National Final. The girls, as finalists, have won a cash prize for the school as well as a goodie bag each to the value of €200. Many thanks also to Ms Dunbar who helped prepare the girls for the Regional and National Finals.
TY Modern Languages'
Congratulations and well done to Tegan Farrell, Brodie Kealy, Holly Mates, Keisha McBarron and Faye O'Sullivan who were shortlisted for the TY Modern Languages Prize for their project Italia 20, coordinated by Ms. Masterson.