UN Headquarters Study Programme 
Congratulations to 5th year student Eleanor Robinson who was accepted to attend a week's study programme at the UN headquarters in Geneva this summer! Eleanor was selected out of over 200 applicants, well done!
BT Young Scientist Competition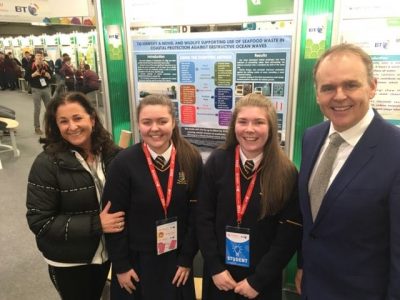 Congratulations to cousins Leah Hannon (2nd year) and Lauren Tuffy (TY), from St Mary's Secondary School, who qualified for the BT Young Scientist competition, pictured with Minister for Education Joe McHugh and teacher Annette Leonard. Their project seeks to identify a novel and wildlife supporting use of seafood waste in coastal protection against destructive ocean waves.