Leaving Cert 2020 
Congratulations to our Leaving Cert Class of 2020. After a very stressful final term and uncertain summer our students received their Calculated Leaving Cert grades on Monday September 7th and we feel the excellent results in St Mary's represent a fair assessment of student attainment. The results were met with a high level of satisfaction among the student cohort and we wish them well in their future courses of study and career paths. The Sr M. Regis Award for the Best Leaving Certificate Results was shared by Ella Devereux and Alice Keenan who both attained an impressive 625 points. Congratulations to Ella and Alice and we look forward to presenting them with the award at a future date.(Covid restrictions permitting.)
Mercy Day
This year we celebrated Mercy Day on Thursday September 24h. Mercy Day, the feast of Our Lady of Mercy, commemorates how in 1827 Catherine McCauley opened the first House of Mercy in Baggot St. Dublin as a place of safety and refuge for poor women. Our traditional Mercy Day celebrations at St. Mary's were not possible due to Covid 19 restrictions but we celebrated in an alternative, safe and socially distanced way. A representative group of students attended and participated in a Mass in the parish church which was then streamed to the rest of our students and teachers in classrooms via the parish webcam. The Mass was celebrated by Fr. Padraig and our Head and Deputy Head girls Liadain and Karina led our students in prayer while music was provided by a small group of singers from our Choir accompanied by Mrs Mooney and Mr Bonner. The theme of the Mass was 'Hope' and this was reflected in all aspects of the prayers and Fr Padraig's words on these challenging times.
Upon returning to school Liadain and Karina took the opportunity to deliver their Mercy Day speech when they addressed the school community via the intercom. Well done girls and best of luck this year!
In the afternoon, with Sports Day not possible our students and staff headed off on three different walks. The Form 1 and 2 students walked to Glenart Forest with the Form 3 and F4 classes walking to the Duck Pond. Our senior F5 & 6 students completed the Arklow Rock walk. The weather cooperated with us making this Mercy Day enjoyable and rewarding despite the challenges posed by the Covid 19 restrictions.
School Gardens Competition

Congratulations to Form 3 student Elizabeth Bourke who has won the Arklow Municipal District School Gardens Competition.
The Student Garden Design competition replaced the School Garden Competition which was launched in March. This competition invited students to design a garden for their school and encouraged creativity in the pupils while also learning about the environment . Biodiversity, edible gardens, sustainability, bee friendliness and environmentally friendly practices were the focus of the competition along with the use of special features and colour. The school has been awarded € 150 in garden vouchers thanks to Elizabeth's winning entry. Well done Elizabeth!
Transition Year
Our TY classes have had a busy few weeks since returning to school. While current restrictions don't permit all of the usual TY events our TY students have had a number of virtual visiting speakers and online workshops.
During their first week, Eimear Larkin from Core Connection gave a talk about re-integrating to life after lockdown.  She shared tips for dealing with coming back to school, including breathing techniques, meditation and N.E.A.T. movement. Eimear sent a PowerPoint of her presentation to us so the girls can share these tips with their families. This can be found on the TY class TEAMS' page.
On September 15th, Hannah from 'As I Am' led an interesting workshop, giving us an insight into ASC: Autism Spectrum Condition. The students watched sensory videos, busted some of the myths about autism and learned tips for making our school a more equal and inclusive place.
The Form 4 classes each had a high energy fitness day when they walked to the beautiful Riverside studios at Bridgewater to talk part in Aisling Nolan's Pound Fitness classes. Aisling is a past pupil of ours & certainly knows how to get St. Mary's girls moving!
TY Trash Tag Challenge
Well done to the students of 4 Boland for their hard work on Friday September 11th when they worked with Arklow Tidy Towns litter picking. In one hour eight large bags of rubbish were collected by the students and their teachers. This activity was part of their TY initiative to work with Arklow Tidy Towns, the Pure Mile project and Coast Care.
The aim of Coast Care is to involve local people in caring for their coastal environment, by promoting and supporting safe enjoyable conservation activities, such as beach clean-ups, awareness raising and practical countryside tasks.
Collecting so many plastic bottles was an eye opener for the students as they are encouraged to reduce, reuse and recycle. Many thanks to Eileen Gough of Coast Care and Pure Mile who facilitated the group and to their teachers Angela Flynn and Elizabeth O'Dea for accompanying and working with the students.
All TYs will have the opportunity to step up to the high record set by 4 Boland in the #tytrashtag challenge, throughout the year.
TY Adventure Day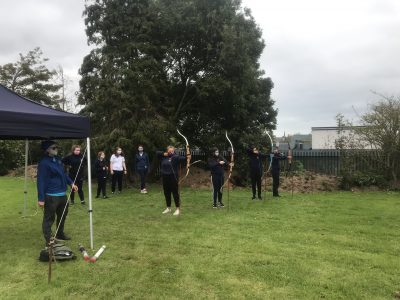 Since we couldn't go to the adventure centre, the adventure centre came to us!
On Tuesday September 22nd our TY students had an adventure day on our school grounds when the staff of CP Adventure of Russborough House brought a selection of their outdoor equipment to St. Mary's. The day included lessons in archery and navigation. The girls were taught some bush survival skills when they learnt how to light a fire and to distinguish between 'edible or deadable', pitch a tent and some basic farm skills. Water safety and first aid were also on the agenda along with team tasks where they went to battle with gutter ball and bottle rockets. The students enjoyed this action-packed day and the chance to learn new skills and work as a team safely outside