Opening Mass
Our opening mass of the new school year was held on the 24th September, the feast of Our Lady of Mercy. Mass was celebrated by Fr Anthony Briody in St. Mary's Church, Stranorlar and was broadcast for the school community on the parish website. Thanks to the religion teachers who assisted in the organisation of the mass, to Ms. E. Cooke and the choir for the lovely music and to the head boy and head girl Mark and Sarah for doing the readings.
Senior Prefects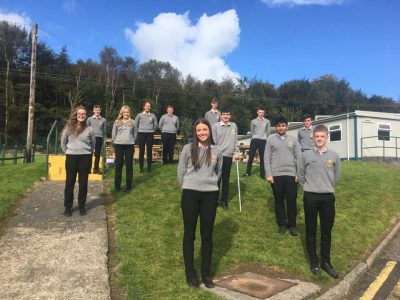 Congratulations to our senior prefects for the 20/21 school year Ciaran Alexander, Daniel Crawford, CJ Doherty, Mark Mc Gee, Cillian Mc Gill, Abby Meenan, Michael O'Kane, Faizan Sohail, Allannah Sweeney, Sarah Sweeney, Mark Sproule, Aaron Tourish and Ellie White. Special congratulations to our head girl and head boy Sarah Sweeney and Mark Sproule.
Webwise National Internet safety Leadership Award
Huge congratulations to Mark Sproule & Ellie White for winning the WebWise National Safer Internet Day Leadership Award. This was our school's first involvement with Safer Internet Day so to have succeeded in bringing this Award to St. Columba's is a fantastic achievement. Ellie and Mark were inspired by the very informative and interesting training day at Google and decided to present a similar workshop to our First Year students. They recruited the help of 10 fellow fifth year students to ensure the project's success. It was the first time that students in our school attended an event like this where the material was delivered by their peers; the students participated fully, they were engaged and interested throughout and took with them key skills that will help them stay safe online now and into the future. Well done to Mark and Ellie and their team Allannah Sweeney, Shane Alexander, Ciaran Alexander, Alex Burke, Darragh Chaney, Isobel Conaghan, Anna McCauley, Abby Meenan, Olivia Reid and Sarah Sweeney. Thanks to Ms. M. Rodgers, Student Council Coordinator who facilitated the project.
| | |
| --- | --- |
| | |
Transition year – Twin Towns Regeneration Project
Our TY 3 class recently hosted Sosie from Pasparakis Friel Architects and gave their invaluable insights as part of the Twin Towns regeneration consultation process. Not only did the group generate ideas on what they would like to see added to the area in the future but also highlighted why the Twin Towns area is a great place to live and grow up in. Thanks to Mr. Mc Crea who organised the visit.
TY Teambuilding
Our four TY groups enjoyed their team building days in Gartan outdoor Education and Training Centre recently. Team building was the name of the game and socially distanced heads got together to solve and succeed before taking to the water to experience some kayaking. Well done to all four groups over the two days with great spirit and talent on display. Thanks to the teachers who travelled with the students Mr. Mc Crea, Ms. Cooke, Ms. Mc Mullin and Ms. Harris.
LCA visit to Fanad Lighthouse
Our LCA 1 class visited Fanad Lighthouse recently as part of their Construction Studies project and also paid a visit to Letterkenny Adventure Centre. A great day was had by all. Many thanks to Mr Gavigan and Ms. Holmes who travelled with the students.
Mizen Head to Malin Head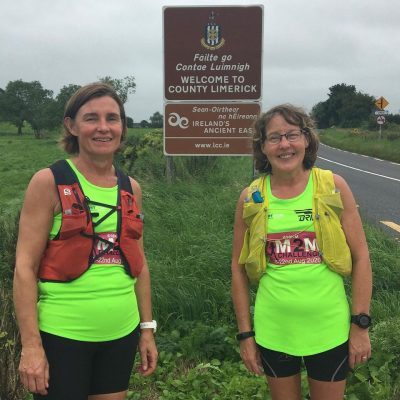 Congratulations to our colleague Ms. Julie Mc Mullin and her fellow runner Loretta Cullen on their fantastic achievement of completing their run from Mizen Head to Malin Head over the course of six days. They began their run in the face of Storm Ellen and ran the equivalent of almost three marathons each day to covering 618km. The ladies raised €30,000 for Donegal Hospice, North West Hospice and the Irish Cancer Society.