St. Mary's 2017-2018 Senior Munster Champions

St Mary's Macroom 4-10
Spanish Point, Co. Clare 3-9
Venue: Charleville 11/05/2018
St. Mary's Macroom were crowned Champions of Munster last Friday in Charleville following a closely fought match which was attended by a huge St. Mary's support. The Macroom side controlled proceedings for the first half with commanding performances from Katlynn Burke and Aoife Foley in defence, Erika O'Shea in mid-field and Meave Carroll and Katie Dineen up front. Just before half time the Macroom side lost the influential Kate Brady to an injured ankle and brought on Meave Murphy who's impact on the game was immediate as she mopped up numerous loose balls in the half back line. St. Mary's led by four points at half time with the help of a goal from Aoife Twomey.
Spanish Point stared the second half with some intent and worked very hard to bring the score down to the bare minimum. St Mary's having been reduced to 14 players for ten minutes struggled against a tide of attacking play from the Co. Clare team. Meave Carroll continued to keep St. Marys ticking over on the score board with an immense display of point taking from both free kicks and open play in the full forward line. Gritty performances from Eimear O'Dea and Rosa Simmonds also ensured St. Mary's remained in the game. A Spanish Point goal with 5 minutes remaining, left the game in the balance with both team's level at 3-9. Macroom then made a substitution, bringing on Sophia Burke for Aoife Kearney. Following a breakdown in a Spanish Point attack St. Mary's produces their own counter attack which ended in the substitute Sophia Burke expertly finishing the ball to the net. Katie Dineen followed suit with a point which left St. Mary's four points to the good at the final whistle.
St. Mary's 2017-2018 Senior Munster Champions
EIMEAR MCMAHON, MAEVE KELLEHER, AOIFE FOLEY, ZARA KNIGHT, ROSA SIMMONDS, KATE BRADY, EIMEAR O DEA, KATIE DINEEN, KITTY O BRIEN, NIAMH O DONOVAN, MEADHBH CARROLL, AOIFE KEARNEY, SOPHIA BURKE, EVE CUMMINS, AOIFE TWOMEY, CLODAGH O BRIEN, CAOIMHE O SULLIVAN, KATELYN BURKE, MAEVE MURPHY, SARAH SPILLANE, CAOIMHE FOLEY, AOIBHE KELLEHER, MOLLY MCKIRGAN, AVA ROSE GALLAGHER, ERIKA O'SHEA
Management Team: Joe Carroll, Miss de la Cour and Mister Ó Cuill
Pfizer Chemistry Quiz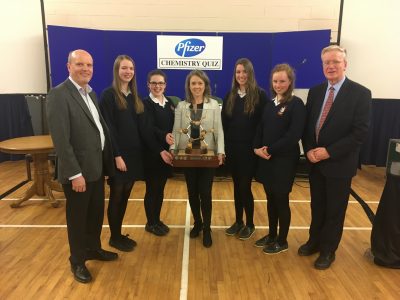 Massive congratulations to Mrs. Kerrigan and the Leaving Cert Chemistry students Leah Kelleher, Kate Bradley, Lydia Costello and Laura O'Reilly who emerged victorious in this year's Pfizer Chemistry Quiz. The girls had an amazing score of 46 questions correct out of a total of 48, showing they are well set for their Chemistry exam in a few weeks. The Pfizer Chemistry Quiz is a very prestigious science competition and open to all schools in Cork. St. Marys girls have now added their names to a list of distinguished winners on the trophy, which is now proudly on display in our foyer.