News from St Marys
Staff in St Mary's made every effort to prepare our building, changing our practices and procedures for the students' return to school. Every effort was and will be made to implement the highest possible standards in accordance with Government Policy to ensure the safety of the whole school community.
Every effort was made to utilise the physical space in the school building. For this reason all Lockers, teachers' desks, benches etc. had to be removed from the classrooms in an effort to accommodate the return of as many students as possible.  Mr Cooke, Mr Quill, Trish and Elaine worked tirelessly throughout August to make sure that we could welcome all of our students and staff back safely.
We would like to sincerely thank them and thank Duggan Steel in Millstreet who are storing our Lockers etc for us free of charge. We sincerely appreciate their generosity and we are so grateful to them for their part in helping to get our school ready for all of us to return to.
Ní neart go cuir Le chéile
ST MARY'S WELCOMES OUR NEW 1ST YEAR STUDENTS
St Mary's Secondary School were delighted to welcome our new students to the school on Tuesday the first of September.  On the day the 1st year girls were met by their new Principal, Vice Principal, Year Head and Teachers.  They spent the morning getting to know each other and their new school with the help of their Buddies.  They had induction with their Year Head Ms Murnane followed by IT training with Ms Foley and Ms Butler. After lunch they followed their new timetabled classes.
The Buddy System is very effective in St Marys.  This Buddy System sees fourth year students act as Role Models and Mentors for the incoming First Year students.  They help them to settle in to their new school, they help them to get to know other students in their class etc.  They are a massive support to the first years and they really help them to transition from Primary School happily. The Buddies are doing a fantastic job this year as the first years seem to be very happy and settled in their new school already.
The Buddies this year are Sadhbh Bourke, Orla Lynch, Marissa Duarte, Faye Cunningham, Aoife Downey, Oliwia and Patrycja Wyka, their Mentor is Ms Murnane.
BACK TO SCHOOL A STUDENTS PERSPECTIVE
Welcome back everyone to a new school year! A huge welcome to our first years. We hope you are settling in well to your new school and no doubt are being well looked after by our Transition Year buddies.
It is certainly a different Back to School this year with facemasks, social distancing and one way systems. However, it's great to get back into the school routine and to see our friends and teachers again. This school year may not be the same as previous years but the teachers and staff are determined to make it as enjoyable and productive as ever. Special thanks to Trish for always making sure we have enough hand sanitizer!
By Aoibheann Lynch (Transition Year Student)
BALLYHASS – A GREAT START TO TRANSITION YEAR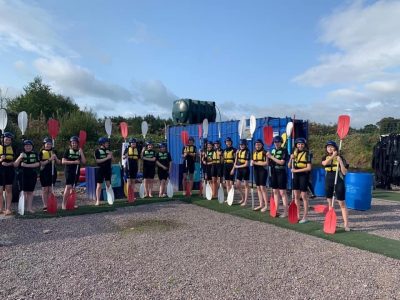 Transition year students finished their first week back in school with an enjoyable trip to Ballyhass Aquapark in Coachford.  It was a great opportunity for us to be reunited with friends, some of whom we had not seen in months.
On our trip, there was a great variety of activities both in water and on land. Thankfully the sun shone down on us throughout the day. First up was water activities, where we took part in kayaking and games on the bouncy castles. We had two hours of water activities.
After a well earned lunch, enjoyed in the beautiful setting beside the lake, we began the land activities. These included- archery, an obstacle course and team challenges. A delightful time was had by all and many thanks to Ms. Foley and Ms. Broderick for taking such good care of us throughout the day.
By Aoibheann Lynch
BASKETBALL
Our girls are delighted that Basketball has resumed, they are delighted to be back training with Paul Keohane.
MERCY DAY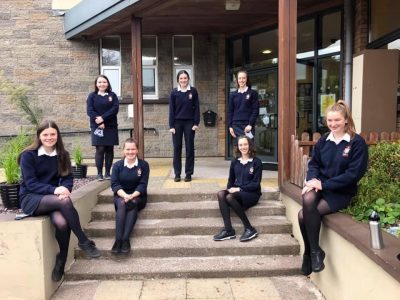 Our girls were busy during the last week preparing for Mercy Day that we celebrated today.  Although not celebrated in the usual fashion we made every effort to enjoy this special occasion as much as possible.  The service was streamed to each classroom via the local television channel.
Leaving Cert class of 2020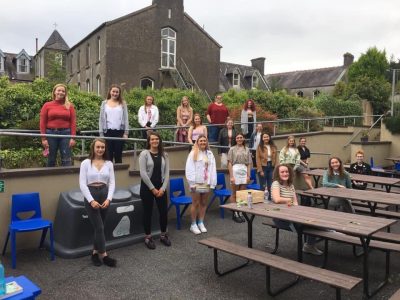 Congratulations to our Leaving Cert class of 2020.  Well done on your fantastic results and we would like to wish you all the very best of luck in the future.  Our door is always open to you if you ever need us for anything!  Keep in touch.