Mercy Day Mass
On Friday 25th September St. Mary's College celebrated the school's first ever streamed Mercy Day Mass in honour of the Venerable Catherine McCauley and the Mercy sisters who ensured that young girls all over Ireland received the first class education they were entitled to, delivered via the Mercy ethos which still holds true today. The school was honoured to welcome Bishop Denis Nulty to help us co-concelebrate our Mass alongside our school Chaplain Fr. Liam. However, as well as being a time for celebration it was also a very nostalgic occasion as the school bid farewell to three of our staff members, namely Ms. Mannion, Ms. McDermott and Ms. Shanahan. These three teachers have been an integral part of our school and their professionalism, dedication and passion for teaching will be sorely missed amongst the classrooms and corridors of St. Mary's. All three ladies were wished every blessing in their future endeavours as they journey forward. Our Principal Mr. Dowling also thanked our past Principals Ms. McCabe and Ms. O'Neill for attending the ceremony alongside some members of the Mercy order including Sr. Brigid, Sr. Mary and Sr. Ann!
A blessed Catherine McCauley candle was lit by Ms. Shanahan as a sign of hope for the future and this was echoed along the corridors as every classroom lit a candle also, thereby reinforcing the school communities hope for the future, symbolising the shining of a light in the darkness. We prayed for help and courage amidst the uncertainty of the Covid 19 pandemic and for healing and protection for all. The ceremony was augmented by the beautiful music courtesy of our gifted Music Department which also brought the celebration to a wonderful close.
Mercy Leaders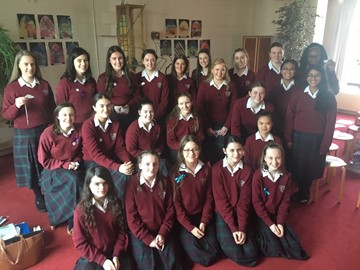 Our Mercy Leaders are back in action this month but instead of weekly meetings in the Prayer Room they have taken their initiative online which is proving to be a positive experience. Their Mercy Leader badges were blessed by Bishop Denis Nulty at the Mercy Day Mass and we have already welcomed some new members to the fold which is a great sign of things to come. The Mercy Leaders are busy coming up with new initiatives for the year ahead and we wish them every blessing going forward.
Head Girl and Deputy Head Girl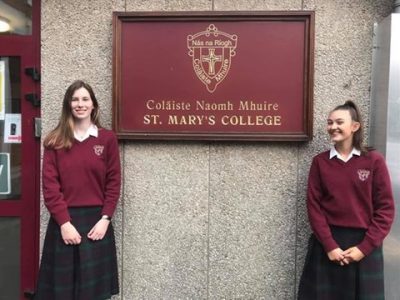 St. Mary's College is delighted to introduce our new Head Girl and Deputy Head girl, namely Aisling Lenihan and Katie McNamara for the academic year 2020/21. Both girls are already doing a fantastic job and we have no doubt that they will continue to surpass all expectations over the coming days and months ahead.
Welcoming our new First Years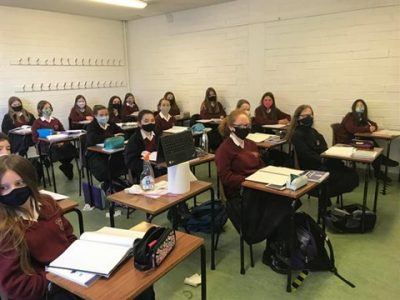 This September we welcomed our First Years under very different circumstances than usual due to Covid 19 restrictions. However our new students are doing a fantastic job and have amazed us all with their willingness to adapt and to throw themselves into their learning alongside adhering to any new rules and regulations which we have implemented for their safety and wellbeing. We are very proud of them all and looking forward to working with each and every student as they begin their journey as newly fledged members of the St. Mary's community.
Transition Year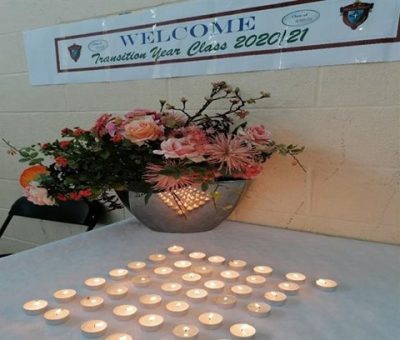 Our new Transition Year students have been busy settling into their Transition Year course for the academic year 2020/21. They kicked off the term with a beautiful opening ceremony and then hit the ground running as they became immersed in everything from Art and Design courses to Young Enterprise. We wish them all the best for the year ahead and know that they will thoroughly enjoy their Transition Year experience in St. Mary's College.
Mid Term Newsletter

Please click below to view Mid-Term newsletter 2020