Results Day is always a red letter day for Leaving Cert students around the country and Wednesday 15th August was no different for the Leaving Cert class of 2018 in Our Lady's. Principal, Mr Eddie Kelly congratulated the students, teachers and parents on the excellent results. With the school's results once again well ahead of the national averages, the majority of the students will progress to their first choice CAO courses at university and third level.
Speaking at the school during the week Principal, Mr Eddie Kelly commented on this year's excellent Leaving Cert results, "as a school we are absolutely delighted with this year's Leaving Certificate results as all of our students across many different levels and abilities achieved above and beyond what they had expected. At national level there were only 500 students in the country who achieved 5 or more H1's at higher level and here in Our Lady's we had three of those students.  Over 15% of the year group (one in every 7 students) achieved in excess of 500 points, 45 students achieved in excess of 400 points and over 64 students achieved over 350 points. A special word of congratulations goes to Hugh Brennan, Tara McNally and Eleanor Fitzpatrick all of whom achieved 613 points. To have such outstanding success during a year when the school had so many extra-curricular successes at national, provincial and local level speaks volumes for the talents, skills and abilities of our students and the hard work and commitment of their teachers. I would like to thank the teachers for their extraordinary generosity of time and effort in preparing the students for the exams and to the parents for all their support and cooperation over this past six years.  We are extremely proud of all our students as they leave not only with a set of excellent Leaving Certificate results but have necessary traits & characteristics that will ensure they will be successful as they move into next phase of their lives".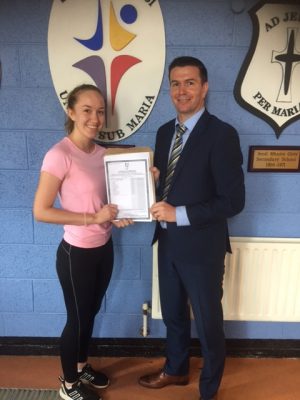 Eleanor Fitzpatrick who achieved 613 points in her Leaving Cert is seen here being congratulated by Our Lady's Principal, Mr Eddie Kelly and Ms Carole Christie, 6th Year Head.